The last of our Incredibles 2 Event coverage is the "You…Have…Powers!!" presentation. We got to hear from Supervising Animator Tony Fucile, Effects Supervisor Bill Watral and Effects Artist Jason Johnston all about Jack-Jack 's powers and the challenges that came with it.
Jack-Jack has powers!
Now if you've had a chance to see Incredibles 2, then I'm guessing you love Jack-Jack as much as I do. He is one incredible baby! The team above gave us an inside look at what it took to create not only Jack-Jack but the Parr family too.
Supervising Animator Tony Fucile actually drew out some of the concept shapes for the Parr family. I thought it was really cool to see it demonstrated like this. I was scribbling down notes as fast as I could. I'm no artist but this is what I was able to re-create from what Tony drew in the presentation:
Isn't that neat? If you look at the shapes of the Parr family, they each have their own shape. You might never look at them again without seeing these shapes. 😉
Tony explained that they wanted to maintain the sense of character from the first Incredibles. The parr family stays the same but with some great improvements with the help of technology. Especially with Jack-Jack.
Effects Artist Jason Johnston talked a bit about the fire effects with Jack-Jack. They re-designed the look from the first Incredibles and with the help of technology changes they were able to do more and flush out the look.
They spent a lot of time on getting the fire effects right. They wanted to make sure that Jack-Jack didn't look scary. It's important to note that Jack-Jack is the source of the fire but not actually on fire. There's no embers or smoke with Jack-Jack's flames which helps make him look awesome and be funny without freaking us all out.
One other 'update' to Jack-Jack is now the little guy has two bottom teeth. Did you notice his two bottom teeth?
Jack-Jack has a lot of surprises in store for us all. I only got to preview a few of his powers but this little guy has much more going on!
And maybe a bit of a hand full for Bob's first go round at being a stay-at-home dad.
I'm pretty sure Jack-Jack is going to be a fan favorite in Incredibles 2. One of the funniest scenes we previewed was the one with Jack-Jack and the raccoon. Oh my goodness, it is hilarious.
I can't even wrap my head around all the work it took to develop and animate this scene. The entire movie is truly incredible. Hats off to the entire Pixar team.
If you haven't seen Incredibles 2, go out and see it.. or see it again!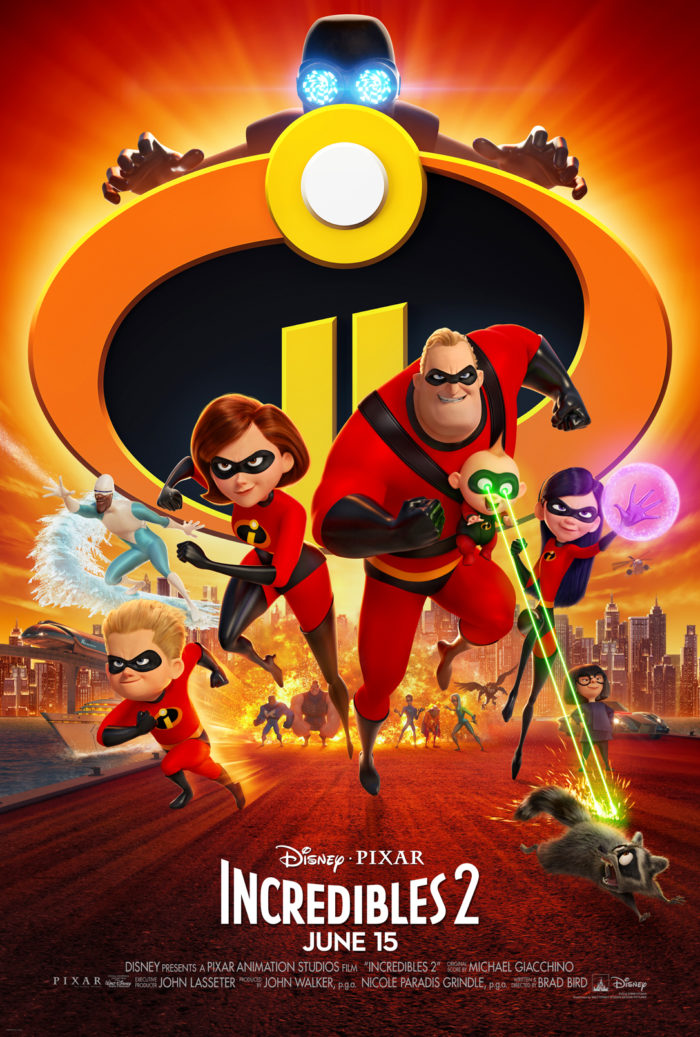 In INCREDIBLES 2, Helen (voice of Holly Hunter) is called on to lead a campaign to bring Supers back, while Bob (voice of Craig T. Nelson) navigates the day-to-day heroics of "normal" life at home with Violet (voice of Sarah Vowell), Dash (voice of Huck Milner) and baby Jack-Jack—whose super powers are about to be discovered. Their mission is derailed, however, when a new villain emerges with a brilliant and dangerous plot that threatens everything. But the Parrs don't shy away from a challenge, especially with Frozone (voice of Samuel L. Jackson) by their side. That's what makes this family so Incredible.
Like INCREDIBLES 2 on Facebook: https://www.facebook.com/PixarTheIncredibles/
Follow INCREDIBLES 2 on Twitter: https://twitter.com/TheIncredibles
Follow INCREDIBLES 2 on Instagram: https://www.instagram.com/theincredibles/
Visit the official INCREDIBLES 2 website here: http://disney.com/incredibles2
Buy INCREDIBLES 2 Tickets via Fandango here: https://www.fandango.com/incredibles-2-185805/movie-times
INCREDIBLES 2 is now playing in theatres everywhere!
Make sure you check out all of my coverage from the Incredibles 2 Event:
Wheres my Super Suit?
Glen Keane Exhibition at the Walt Disney Family Museum
Pixar Fest at Disneyland Resorts
Tour of Pixar Studios
Tour of the Pixar Studios Archives
Costume and Design for Incredibles 2
Animating Incredibles 2
Why the Long Wait for Incredibles 2?
The Inspiration Behind BAO