Thank you to Disney for providing the tour of Pixar Studios for coverage of Incredibles 2. All opinions are my own. Professional pictures photo credit: Pixar.
Tour of Pixar Studios
What a bucket list type experience. Earlier this month, while covering Incredibles 2 (#Incredibles2Event), I was able to get a tour of Pixar Studios in the Steve Jobs building. I was working at Pixar Studios for a full day!!
Being at such an iconic place is surreal. Taking pictures with the Pixar Ball and Lamp is a must. Even better when you can get some during the day and some at night.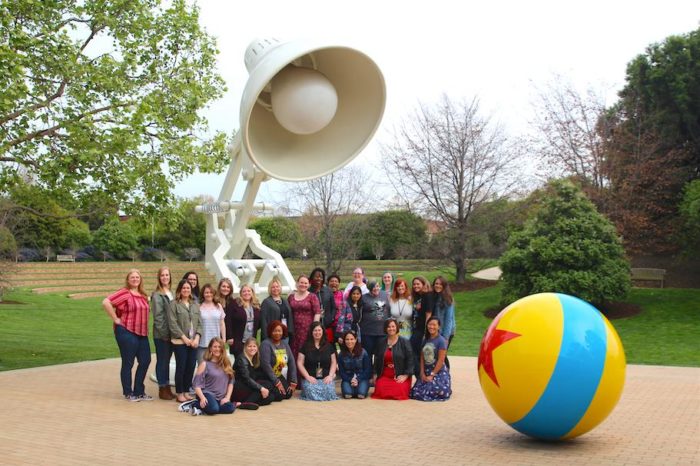 I just LOVE this group photo on the Pixar Studios grounds.
The inside the Steve Jobs building changes with the movies. Right now is all Incredibles 2 with some of our other favorites too.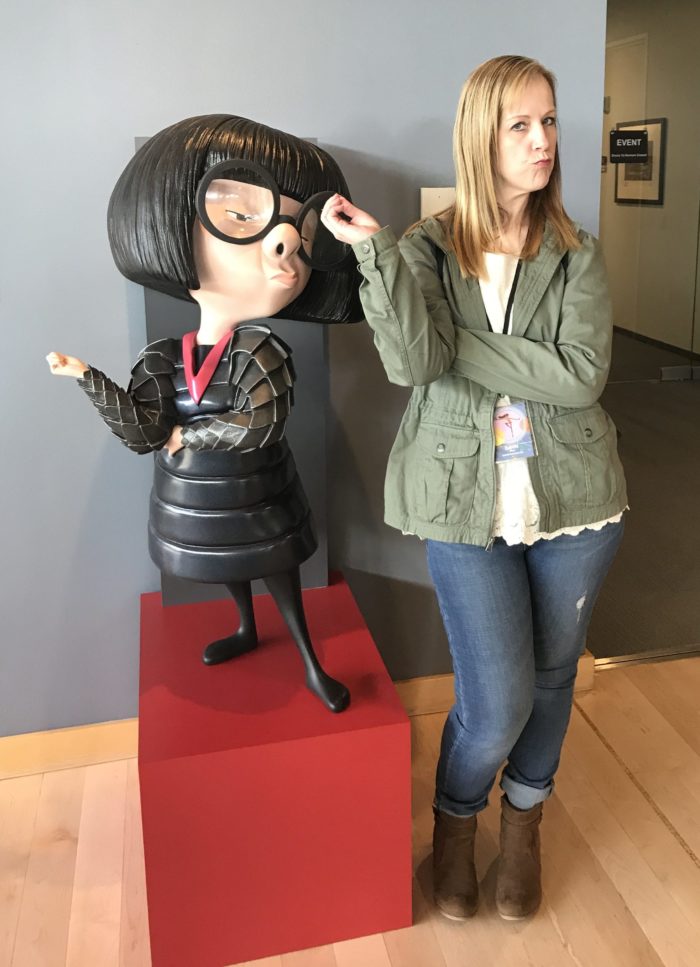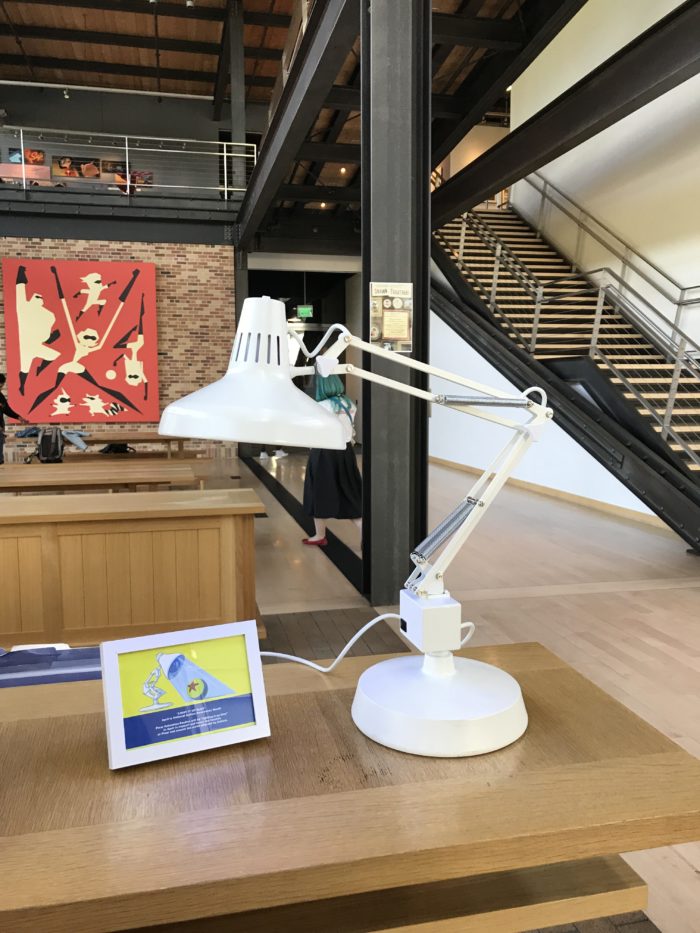 We also were taken on a guided tour of Pixar in and around the Steve Jobs building. As I mentioned, the artwork changes with the movies. One side of the building was all Coco artwork and the other side was Incredibles 2. Working on these films takes years so being able to see the process set out in gallery format is awesome. Not only for guests that get to tour but also for all Pixar employees.
Here are some professional photos of the gallery.
Now if you're wondering how to get a tour of Pixar, I asked our tour guide. He mentioned that a lot of tours are guests of employees. They're able to bring in friends and family to see the work that goes on at Pixar.
Now side note on being employed at Pixar. Can you imagine getting to work on a campus like Pixar? Complete with a swimming pool and basketball court.
I'm not sure that I'm actually cut out for any creative job at Pixar. We were given an opportunity to create our own super.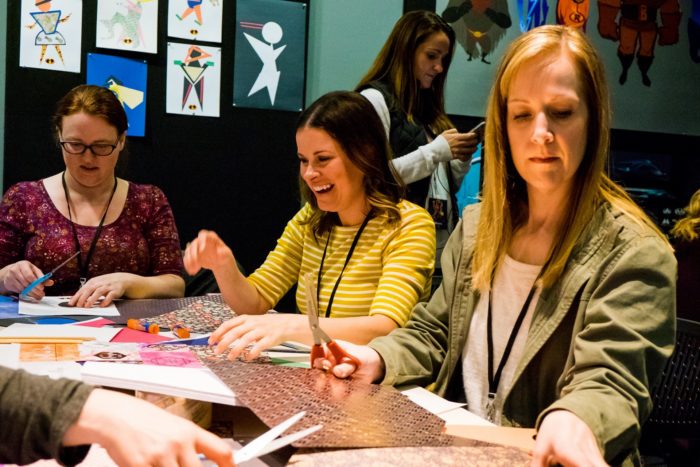 I like creating but it's the creativity that I am lacking. But given the instructions of creating more of concept art vs final animated project, I think I did pretty well. 😉 Not sure what power my super has though.
Getting a tour of Pixar Studios for the Incredibles 2 event was absolutely amazing! Glad you could join me on the tour. Let me know what you think in the comments below.
Don't miss my coverage of the Pixar Archives!
Incredibles 2 is in theaters June 15!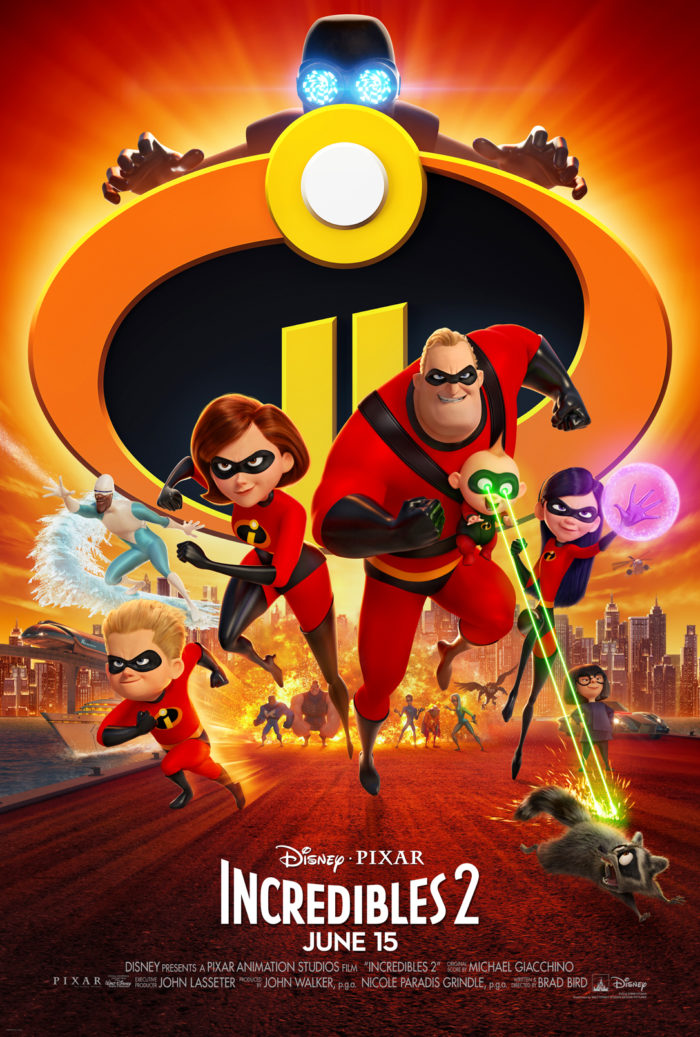 In INCREDIBLES 2, Helen (voice of Holly Hunter) is called on to lead a campaign to bring Supers back, while Bob (voice of Craig T. Nelson) navigates the day-to-day heroics of "normal" life at home with Violet (voice of Sarah Vowell), Dash (voice of Huck Milner) and baby Jack-Jack—whose super powers are about to be discovered. Their mission is derailed, however, when a new villain emerges with a brilliant and dangerous plot that threatens everything. But the Parrs don't shy away from a challenge, especially with Frozone (voice of Samuel L. Jackson) by their side. That's what makes this family so Incredible.
Like INCREDIBLES 2 on Facebook: https://www.facebook.com/PixarTheIncredibles/
Follow INCREDIBLES 2 on Twitter: https://twitter.com/TheIncredibles
Follow INCREDIBLES 2 on Instagram: https://www.instagram.com/theincredibles/
Visit the official INCREDIBLES 2 website here: http://disney.com/incredibles2
Related Stories:
Wheres my Super Suit?
Glen Keane Exhibition at the Walt Disney Family Museum
Pixar Fest at Disneyland Resorts
Pixar Studios Archives