Mini Pancakes
I have to tell you that I just love muffin tins. I have been finding so many great uses for them! I think I may go out and buy several more just so that I have a few extra on hand.
Especially an extra that we use just for crayon making because you don't want to mix the crayon making muffin tins with the food making muffin tins. Just a side note and an extra tip. Not saying that I may have mixed them up or anything. HA! 😉
I saw these mini pancakes using muffin tins on a friend's status. You know me, I'm all about quick and easy solutions for the everyday things that we do. Which includes breakfast!! My kids would eat pancakes everyday if they could…and if I had time to make them.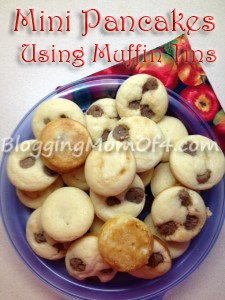 Making mini pancakes using muffin tins in the oven is super easy!! Love it. And the kids loved it! It allowed me to make a variety of mini pancakes, pop 'em in the oven and then give the kids breakfast that was hot, yummy and that they could pick up and eat with their hands. Not that eating with their hands is a necessity but when you're serving kids pancakes, having to cut them all can be a pain!
So check this out…
Mini Pancakes using Muffin Tins
Pre-heat oven to 350.
Use any pancake mix. Mix up the batter.
Spray the muffin tins with non-stick cooking spray.
Fill tins with pancake mix 1/4 – 1/3 full.
Add toppings to each tin ie: cut up sausages, chocolate chips, dab of jelly, dab of syrup, fruit, etc. or leave plain.
Bake in the oven for 10-12 minutes.
Serve.
These are just so perfect. You can customize so that each of your kids or member of the family has pancakes made their way. Love, love, love!

Topic: mini pancakes using muffin tins