Looking for some unique products in 2022?
This guide will be updated throughout the season. Bookmark this page and come back to see the new items added.
Got a product you want to include in the product guide? Send an email to [email protected]!
Cold Brew Pitcher
A stunning borosilicate glass carafe with high-precision stainless steel infuser. Cold-brew up to 44oz of coffee effortlessly by placing in the refrigerator overnight. Need iced coffee quicker? Brew with hot water and add ice. The heat-resistant glass body can go from boiling to freezing in minutes. Cleanup is a snap, as all items are dishwasher safe. If you love, cold brew coffee, this Lardera Cold Bew Pitcher is a must-have!
Starlux Dive Diamond Pool Set
Race to retrieve glowing underwater gems or go on an underwater treasure hunt with these waterproof game pieces. Sold as a set of three.
Ages: 5 to 65+, all ages play together
Number of Players: 2-12
Batteries included? Yes
Eyeballs of Madness: A Strategic Lawn Game for Adults and Kids
In this strategic lawn game, secretly arrange your "eyeballs" of various point values; the opposing team must use some throwing power and methodical madness to guess at the point values by tossing the "carrot"; the team to get to 21 points first wins!
Ages: 12+
Number of Players: 2-6
Batteries included? Yes
Groove Ring® Guy Harvey Blue Marlin Ring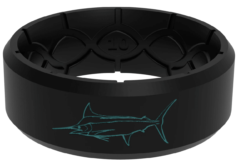 Reel in that next big catch with our Guy Harvey® Blue Marlin Ring. The strikingly beautiful seafoam blue marlin stands out boldly against a solid black background. This eye-catching ring will be the perfect co-captain for all of those seafaring excursions you've got planned.
Our silicone ring is the only one you won't have to catch and release because you'll never want to take it off. It's the most comfortable ring you'll find, and the flexibility and durability can't be beat. So whether you're big game fishing, scuba diving, or planning your next trip to the coast, make one of these rings your next big catch.
Groove Ring® Guy Harvey Tropical Turtle Thin Ring
You'll want to book a one-way ticket to paradise with our Guy Harvey® Tropical Turtle Ring. This tropics-inspired ring features olive-green sea turtles against a soft turquoise background. Contrasting ocean palms and sunny, yellow blossoms make this ring the perfect accessory for a day at the beach or for that sunset sail.
Our silicone ring is so lightweight you'll barely notice you're wearing it. No more worrying about losing your ring, because ours provides a snug, yet comfortable fit. This beautiful, durable, flexible ring will ensure you're prepared for whatever the tide brings you.
Bump Rumble™ – By Starlux Games
Red team battles blue in five ridiculous bouts of bumping, balancing, and racing. Every player gets active, and nearly every spectator giggles hysterically. This party game is every bit as absurd to play as it is hilarious to watch.
Ages: 8+, all ages play together
Number of Players: 4-20
Batteries included? Yes
Diff Charitable Eyewear
Trendsetting, premium sunglasses at an affordable price point. That's DIFF. For every pair of luxury sunglasses you buy, DIFF helps provide the gift of sight to someone in need.
Check out the Star Wars Collection – Reach new, galactic heights with Star Wars™ | DIFF. This collection offers out-of-this-world eyewear for Star Wars and The Mandalorian™ fans. Inspired by characters from the Star Wars galaxy, view your destiny with this visionary collaboration.
Glow Battle
Battle like a ninja samurai using harmless glowing swords! Family, friends, and neighbors play organized sword fighting games using (harmless!) glowing foam weapons. With 10 variations, it encourages kids and families to play together.
If you can run, you can play! The most common ages of our players are 8-14 but something we're proud of is the way that multiple ages can play together. We've literally seen grandparents play with their grandchildren. It also works great for birthdays, family reunions, camps and icebreakers.
Protect Your Privates Naturally with Hemp Underwear
Why Hemp? Hemp fabric is naturally anti-bacterial, with anti-odor properties. Super comfortable, breathable, and gets softer with every wash. Hemp is also organic, eco-friendly, and can help save the planet. Hemp is the perfect fabric for your organic underwear and hemp bra. Why Not Hemp?
Free US Shipping and Returns!
Women's Stackable Rings from Groove Life
Stack them or mix them. These breathable, silicone, stackable rings give you plenty of options. Available in so many amazing, beautiful designs, you may just want them all. Perfect for heading out on an adventure or everyday wear. The lightweight design is easy to slip on and off. So comfortable and eye-catching that you may not want to ever take them off.
Groove Watch Bands from Groove Life
We've created the perfect accessory to elevate your journey with the Vulcan Ascent breathable leather watch band from Groove Life. The soft inner feel of our medical-grade silicone inner band and neutral subtlety of the brown leather outer band will give you all of the clarity and breathability you'll need to take that first step.
Our Vulcan breathable leather watch bands are a perfect mixture of our high-quality, medical-grade silicone on the inner band with our patented grooves for breathability and a smooth, comfortable feel. Add to that a strong and smooth, classic genuine leather on the outer band that is eye-catching in just the right way, and you've got a perfect combination!
Groove Case for AirPods Pro from Groove Life
Introducing the new AirPods Pro Case from Groove Life®, where your airpods will always be safely found. We've handcrafted the strongest, most durable and rugged airpod case out there. Our shock-resistant, weather-proof case is the only one you'll want for all of those heart-pumping adventures you've got planned.
Protect your pods, and get one today. Adventure is calling.
Groove Belt from Groove Life
This is a great one for the men in your life. Perfect for a concealed carry belt, tactical belt, or an everyday men's belt. It's the belt you never have to adjust. My son wears his daily. He loves it. It holds its shape and bends and moves with him. Engineered with just the right amount of stretch.
Radiance Nebulizing Diffuser
This beautiful diffuser comes with built-in "touch sensor" light switch that allows you to turn the LED light on or off with a simple brush of your finger whenever you wish. The most effective diffuser of pure Essential Oils on the market. Silently nebulizes using the Bernoulli's Principle. Perfect for aromatherapy, place in the spa, office, bathroom, kitchen, classroom or meeting area. Uses No Heat or Water Maintaining the Holistic and Therapeutic Properties of Essential Oils. Has "volume" switch to precisely control how much oil you diffuse.
Aroma – A Game of Essence
The Aroma™ board game by Organic Aromas is a one-of-a-kind journey into the heart of the world of essential oils. With 4 incredible ways to play, the goal is to test your knowledge and your nose! The game comes complete with 20 different all-natural essential oils for you to challenge your sense of smell. Divided into four different categories, the essential oils are steam extracted from plants, trees, flowers, and fruits. Locate and bring your oils home in "Collect" or use your olfactory prowess to strategically eliminate your opponents in "Survive". You'll need to use quick wits, a bluff or even trickery as it will take more than just a keen sense of smell to win at this game.
Roll-On Essential Oils
Organic Aromas Roll-on Essential Oils allows you to take your aromatherapy on the go. You can now apply your favorite essential oils topically to your skin and/or pulse points safely with a dilution of 5% essential oil and 95% avocado oil, sweet almond oil, jojoba oil, wheatgerm oil.