Thank you to Disney for inviting me out to cover Incredibles 2 – in theaters June 15! We had a chance to sit down with Producer Nicole Grindle, Director Brad Bird and Producer John Walker to talk about the process of making Incredibles 2. #Incredibles2Event.
One of my favorite parts of any media event is getting to hear directly from the Director and Producers on any film. To see and hear the passion behind the film, their excitement, and all that goes into making a movie like Incredibles 2 is amazing. Even more so when there was so much time between the first and second Incredibles. There are so many things that can change in that time. Technology improves, cast members age, etc.
We sat down with Director Brad Bird, Producer Nicole Grindle, and Producer John Walker to get the inside scoop on Incredibles 2.
One of the biggest questions on probably all of our minds is why did it take so long to make the sequel to Incredibles. I mean, we all loved the first movie, right?! So wouldn't it make sense to follow a successful movie with the sequel right away?
Director Brad Bird actually said the opposite.
I don't know. I think that for me it was not intentional. I just don't think it's maybe the greatest idea creatively to follow-up a successful film with its sequel. You know, I think that you wanna take time. You wanna think about it. You wanna enjoy the process.
Between the two Incredibles moves, there were a lot of other priorities that maybe pushed the second movie back a bit but it finally seemed like the right time. He also said that he didn't want to wait any longer because it had already been a long time.
With that long of a wait between the first and second Incredibles, there's bound to be a lot of changes. Especially technology. There's been a lot of advancement in technology over the last 10+ years. You have to wonder how that will affect our experience as a movie goer. I'm sure that the advancements in technology can only be positives for any movie but will the the sequel flow seamlessly?
We were able to see a small amount of the film and I can tell you that there were differences but I thought it was all seamless. Now, when I look back and I hear right from people like Director Brad Bird, I can appreciate what the advancements in technology did for Incredibles 2.
Films in the beginning used the basic computer animation. As technology advances, more complex shapes are added. Water is improved and more realistic and things like hair are now more realistic. Amazing updates and changes but nothing that takes us out of the story.
Now the medium has passed its infancy, and you can talk about the stuff, but it tends to be smaller stuff. I can tell you that the characters look more like our original designs in the first film than they did in the first film. We got close, but we didn't get them bang on. And on this film, they're bang on. – Brad Bird
Producer John Walker added that not only has technology advanced but so has the level of artistry and competence of those that work for Pixar.
I mean it's stunning to watch. It's completely different from when we were here before. Everybody was great before, but they've worked together for – some of them for 15, 20, 30 years.
Producer Nicole Grindle said that she had the benefit of watching the evolution and agrees that it's a combination of advances in technology and the amount of talent they had working on the film.
I've had the benefit of watching this evolution, and I should say our Supervising Technical Director, Rick Sayre, is one of the founding technical people at the company and has continued to stay on the cutting edge. So, it's a combination of the technology has developed. We've had new talent come in, and some of the original genius talent has remained and continued to push us further and further.
Nicole also added that they it wasn't so much about inventing everything new but just trying to "stuff as much creativity into the time that we have." And that was one of the big challenges for this movie. It sounded like there were so many great ideas and they wanted to be able to do all or as many as they could within the time allowed.
Now maybe one of the biggest changes in Incredibles 2 from the first Incredibles is the role reversal. We see Helen out using her super powers and Bob home with the kids. Brad said that this idea was his "oldest idea for this film."
The other big "ah ha" that I got from the interview was that they wanted to create a unique story with Incredibles. It's not "just" a super hero film. It's about family. The roles of each family member, etc. I loved the details Brad provided.
I think that if we thought about this as a superhero movie, we probably would've been stymied. But we didn't. We always felt like what makes our film unique is that it's about a family. The roles — their superpowers were based on iconic roles of men and women and children in the family. The dad is always expected to be strong. The mom is always stretched in a million directions. Teenagers are defensive and insecure. So, she has force fields and invisibility.

Ten-year-olds are energy balls that just, you know, can't not be on — eleven or off, that's what they are. And babies are unknowns. They could have no powers at all, or they could be the next leader of the free world. Where they were in the family was how we chose their powers. And that was a unique approach, because it was more about stages of your life. And I think one of the reasons we've been successful is that everyone connects with at least two of the characters, and that's because we've all been teenagers. We've all been children.

Many of us have kids, and so we've dealt with little babies, which are really challenging to keep up with. And teenagers, which are also a handful in a completely different way. We've had parents that seem kind of clueless at moments and the dad that maybe speaks before he really knows what he's talking about. And the mom that manages everything. So, that's where our strength lies, and that's what makes us different. And if we thought about it in those terms, it became a lot easier to make our film." – Brad Bird
The final change that I wanted to share more about was the cast change for Dash Parr and Rick Dicker. Bud Luckey, who voiced Rick Dicker, had sadly passed before Incredibles 2 so they had to basically start over for this character. They ended up finding Jonathan Banks from Breaking Bad and Better Call Saul.
He dropped in beautifully. And his Rick Dicker is not exactly the same as Bud's, but it's every bit as cool, I think. And maybe a little tougher edged. – Brad Bird
Of course, they knew that they were going to need to replace the voice for Dash. The original actor, Spencer Fox, was now that much older and not able to still voice a young boy.
They went back to New York, where they originally found Dash and found Huck Milner.
Dash doesn't have a New York accent or anything. It's just that there's somethin' about the city or somethin' that -Brad

Makes him move fast. – Nicole says through laughs

Makes him move fast. We got lucky with Huck. He just sorta sounded right, but his personality was muted. I just had a feeling that he would be right. Once he got the part, he just let it out and it happened to be totally right. He was the same kind of energy that Spencer had. It was like, fasten your seatbelts. You know, we're gonna record Dash today. – Brad Bird

Yeah, yeah, yeah. He does laps around the studio between lines. – Nicole

He was so into it. He was so into it. Because we didn't say what it was for, and when he found out it was Dash he came in one day actually wearing a Dash outfit. He was zippin' about the studio and it was really great. He had a blast, and I think he did a magnificent job. – Brad
On a final note, Brad said that he would hope people just "consume huge amounts of popcorn and soda and have a really great time. That's what this is meant to be." And that the main goal is "just to entertain the crap outta people."
I think they'll definitely hit that goal!
Incredibles 2 is in theaters June 15!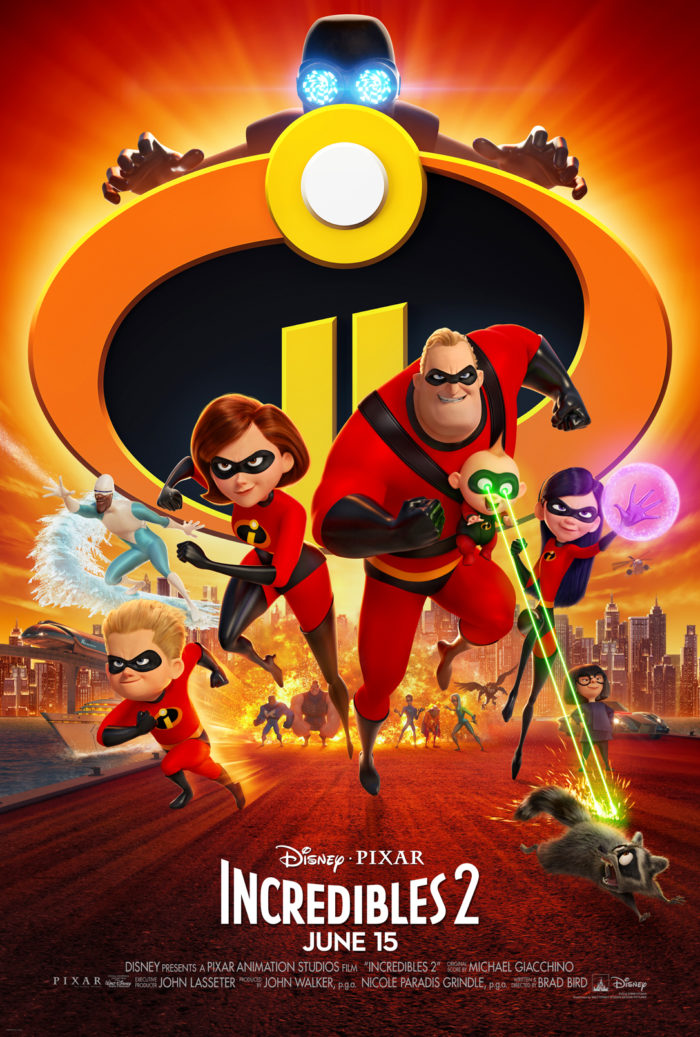 In INCREDIBLES 2, Helen (voice of Holly Hunter) is called on to lead a campaign to bring Supers back, while Bob (voice of Craig T. Nelson) navigates the day-to-day heroics of "normal" life at home with Violet (voice of Sarah Vowell), Dash (voice of Huck Milner) and baby Jack-Jack—whose super powers are about to be discovered. Their mission is derailed, however, when a new villain emerges with a brilliant and dangerous plot that threatens everything. But the Parrs don't shy away from a challenge, especially with Frozone (voice of Samuel L. Jackson) by their side. That's what makes this family so Incredible.
Like INCREDIBLES 2 on Facebook: https://www.facebook.com/PixarTheIncredibles/
Follow INCREDIBLES 2 on Twitter: https://twitter.com/TheIncredibles
Follow INCREDIBLES 2 on Instagram: https://www.instagram.com/theincredibles/
Visit the official INCREDIBLES 2 website here: http://disney.com/incredibles2
Related Stories:
Wheres my Super Suit?
Glen Keane Exhibition at the Walt Disney Family Museum
Pixar Fest at Disneyland Resorts
Tour of Pixar Studios
Tour of the Pixar Studios Archives
Costume and Design for Incredibles 2
Animating Incredibles 2