Thank you to Disney for sponsoring this "NO Capes"post for the Incredibles 2 press event where we learn all about Costume and Design for Incredibles 2. All opinions are my own. #Incredibles2Event
Who's excited for Incredibles 2? TICKETS ARE ON SALE NOW on Fandango!
In preparation for Incredibles 2 (psst… in theaters June 15), I had the incredible honor of attending a press event to learn all about the animated movie. How it was created, what went into the film process, etc. Including the costumes and design for Incredibles 2.
Costume and Design for Incredibles 2
Did you know that they actually put together costumes for animated movies? I had no idea all that went into animated films. It's absolutely incredible. In fact, costume design for animation is no different than for live action.
We got to sit down and talk to Character artist Deanna Marsigliese, tailoring lead Fran Kalal, and Shading Art Director Bryn Imagire and chat all about costume and design for Incredibles 2.
Deanna Marsigliese looks like she stepped right out of that era. Her own fashion and knowledge of that time period was part of why she was brought in to work on Incredibles 2.
Deanna actually brought in a lot of her own clothes so that they could put outfits together and see how things would work. She even modeled the outfits so that they could get an idea of how the fabrics moved and would look.
We got a look inside the world of Edna Mode whose fashion is "bold, dramatic, and heroic." Every thing is designed with attention to detail. It's clever and creatively practical.
Bryn talked about how they constructed each of the garments like the would a normal piece of clothing.
"For something to be beautiful it doesn't have to be pretty." ― Rei Kawakubo
The costume design for each character was well thought out. They pulled direction and reference from a lot of different celebrities. For example, Evelyn Deavor – a new character that you'll meet in Incredibles 2, has a relaxed, bohemian style. For Evelyn, they took a look at the fashion styles of Annie Lenox and Patty Smith. Evelyn has bold, striking patterns made with expensive materials. Her wardrobe is varied and interesting.
So much thought was put into the costumes of each and every character. For the men, there were 12 garments that were designed and then slight adjustments made for body type, etc. With the different adjustments made, there were 72 unique costumes.
Fran's job was to look at how the characters and costumes moved together.
Fran said that they start with defining the wardrobe in this world and then developing a 3D version of each outfit. The outfits and wardrobes are designed in a program. The program tells the fabric how to behave.
Since the first Incredibles, there's been some great tech updates that they were now able to use for Incredibles 2. For example, the super suits now move and stretch more realistically. All of the characters hair also got an upgrade with a new hair tool.
These updates are all seamlessly worked into Incredibles 2 so that the experience is not altered at all. Now if you go back and watch the first Incredibles, and know to look for some of these updates, I'm sure you'll be able to see the difference.
Listening to Fran describe how this works was fascinating. Every step of the process is so important to the outcome of the movie. I think the reason we might find ourselves immersed in the movie, in their world, in that era, is because of the attention to detail in every step of the process.
Step by step additions and corrections are made to evolve the garment/fabric to move and behave the way it should.
As I listened to the three of these women talking about everything that went into the costume and design for Incredibles 2, I was just marveled at the research and work that went into planning the wardrobe for every character. It definitely gives you a whole new appreciation for the film and, in my opinion, increases the enjoyment when watching.
We don't have to wait long now!
Incredibles 2 is in theaters June 15!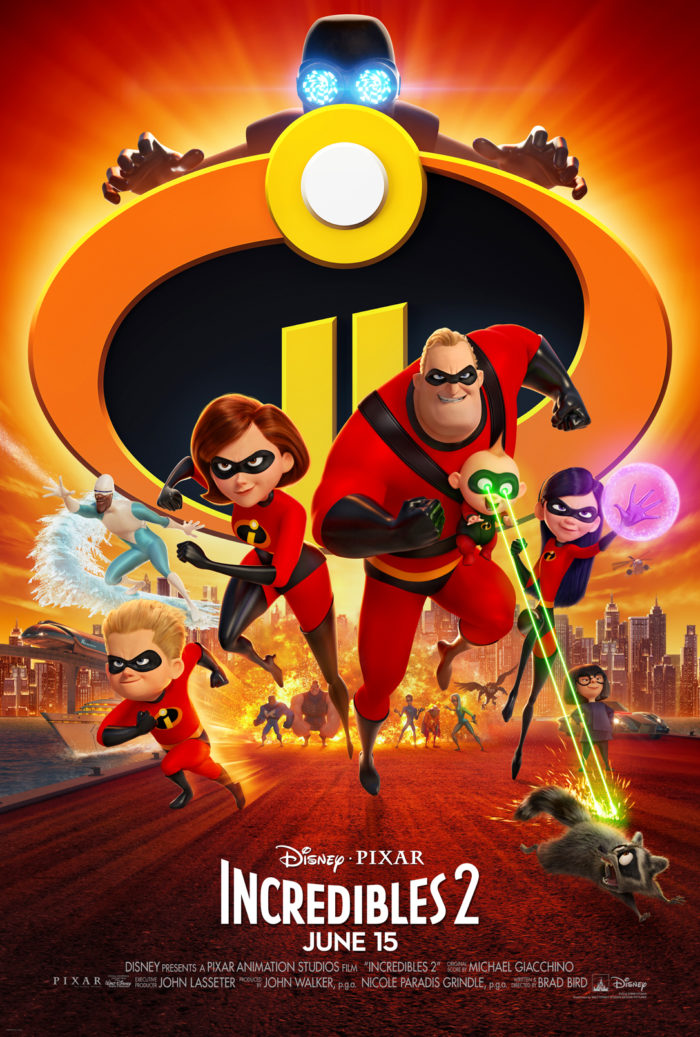 In INCREDIBLES 2, Helen (voice of Holly Hunter) is called on to lead a campaign to bring Supers back, while Bob (voice of Craig T. Nelson) navigates the day-to-day heroics of "normal" life at home with Violet (voice of Sarah Vowell), Dash (voice of Huck Milner) and baby Jack-Jack—whose super powers are about to be discovered. Their mission is derailed, however, when a new villain emerges with a brilliant and dangerous plot that threatens everything. But the Parrs don't shy away from a challenge, especially with Frozone (voice of Samuel L. Jackson) by their side. That's what makes this family so Incredible.
Like INCREDIBLES 2 on Facebook: https://www.facebook.com/PixarTheIncredibles/
Follow INCREDIBLES 2 on Twitter: https://twitter.com/TheIncredibles
Follow INCREDIBLES 2 on Instagram: https://www.instagram.com/theincredibles/
Visit the official INCREDIBLES 2 website here: http://disney.com/incredibles2
Related Stories:
Wheres my Super Suit?
Glen Keane Exhibition at the Walt Disney Family Museum
Pixar Fest at Disneyland Resorts
Tour of Pixar Studios
Tour of the Pixar Studios Archives