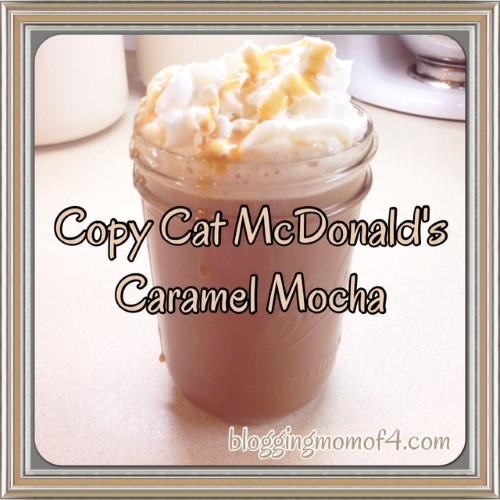 It's Monday and a typical Monday at that. Everyone is having a hard time getting moving this morning, none of them want to do their school work and I need the weekend to come back. Or have a good cup of coffee. Maybe two!
I love my coffee! I never used to but since I met my husband, who introduced me to mochas, I've been a believer. 😉
In the summer time, I love iced coffees and frappes. Going to McDonalds to get my fix adds up quickly. So why not just make your favorite drinks at home?!
I found my favorite homemade caramel frappe recipe but now that it's fall, I'm loving the McDonalds Caramel Mocha more often.
Here's a great copy cat McDonalds Caramel Mocha recipe that you can enjoy right from home. The recipe calls for milk. You can use whatever milk you like. I actually used Almond Milk. With this recipe, there's a lot of give and take for how you prefer it. So start with the basic ingredients and then use more or less to suit your taste.
Let me know how you like it and/or what your substitutions are.
Copy Cat McDonalds Caramel Mocha Recipe
Copy Cat McDonald's Caramel Mocha
Ingredients
3

tbsp.

Caramel Sauce

1

cup

brewed coffee

1

tbsp.

chocolate sauce

1/4

cup

milk

Whipped topping
Instructions
Combine 2 tablespoons hot coffee, chocolate sauce, 2 tablespoons caramel sauce and milk in a large coffee mug. Microwave for 35 to 40 seconds. Mix until blended. Pour in remaining coffee and mix. Top with whipped topping and drizzle with remaining 1 tablespoon caramel sauce and serve.
Topic: Copy Cat McDonalds Caramel Mocha Recipe