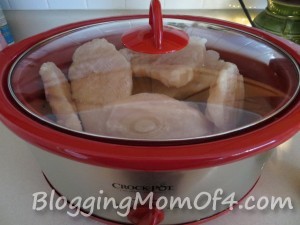 Crockpot Freezer Cooking – Busy Moms need quick, easy solutions for the every day things that we do. Like cooking. If I don't have a plan of attack for dinner it's either going to be a cereal night or drive through.
I'm not Martha Stewart. I'm an every day busy mom trying to juggle 4 kids and everything else that us moms have going on. And as far as cooking, I'm not a chef. When I look in my cook books or on the internet for recipes, sometimes I feel like I'd have to go to culinary school in order to make some of those meals. Half the time I don't even know what some of the ingredients are. When I cook, I cook the basic meals…down home, home cooking.
Does that sound like you too? Either way, I think you're going to love what I've put together!
Crockpot Freezer Cooking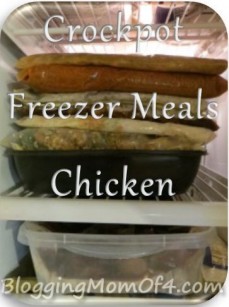 I love the idea of Freezer recipes and Crockpot Freezer Cooking or even bulk cooking. You take a few hours on one day putting it all together and then you have meals ready for days. Again, busy moms need quick, easy solutions for the every day things that we do.
When looking for recipes, I gathered several hamburger recipes, several chicken recipes and then some odds and ends and grouped them together by  meats. I obviously did this on purpose. I chose 4 Hamburger Crockpot Recipes so that I could cook my hamburger in bulk as well as the chicken. Then I could quickly prepare each group of freezer meals by the meat all at the same time.
There are a lot of different options with Freezer Cooking. I took some of my recipes and just converted them to crockpot or converted the crockpot recipe to freezer so adjusting the cooking times may be necessary. The other thing to note with meats, chicken especially, is that you can choose to work with raw, frozen or cooked. For the recipes that I'm sharing, I bulk cooked my hamburger and chicken ahead of time and then added it to my freezer baggies. I did not add it raw or frozen. Sometimes when you're looking at recipes online, they fail to tell you if your meat should be raw, frozen or cooked. I'd rather not assume.
Planning is a big part of Crockpot Freezer Cooking. It took me a bit longer to gather all of the recipes, shopping list, etc the first time but now that I have it (and you'll have it in this nice list) it will be super quick and easy to repeat.
I've also discovered some quick and easy bulk cooking tips that have saved so much time. It's like a light bulb went off and I'll never cook the "normal" way again. 🙂
I'll keep adding to this list as I continue the series:
Crockpot Freezer Meals Chicken
Crockpot Freezer Meals Hamburger

Crockpot Freezer Meals Comfort Foods – Coming Soon!

Let me know how you like Crockpot Freezer Cooking!