I just finished 12 Crockpot Freezer Meals. It was awesome. So great to have my freezer full of meals that I can just take out, pop in the crockpot and have dinner. If I don't have a plan for dinner, then it's for sure a drive through, pizza or cereal night.
Busy Moms need quick, easy solutions for the every day things that we do.
Along the way, I discovered some Bulk Cooking Tips. I can't believe it took me so long to cook in bulk. Really…I have a family of 6. Should have been cooking like this a long time ago. 😉 Even for smaller families, cooking in bulk saves a lot of time. Buying in bulk can also save money so you can either separate and freeze or cook it up and freeze.
Bulk Cooking Tips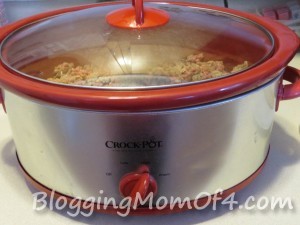 Bulk Cooking Hamburger
– I started thinking, I cook roasts in my crock pot, why not hamburger. Sure enough, bulk cooking hamburger in the crockpot is a cinch. I thawed out 4 lbs of frozen hamburger that I had on hand (using raw hamburger or thawed is ideal because the hamburger will cook as is in the crockpot. So if you place frozen hamburger in the crockpot, it will look just like it did when you placed it in there, just cooked. It will be hard to crumble for your recipes).
Place your thawed out or raw hamburger in your crockpot and crumble, mix, break up. Add 1/4 C of water to help the grease separate from the meat. Cook on high for 2-2 1/2 hours or until done. I was home so I just stirred every once and awhile to crumble and break up a bit more but it's not necessary.
Draining Hamburger – when frying hamburger in a pan, I usually just take a paper towel and soak up the grease. But when bulk cooking, that's not as easy. Here is a much much easier method. Line a kettle with a double lined plastic bag and tin foil inside the bags. Place a strainer over the top of the bags. Pour out your hamburger into the strainer and all of the grease will fall into the plastic bag with tin foil. Easy peasy!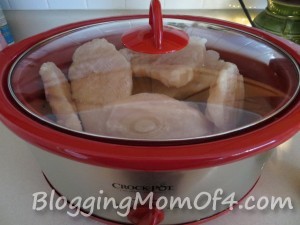 Bulk Cooking Chicken
– I also love bulk cooking my chicken in the crock pot. When doing my freezer cooking recipes, I added 4 lbs of frozen chicken breasts to my crock pot a little bit of water, set the crockpot on high and let them cook until they were tender. That way I could separate them and use them for whatever the recipe called for.
Try out these Bulk Cooking Tips and let me know what you think or if you have some of your own, leave a comment below!