On my last press trip to LA, we were able to visit a few of the ABC sets. One of which was for The Middle. This was such an incredible opportunity! The Middle is one of our family's favorite shows. It's one that we set our DVR for and watch together.
While on the set we had a few surprise guests come to say Hi. One being non-other than 'Brick' himself, Atticus Shaffer.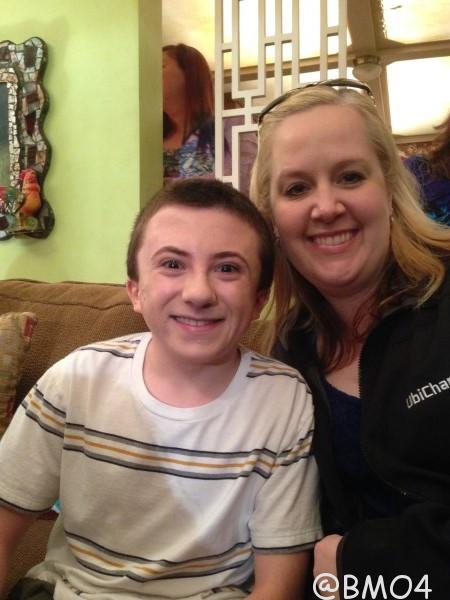 I only had a brief moment to basically just say hi to Atticus and tell him how much we loved the show. So you can understand just how excited I was to get another opportunity to chat with him. My husband Tim (who blogs at Review Dad) and I were able to spend a few minutes on the phone today interviewing Atticus.
Now, before I get to the interview, I want to talk a bit more about one of our favorite shows! The Middle just got renewed for it's 6th season!! So awesome!
This week is the one hour season finale of season 5:
The Middle Season Finale

Photo Credit ABC 
THE HECKS EMBARK ON A ROAD TRIP TO WALT DISNEY WORLD AND ATTEMPT TO STAY POSITIVE DESPITE A BARRAGE OF MISHAPS THAT THREATEN TO RUIN THEIR TRIP,

ON THE ONE-HOUR SEASON FINALE OF ABC'S "THE MIDDLE"

"Orlando"/"The Wonderful World of Hecks" – While Sue counts down the days until the Hecks depart on their road trip to Walt Disney World (she won the trip in a "Hands on a Hard Body" contest), Brick begs his parents to take a detour to North Carolina so he can meet his online girlfriend, and Axl anxiously awaits the posting of his final grades as a college freshman. Then, when the Hecks arrive at Walt Disney World, a good time may not be had for all when a series of misfortunes threaten to put a damper on their trip, on the one-hour season finale of "The Middle," WEDNESDAY, MAY 21 (8:00-9:00 p.m., ET) on the ABC Television Network.
The family is excited to tune in! If you have not yet tuned in to The Middle, I think you should definitely give it a try. It's such a funny show that I think most of America can relate to and find entertaining.
Now on to our interview with Atticus Shaffer. Tim and I put together a few questions to ask. We weren't sure how many questions we'd get in with five minutes but let me tell you, that 5 minutes went so quickly.
Atticus is an amazing, inspiring young man. Both my husband and I were not only honored to get to chat with him but truly touched in just those 5 minutes.
Tim transcribed the interview so that we could share it with you in it's entirety.
Interviewing Atticus Shaffer

Photo Credit ABC
Dawn: Hi, Atticus, how are you?

Atticus: I'm good! How about you?

Dawn: We're great! We're very excited to talk to you, today. We kind of put out to our readers and asked them what questions they would ask you. They had a question regarding Brick's whispering and ticks. They were wondering how much input you had with that.

Atticus: Well, the thing is, the character of Brick is actually based on one of the creators of the show's sons. It was actually Eileen Heisler's son, and he used to whisper. You know, when I went in for the audition for the role of Brick, I read about the whispering thing, and what I did is I gave the part where I look down at my chest and then I say the whisper. So that was kind of my input into the whole whisper part, and then the fact that the whisper part is what her son did. So we kind of combined on that.

And then the other thing was the whooping. The whooping, we thought it would be cool to have a tick that's kind of the reverse of a whisper, and instead of looking down, you're looking up and you say it loudly, rather than softly. So that's how we incorporated the whooping.

Dawn: Fun! I was in L.A. when we did the visit to the set, and we got to talk a little bit to the producers and to you a little bit. It was fun to be able to do that.

(At this point, Dawn's screensaver locked her out of the document where she had prepared her questions.)

Dawn: And now I just lost my questions, so I'm going to log back in to my computer…

Atticus: (laughing) Technology, am I right?

Dawn: (laughing) Yep.

This upcoming episode, the season finale. We're big fans of Walt Disney World. So we were wondering, what was it like filming on location in Walt Disney World?

Atticus: That was really, really, really cool. Especially for the fact that, for us, eight months out of the year we're in a sound stage. And that's it. We're in sound stages or we're somewhere on our little lot where we shoot the show. So to be able to actually get out and go somewhere different, and be able to kind of be more in public and stuff like that, that was fantastic. That was incredible and I loved being able to do that.

The other cool part about that was they did not shut down Disney World to let us film. You can't. So to be able to actually film in front of actual people, and in real life time, that was phenomenal because all these people would pay their money to get into Disney World and then they'd find us, and they'd stand there and they watched us film for five, six, seven, eight, nine hours at a time. It was awesome to be able to see them, and it was so cool to be able to interact with all of these people and shake their hand, sign stuff, or whatever. To be able to talk to them and answer questions about the show while we're actually filming. It was like we were our own little attraction at Disney World. So that was a lot of fun, too.

Dawn: I bet it was. I'm going to let my husband ask a question here, too, so I don't take up all the time.

Tim: Hi, Atticus, this is Tim.

Atticus: Hey!

Tim: I've seen you quoted as saying that your O.I. (Osteogenesis Imperfecta) is just a small part of who you are. And I've seen comments from a lot of people on the Internet, from all walks of life, and facing all sorts of different challenges, who've been inspired by your attitude. I know your mom is one of your biggest role models. Can you share just a little bit about how she has helped nurture such a positive attitude in you?

Atticus: That's actually an amazing question and I have not had hardly any people ask me that, so I commend you for asking that.

Personally, for me, my mom has nurtured that because she's always been there for me. We are always able to talk, she has to be one of my best friends, and she does. She has O.I. as well, so she understands that, and to be able to have her just understand whatever issues, or whatever dilemma, or whatever I'm going through, she understands that. Most of the time, she went through it as well, when she was my age. So to be able to talk to her, be able to understand that kind of stuff, and to have her always put those positive affirmations around me and let me know that I'm supposed to be who I am… is amazing, and that's how she has always been with me.

And that's been passed down to me because, like you said, I get a lot of people who say, "You are my role model, you're my son's role model, my daughter, my sister, my brother, my mom, my dad. You are my role model." And for me to be able to be a role model in a positive way, and to show other people that it is OK to have whatever you may have, to be whoever you are, is phenomenal for me and I want there to be more people like that out there, in the sense of showing that it is OK to be unique. Showing that it is OK to be interesting, and creative, and inspiring, or be inspired.

Tim: Wow.

Dawn: That's amazing.

Tim: Thank you so much for taking the time to talk to us.

Atticus: Absolutely. Thank you!

Tim: And congratulations on being picked up for a sixth season!

Atticus: Thank you!
When Atticus was talking about his OI, that really hit home for us. Our daughter has Crohn's Disease and I love that she can look up to Atticus and be inspired by the way he lives his life. "It is OK to have whatever you may have, to be whoever you are…"
Make sure to tune into The Middle Season Finale Wednesday, May 21 8:00-9:00 p.m., ET on ABC.