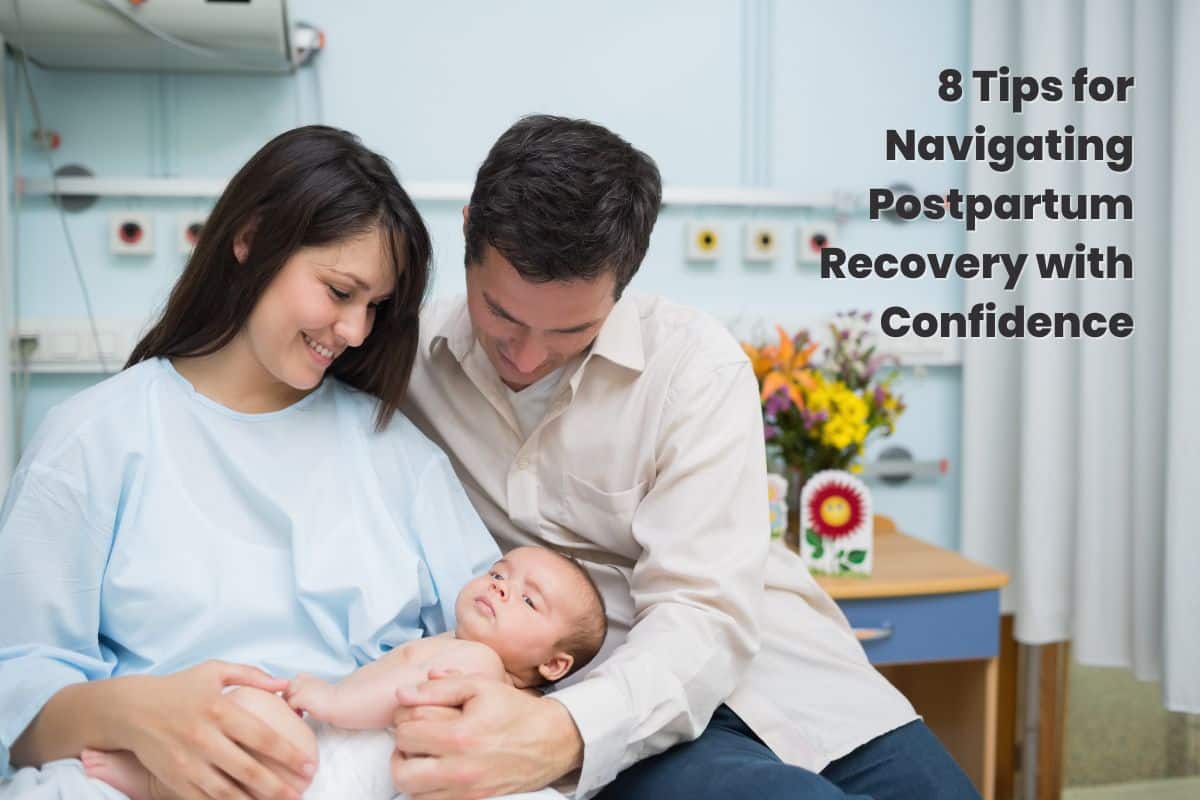 Becoming a mother is a wonderful feeling. The blood, sweat, and tears you shed during labor are all worth it when your little one is placed in your arms for the first time, a memory you will cherish for a lifetime. After childbirth, however, a new set of physical and emotional issues unfold. With the right guidance and mindset, you can confidently navigate the challenging "fourth-trimester" postpartum recovery. Here are eight helpful tips for you.
Prioritize rest and sleep
Caring for a newborn is a full-time and demanding job. The tiring days and sleepless nights take their toll on your mental peace and self-esteem. Rest is crucial for your postpartum recovery. Take naps when the baby sleeps or when your partner is around to help.
Avoid spending all the limited free time on household chores. Don't hesitate to ask for help and to involve family members in baby care. By setting your priorities straight and creating a routine, you can overcome the sense of overwhelmedness and feel more in control of things.
Manage stress
The postpartum period can bring a range of emotions, from crying spells, mood swings to difficulty sleeping. According to CDC, 1 in 8 women experience symptoms of postpartum depression. Seek emotional support from your partner, friends, and family. Delegate tasks to people who lend a helping hand.
Establish a routine and practice time management to keep things organized. Engage in activities like book reading, gardening, or meditation that give you peace and mental relaxation. Ask for professional support if the sense of overwhelmedness and difficulty to cope continues.
Nourish your body
Focus on nourishing your body with a nutrient-rich and balanced diet that provides all basic food groups in proper proportions along with essential micronutrients. While you certainly don't need to eat for two, your body still needs to replenish all the micronutrient stores depleted during pregnancy and breastfeeding.
Include a variety of fruits, vegetables, lean proteins, and whole grains in your food. Keep yourself hydrated by taking plenty of water throughout the day. It is especially important for breastfeeding mothers to support milk production. A balanced diet helps your body heal quickly and gives you energy to navigate through your day-to-day life.
Follow a workout routine
Find workout motivation and engage in a gradual exercise regime to regain your body strength, stamina, and shape. It's crucial to listen to your body and start with gentle exercises, like a daily walk, to build stamina and mild stretches to enhance flexibility. Practice Kegels to help tone your pelvic floor muscles and address issues like urinary incontinence.
With time, as your body heals, you can gradually progress to strength training exercises focusing on your core body. Following a workout routine can do wonders for your physical as well as emotional well-being.
Embrace body positivity
While it's important to engage in a workout routine, the aim is not to be a certain size or to look a certain way. Stop checking the scale and measuring your belly pooch every other day. Improve your body confidence, and keep in mind that beauty comes in all shapes, colors, and sizes.
Your body has just done wonders in bringing a new life to this world, and it will carry the marks of it. Some of these marks would become indistinct with time, while others are here to stay. Avoid negativity and the unrealistic standards set by glossy magazines and celebrity models. Celebrate your body; it deserves appreciation and love.
Seek guidance and support
Connect with other moms to find answers to your common parenting and postpartum queries. Joining a local support group or an online new mothers group can be incredibly helpful. Learning about the issues and challenges other moms are facing and being able to guide someone from your experience helps you feel empowered.
Your healthcare provider is also there to support you in your recovery, so don't hesitate to reach out for assistance when needed.
Set realistic expectations
Understand that your body has undergone significant changes in pregnancy and childbirth, and it will certainly need time to heal and get back in shape. This transition varies from person to person, with some women bouncing back quickly while others require some time. Give yourself time for a gradual recovery, and don't compare your recovery and your way of parenting with others.
Avoid being carried away by the unrealistic portrayals of postpartum supermoms on social media. Set small achievable milestones for your ultimate recovery goal and work towards them. Remember, consistency is the key to success.
Celebrate your achievements
Acknowledge and celebrate even the smallest progress you make along the way, whether it's taking a full night's sleep, successfully breastfeeding, or being able to engage in a workout routine. You can boost your self-esteem by celebrating these moments. It is easier to deliberate on what you haven't achieved. Shifting your focus to smaller accomplishments can keep you motivated and on the right track toward your ultimate goal.
To summarize
The postpartum period brings physical and emotional challenges for new mothers. With the right mindset and guidance, you can confidently navigate this recovery. Prioritizing rest and sleep, managing stress, nourishing the body with a balanced diet, following a gradual workout routine, embracing body positivity, seeking support, setting realistic expectations, and celebrating small achievements are essential tips for a successful fourth trimester.
By following these tips, new moms can regain their strength and confidence and find balance in their journey of motherhood.
About the Author
Dr. Ammar Mahmoud is a highly respected cosmetic gynecological surgeon known for his expertise in minimally invasive procedures. He has a particular focus on sexual wellness and function. He has trained at St. George's University, where he served as Vice President of the Medical Honor Society and on the board of the Anatomical Clinical Research Society. Dr. Mahmoud also completed his residency at the State University of New York Downstate, where he currently serves as a clinical associate professor. In recent years, he has given a keynote speech on advanced labiaplasty and vaginoplasty techniques and has been a faculty member at the International Cosmetic Gynecology Conference in 2018 and 2019. Dr. Mahmoud is a member of the American Society of Cosmetic Surgeons and the American Society of Cosmetic Laser Surgery. He is dedicated to providing his patients compassionate and professional care based on individual needs.