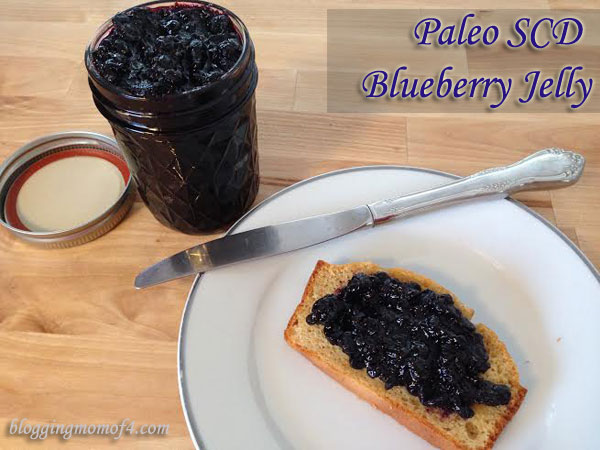 I'm finding more and more recipes to help with our transition to Paleo. For me it's about losing weight and eating healthy. But for my daughter, it's about managing her Crohn's Disease.
This whole process has really opened my eyes to what is actually in food. I'm looking at labels and am just shocked at how much is added into everything. This is the stuff that we've been putting in our bodies for years. YIKES!
The Paleo lifestyle (or the Specific Carbohydrate Lifestyle) may not be for everyone but if you need to follow it for health reasons, these recipes are lifesavers.
I've pulled recipes from some great sources. Like Against All Grain and Eat Well Feel Well. This Paleo SCD Jelly recipe, I've seen in a few places actually.  It is a great tasting jelly. I would have thought that making homemade jelly would have been so much harder to make. I thought wrong.
It's super easy to make and I would think you could use almost any berry. I had frozen blueberries so that's what I used. However, if you have fresh berries, that would probably make the process just a bit easier/shorter. The frozen blueberries had some frost on them and that made for extra water in the pan. I just had to boil for a bit longer to get it to thicken up. Once I put it in the refrigerator, though, it solidified nicely. I skipped the step of thawing the blueberries first. I could have thawed them in a strainer and drained that extra water off before mashing.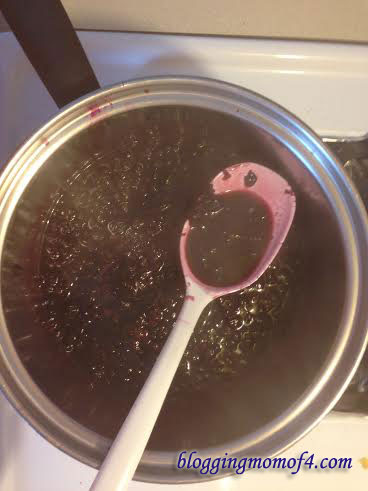 I'm looking forward to trying different berries and making more of this Paleo SCD Jelly. I spread it on the Paleo Sandwich Bread I made the other day and had it for breakfast this morning. YUM!
Paleo SCD Jelly Recipe
Paleo SCD Jelly – Blueberry
Ingredients
3

C

fresh or frozen blueberries

1/2

C

honey

2

T

lemon juice
Instructions
In medium saucepan, add blueberries and crush with a potato masher.

Add honey and lemon juice.

Bring to a boil over medium high heat.

Stir frequently and boil for 15-20 minutes.

Add to jar.

Cool to room temperature and store covered in refrigerator.
Let me know if you try the recipe and if you use different berries.
Enjoy!
Topic: Paleo SCD Jelly