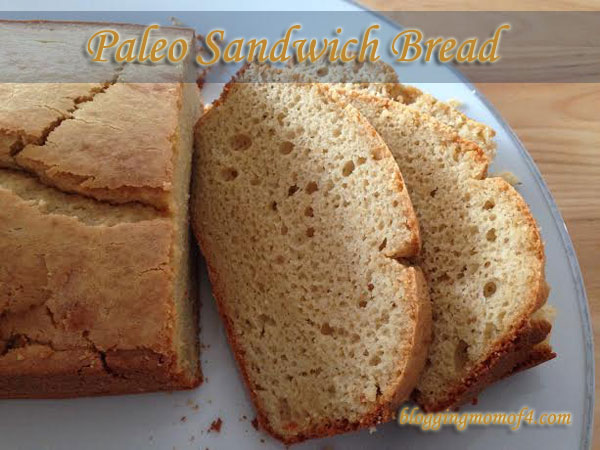 I have been using Paleo recipes for a few months now. I've tried different bread recipes and some were pretty good. This Paleo Sandwich Bread recipe, however, is excellent. It's super moist and not as dense as other Paleo bread recipes I've tried. Simply amazing.
If you love breads and are switching to a Paleo lifestyle, you must try this bread. The recipe comes from Against All Grain. I can't take credit for it and love Danielle for creating such a great recipe. I'm going to be making more of this Paleo bread and often!
This recipe calls for cashew butter. I made my own. It's very easy and I have the recipe for the cashew butter here.
I have loved reading Danielle's book, Against All Grain, and would highly recommend it.
There's a few extra prep steps to this recipe but they totally make this bread worth it so try not to change anything or take any short cuts.
Here's how I lined my loaf pan. This made for an easy way to remove the bread from the pan. Super quick!
When prepping all of the ingredients, I did wish I had an extra mixing bowl for my Kitchen Aid Stand Mixer. There's a lot of different steps and having an extra bowl would have really come in handy. Maybe next time I'll use a hand mixer to whip the egg whites. I should have taken a picture when I was done baking for the day. Granted I had made a few new recipes that day but my kitchen was a disaster. 😉
This bread will actually rise in your loaf pan and have a nice golden brown color when done. Insert toothpick to make sure it's done all the way through.
Here's the recipe:
Paleo Sandwich Bread
Paleo Sandwich Bread
Ingredients
4

large eggs

separated

1

cup

smooth raw cashew butter at room temperature

1

T

honey

2 1/2

teaspoons

apple cider vinegar

1/4

cup

almond milk

1/4

cup

coconut flour

1

teaspoon

baking soda

1/2

teaspoon

sea salt
Instructions
Preheat your oven to 300 degrees.

Place a small oven safe dish of water on the bottom rack.

Line the bottom of an 8×4 loaf pan with parchment paper, then spread a very thin coating of coconut oil on the sides of the pan.

Beat the cashew butter with the egg yolks, then add the honey, vinegar, and milk. I've done this with both electric hand beaters and a stand mixer and both seem to work equally as well. I would not try to make this by hand due to the stickiness of the butter.

Beat the egg whites in a separate bowl until peaks form.

Combine the dry ingredients in another small bowl.

Pour the dry ingredients into the wet ingredients, and beat until combined.

Pour the beaten egg whites into the cashew butter mixture, beating again until just combined.

Pour the batter into the prepared loaf pan.

Bake for 45-50 minutes, until the top is golden brown and a toothpick comes out clean.

Remove from the oven, then let cool for 15-20 minutes.

Remove from pan and cool right-side up on a cooling rack for an hour before serving.

Wrap the loaf up tightly and store in the fridge for 1 week.
This Paleo Sandwich Bread is also SCD friendly for those of you searching for a bread on the Specific Carbohydrate Diet.
Enjoy!
Topic: Paleo Sandwich Bread