Disclosure: We received a media rate on our Orlando Vacation Rental in order to facilitate our review. However, all opinions are my own and 100% honest.

Being from the north where it's winter, and/or just down right cold, a good 7 or 8 months out of the year, we dream of escaping to some place warm and sunny! And being big Disney fans, we like to head to Florida. The Orlando area has been our vacation destination of choice for a few years now. We just love it! We can choose to do as much or as little on our vacation and we'd like.
When planning our vacation, a big consideration goes into finding an Orlando vacation rental. Especially if we're staying for any length of time.
I've written about our past experiences with Global Resort Homes. They have always been phenomenal and we keep choosing to come back and vacation with them. Why?
Well there's the obvious reasons that I've written about before. Staying in a vacation home gives you all the comforts of home. You have the flexibility of doing laundry, making home cook meals, packing lunches when you're heading out, sleeping in comfy beds and in separate rooms, private pools and resort amenities. Just to name a few.
But why choose Global Resort Homes for our Orlando Vacation Rental?
The staff and management at Global Resort Homes is awesome! They are so friendly and great to work with. They want your vacation to be stress free and happy so they work with you to find you the right home that fits your budget! And they have so many options. We've chosen a different resort every time we've visited and they all have been great. For our recent trip, we stayed in a new condo in Windsor at Westside. This was our home for nine days.
This specific home is at 2042 Rome Dr. and is a 5 bedroom, 4.5 bath condo. It is conveniently located right near the club house. We don't mind staying away from the club house but it was so nice to be able to walk out our front door and across the street to get to the amenities.
Our youngest son is pretty active so he would head over to the club house, check out a basketball and play at the courts. We also spent a lot of time at the pool, floating on the lazy river and sitting a bit in the hot tub.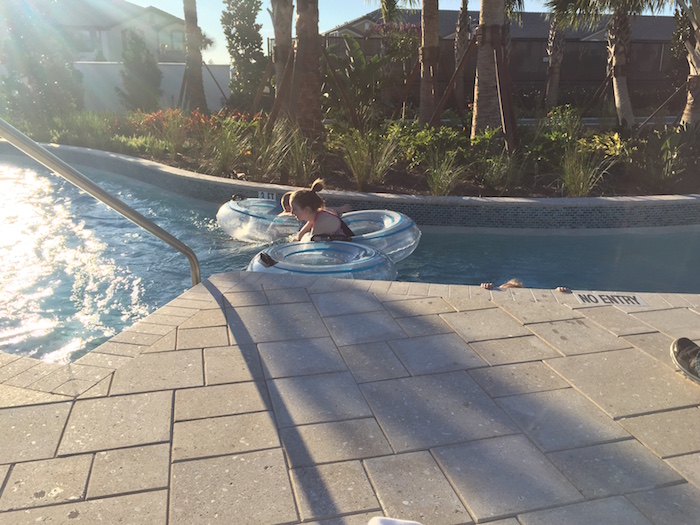 I even got in some reading time! Ahhh, nothing better than relaxing in the sun with a good book!
This specific resort did have a little store where you could pick up any necessities if you didn't feel like leaving the property but it is also very close to stores, restaurants and all of the parks.
This particular home is brand new so we felt pretty lucky to have gotten to stay in it. With 5 bed rooms and 2 separate family rooms, this would be a great house to share with another family. My kids loved that they each got their own room but if we shared with another family, it easily sleeps 10 people. And you wouldn't feel like you're right on top of each other. Plus it has it's own private splash pool so if you didn't want to head over to the club house, you still have your own pool to relax in.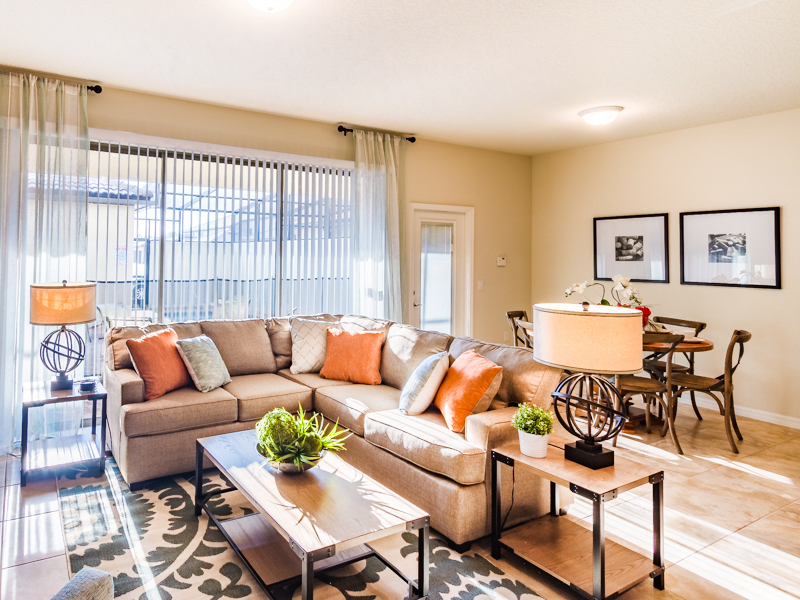 We had so much fun staying in this awesome condo! Really makes me want to go back right now!
If you're heading to Orlando, I'd highly recommend Global Resort Homes for your next Orlando vacation rental. You can look through all of their homes and find the perfect one for your family! Have fun!!