Hope you enjoy this Irish Cream Soda recipe.. read on. 🙂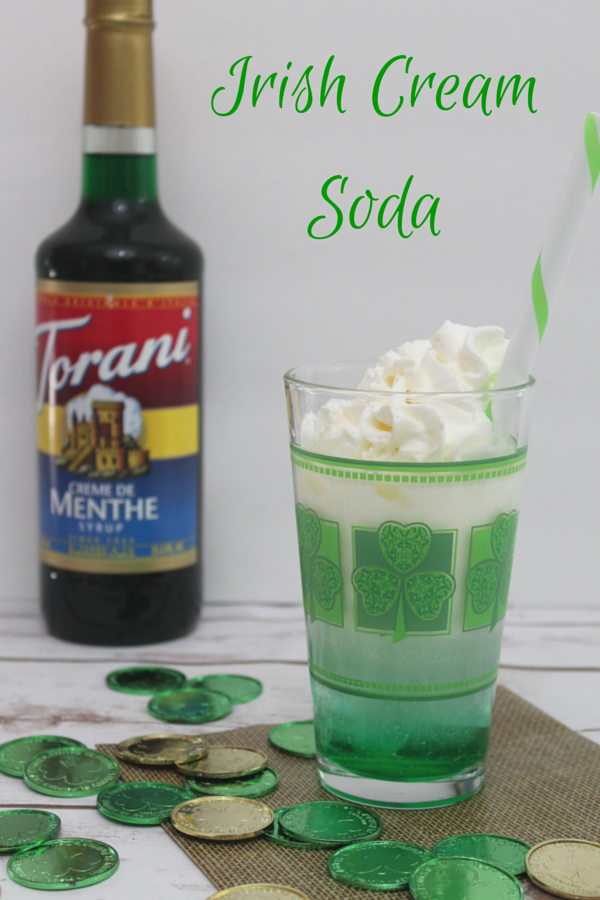 St. Patrick's Day is just around the corner. Do you have favorite Irish recipes? Is this month all green and gold for you?
I have to admit… I'm not Irish. Not even a little bit. But it is fun to participate in St. Patrick's Day. To get out the green recipes and crafts and see what you can come up with. The kids enjoy it too.
We made the Italian Cream Soda for Valentine's Day. It has been such a big hit in my family that I thought we'd attempt an Irish Cream Soda.
I was able to find the creme de menthe at one of our local coffee stores. They had a ton of different flavorings. I'm looking forward to trying some others in our cream soda as well.
If you can't find creme de menthe locally, you can also purchase it on Amazon.
We just made this Irish Cream Soda today. I wasn't sure how I would like the mint so the first glass, I went easy with the flavoring. But to my surprise, it wasn't that minty at all. So for the second glass, I added a bit more. It was delicious. And actually it tasted a bit like a McDonald's Shamrock shake. Added bonus!
I am a big fan of the McDonald's Shamrock shake. Yum, yum, yum!! However, I am allergic to ice cream so that's not something that I can have often or at all. This Irish Cream Soda is a great substitution for me.
My kids LOVED it! I think I'll be heading out to buy some more sprite as these Irish Cream Soda's might be on the menu for awhile.
Here's the recipe:
Irish Cream Soda
Ingredients
Sprite (or club soda)
Flavored Syrup
Heavy Whipping Cream (or Half and Half)
Whipped Cream
Directions
1. Fill glass half with ice.
2. Add 1-2 ounces flavoring (for the Irish Cream Soda we used creme de menthe)
3. Add Sprite.
4. Add 1-2 ounces of Heavy Whipping Cream.
5. Stir and top with Whipped Cream.
Hope you enjoy the Irish Cream Soda!