Disclosure: I receive free product in order to evaluate and comment on my experiences on the Medifast Program. Medifast products and the Medifast Program are not intended to diagnose, treat, cure, or prevent any disease or illness. Any medical improvements noted while on the program are related to weight loss in general, and not to Medifast products or programs.
This is my wedding ring – I used it in the picture for my DIY Jewelry Cleaner post: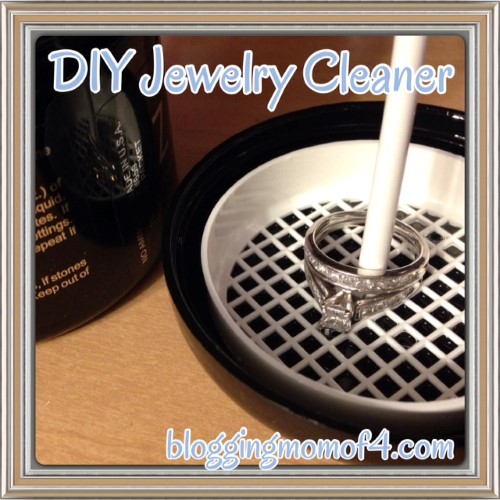 Now I may be biased but I think it's a very beautiful ring. I love wearing it and have gotten a lot of compliments on it. Of course, that's not the only reason I wear it. I wear it as a symbol of our marriage and a sign of our love.
However, I haven't been able to wear it lately. My finger is too fat. I used to try to squish it on but another few pounds and that was it. Couldn't get it on any longer.
I went for awhile without a ring but couldn't stand not having something on my ring finger. So I used another ring that I had gotten to wear on my middle finger. Yea, it doesn't fit my middle finger anymore but does fit my ring finger. That's what I've been wearing.
Along with my ring not fitting, my clothes are not either. And let me just say that lately I've been wearing whatever I can that is comfortable and stretchy. When those clothes don't fit anymore and your wedding ring doesn't fit anymore it's time to do something about it! Time for some weight loss!
So..
My First Weight Loss Goal = Wear Wedding Ring Again!
Now anyone that has tried to lose weight before knows how difficult it is. It's never an easy journey and it must be a lifestyle change. If you can find a program that works well for you and you can stick with it, that's a great start!
Last week I started with Medifast. I'm not going to lie, the first few days were rough.
1. Without a great suitable coffee creamer option, I quit coffee cold turkey. *GASP* Yep, done with coffee. So as you can guess, my headaches were not fun.
2. I was REALLY tired. No caffeine and a body trying to adjust to a lot less calories. Yikes!
3. I was grumpy – refer to #1 and #2.
However, I'm happy to say that I'm over that hump and doing a lot better. My headaches are gone, I'm definitely not as tired and my mood has leveled out. At least I think it has…might want to ask my husband to be sure. 😉
What about Medifast Food?
Well let's be real. When you're used to full flavor, full fat eating, you might not love any 'diet' food…but I can say that the longer I go with out the excess sugar, carbs and all things bad for me, the better the Medifast food is tasting. There were a few things that I liked from the start but a few others that I'm liking better after a few days. The only thing I'm not a fan of so far is the maple brown sugar oatmeal. However, I found some Medifast recipes that I'm going to try using the oatmeal so maybe that will help.
I'd love for you to follow along on my journey. You can find my post from last week as well as future posts in my Weight Loss category.
Oh and jeesh! Got to writing and totally forgot to update you all on my weight loss. 😀
Week 1 – Total Weight Loss 5 lbs.
Woohoooo!!
Interested in trying out Medifast for yourself?
Medifast has some deals for you! If you use my code, MOMOF415, you can receive $15 off an order of $150 or more. Or, use code MOMOF428 to receive 28 free meals (a $67 value!) with your purchase of $250+.
Limit one per customer. The MOMOF428 code is limited to new customers only and not valid with prior purchases, Medifast Advantage, or any other promotions or discounts.
Both codes expire on 12/31/2014. See website for complete details on program and discounts. Consult your physician before beginning a weight-loss program.
Topic: Weight Loss