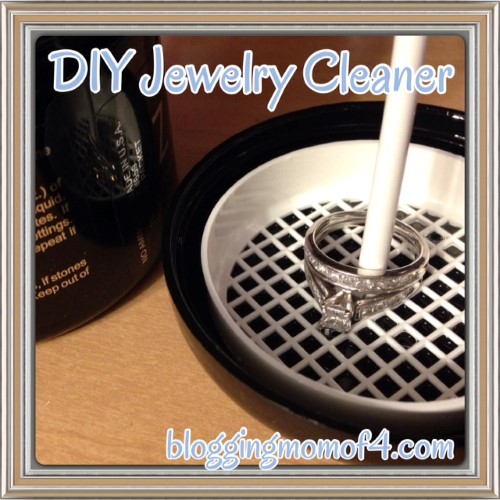 I wear my wedding ring all of the time. I rarely take it off. So you can imagine how dirty it gets between the hand lotion, shampoo, soaps and just regular dirt and grime. I love a sparkly ring so I try to clean it often.
Now I found a DIY Jewelry Cleaner so I don't have to buy cleaner at the store. Very simple and easy and you should have all ingredients in your cupboards.
I used the old store bought cleaner container that I had so that I could use the basket with it. But you wouldn't have to. A regular container will do.
DIY Jewelry Cleaner
Ingredients
1 tablespoon salt
1 tablespoon baking soda
1 tablespoon dish detergent
1 cup water
1 piece aluminum foil
Directions
1. Heat water in the microwave for 1 or 2 minutes.
2. Cut a piece of aluminum foil that roughly covers the bottom of a small bowl.
3. Pour hot water into bowl. Place salt, soda, and dish washing liquid into bowl. Place jewelry on top of foil and let it sit for 5 to 10 minutes. Rinse jewelry in cool water and dry jewelry completely with soft cloth. Discard solution after use and make a new batch next time.
Topic: DIY Jewelry Cleaner