Today it's all about Dory and Hank. Read on for the exclusive Ellen DeGeneres & Ed O'Neill interview. Photo Credit Sara Lundberg / BudgetSavvyDiva.com
Is there anyone out there that isn't a fan of Ellen DeGeneres? I mean, come on! It's Ellen. She's amazing! And if that's not enough, there's the incredible Ed O'Neill. If you're not watching Modern Family, you need to be. Look it up, find it, binge watch it.
Ellen and Ed together in a room with 25 bloggers… me being one of those 25 bloggers. Simply amazing. I don't think I'll find words to describe it. I'm pretty sure you're thinking that it was an incredible, once in a lifetime moment and you would be absolutely right!
Ellen DeGeneres & Ed O'Neill interview
Here are some of my favorite highlights from the Ellen DeGeneres & Ed O'Neill interview.
I mentioned in my Finding Dory movie premiere post that the movie had lots of adventure and emotion. But does the cast get emotional when they see it too?
They sure do! Ellen and Ed said that watching Finding Dory at the premiere was actually the second time they watched it. Ellen commented that it was "really nice to see it with a bunch of people and feel the energy of everybody, and then it's kind of like, Oh, it really did work."
Ed said that he actually got choked up during a scene with Dory and her parents. He remarked, "Oh, my God, I'm gonna cry."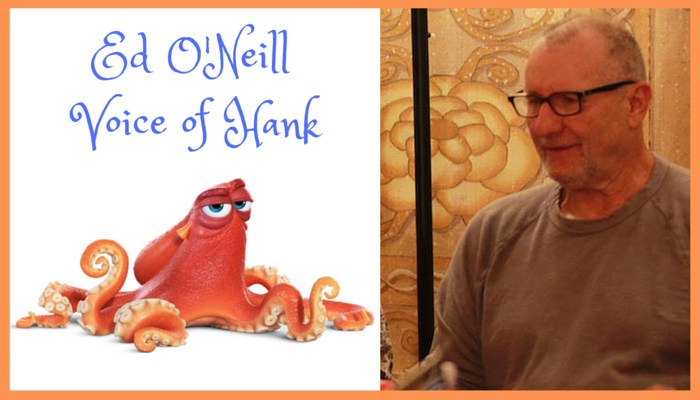 We all recognize the famous line: Just Keep Swimming! These are the words Dory lives by. Do Ellen and Ed have any words that keep them going during a challenging time?
What did Ed answer? "Just keep punching." 😉
Ellen, on the other hand, said that Just Keep Swimming has been her motto. Here's a bit more from Ellen.
I have to say, it's weird that that became a part of this iconic character, because I didn't know it before this happened, but that was my motto, you know what I mean? My life has gone through a lot of different twists and turns, and I did just keep swimming. I didn't realize that that was what I was doing. But I just kept moving forward, and I just kept doing what I know how to do, which is make people happy and make people smile and make people laugh. And so it's just so weird that that is part of this fish's, you know, motto.

And I'd talked to so many people that go through whatever it is, if it's an illness, or they are going through a difficult time, "Just keep swimming" is what they think about. So, I guess that's everybody's motto that persevere.
I loved hearing what each of them hoped parents and kids would take away from the movie. The movie is so inspirational and everyone will be able to take away a great message.
Ellen: I think "never give up" and "be optimistic" and "there's always another way." When someone says that there isn't another way, there is. You don't get stuck. And no matter what your situation is, it can get better, and everybody starts from a different places, and some people start with a lot more odds stacked against them. But there's a way out. There's a way to, you know — and use whatever you do best to help you, you know.

Even if you have a disability, use your strengths. Whatever that is. Mine was making people laugh. I had a lot of stuff that was hard for me in my life, and I knew that I could make people laugh, and that was my strength.

ED: I was just going to say that in the movie, you know, when my character says there's no way out, and [Dory] says, "there's always a way out," and [Hank] says, "There's no way out," and then [Dory] says, "Well, what about that?" And it's, "Oh, there is a way out!" It's the same thing, you know.

There's always some other option.
The question was asked if they were preparing for there to be a third installment to the series. Ed says that he doesn't think that far ahead. That started a conversation about how Ed was brought in to the movie and progressed from there. This is one of my favorite parts of the interview.
ELLEN: … Ed was saying he really didn't know what his part was going to be and how big his part was going to be. He just showed up because there was no script and he thought he was doing like, a day thing. And it turns out you're like, a huge part of it. And —

ED : I thought it was a cameo. Because I had done sort of a cameo in Wreck It Ralph, and so when they called me and said, "Oh, they want you to do this thing, this sequel to Nemo," I said, "Okay, well, what is it?"

Oh, it's an octopus. I said, "Oh, okay, you know, can I see it, is there anything written?" No, there's nothing. I said, "Well, why would I sign onto nothing, I don't even know what it is." It's Pixar. It's from Finding Nemo — I said, "Okay, I'm in." And that's all I ever knew and then, you know, over time, I kept coming back, and I would say to Andrew, "what's happening? I'm back again?" And he said, "Well, it's a progression." It's a —

ELLEN: You didn't know it was going to be three years.

ED : I had no idea. But, I mean, after a while, I said, "this is a bigger part than I thought it would be."

ELLEN: And it was also —

ED : And all of my stuff was with Ellen, so —

ELLEN: I know, but we had — we never worked together, ever. I was by myself all the time, and I assume you were by yourself, and —

ED : Yes.

ELLEN: — but it was so great, because I could hear his voice, and Andrew — Andrew always read it. And, but, it's just — and they showed me a few — once Ed did some, I saw Ed's character come to life, and I was like, "Oh, this is so perfect, and he's so perfectly grumpy."

ED : I don't know why they would cast me for that. The funniest thing was, I had never done anything like this. And when I would be driving to the sessions on the 101, I would be thinking —

I like this. And, I thought, oh, my God, here we go again, because a lot of the stuff, as you know, would be like, frenetic, so you've gotta get this energy level so high with, like, you know, "Stop it, no, what're you doing, no, go, run, no, Dory, rararara!" And you do that for like, 30 seconds, and it's like, [PANTING]. And you look in the booth and they're going….and you hear, "Oh, Ed, that was great. Um. Next one, maybe amp it up a little more." Four hours, you know?

ELLEN: I know, it seems like — I mean, here's the great thing, there's no hair and makeup, and you can just show up. But it's four hours of — and especially, like, you know, as he's saying, Dory is always left behind. She's always catching up. She's always like, you know like, [PANTING].

And I'm hyperventilating. I have to stop this. Or I was like, screaming, and it was a lot of that, and not — not nearly as much as I see in the film, oddly enough. Like, "Where is all that?" Because I did it for three years.

ED : It's like, if you're doing a movie, and you're eating food, you don't want to really eat too much food, because it's a hundred takes, maybe, you know. If you're eating ribs, you end up eating a hundred ribs, and it's similar. You have to pace yourself on these things. Because, it's — the voice you know, it's almost like being a singer, you know. You can't burn out, 'cause you're the only one there.

ELLEN: Yeah, I would go home, and I would just — well, I do this because I talk for a living, and I would go home and I just wouldn't talk. Because I was just so like, my — and so when people would ask me to speak whale I'm like, "No."

You go and watch the movie, and watch me speak whale. Can't do it.
Ed tried to get Ellen to speak whale for all of us but Ellen wasn't having any of it. I can't imagine the toll voice acting takes on them.
It took 13 years from Finding Nemo to Finding Dory. What role did Ellen play in that?
ELLEN: I take full responsibility that it's happening, because I made it happen, 'cause I kept saying, "What's wrong with you people? It won an Academy Award." It's a great film, it's iconic and why — I mean, I didn't ever imagine that it would be about Dory or that — I just thought that Pixar makes sequels, right? I mean, there's a Toy Story One, Toy Story 2, Toy Story 3, there's like, sequels, where's sequel? But, and then it just became a joke. I just, you know, I had a talk show, so I had a place to make a joke about it, every time a new sequel came out.
And it really was just a joke. I never — at a certain point, I just gave up. I just thought, there's no way. I guess I stopped swimming. I know, it's sad. But it really was not — and so when Andrew called me, he said, he just started with saying "uncle, I give up," and so that was all him, and his idea, and he said it's about Dory and finding her family.
I have so many favorite scenes in the movie. The movie is just awesome so it's easy to come away with a lot of favorite scenes. After you've seen Finding Dory, come back and let me know what your favorites are. As for Ellen and Ed's favorite scenes?
Ellen said her favorite was when Hank turns on the disposal accidentally. She said that the first time she saw that she thought it was just brilliant. Ed paused a moment and said he'd have to think about which one his favorite but he loves all of the whale speak during the movie.
We're already getting to the end of the interview. It went so fast and it was amazing to just be sitting in this room, hearing these two amazing people talk about their roles in the film. Just surreal. But… if that all wasn't enough, Leanette of FuntasticLife.com asked if we could do a little dance with them.
And yes, a mini dance party happened!! WHAT?? The pictures are a little blurry but you can see us dancing with Ellen and Ed. Ah-mazing!!
This was just the beginning of our interviews. Be sure to tune in the rest of the week for more great coverage!
Finding Dory is in theaters June 17th!