Today we're talking red carpets, The Finding Dory movie premiere, Finding Dory movie review and make sure to scroll all the way to the bottom for a special surprise giveaway!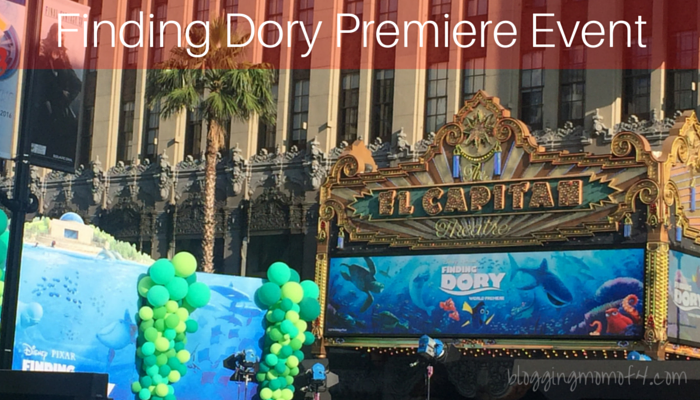 Have you ever wondered what it would be like to attend a movie premiere? I have been so blessed to attend several on behalf of Disney and it is truly amazing! I don't know if I can truly put it into words but I am going to try. Along with some pictures added in here and there to help me out. 😉
We have waited 13 years for a Finding Nemo sequel. It's finally here. Finding Dory hits movie theaters June 17th! How excited are you?
Finding Dory Movie Premiere
I don't get dressed up often. I typically wear the mom uniform. Whatever is comfy. And if I put on make up, the kids ask where I'm going! HA Do your kids ask you that too? So it's really fun to find the perfect dress and get dolled up for something special. Something like when you attend a movie premiere.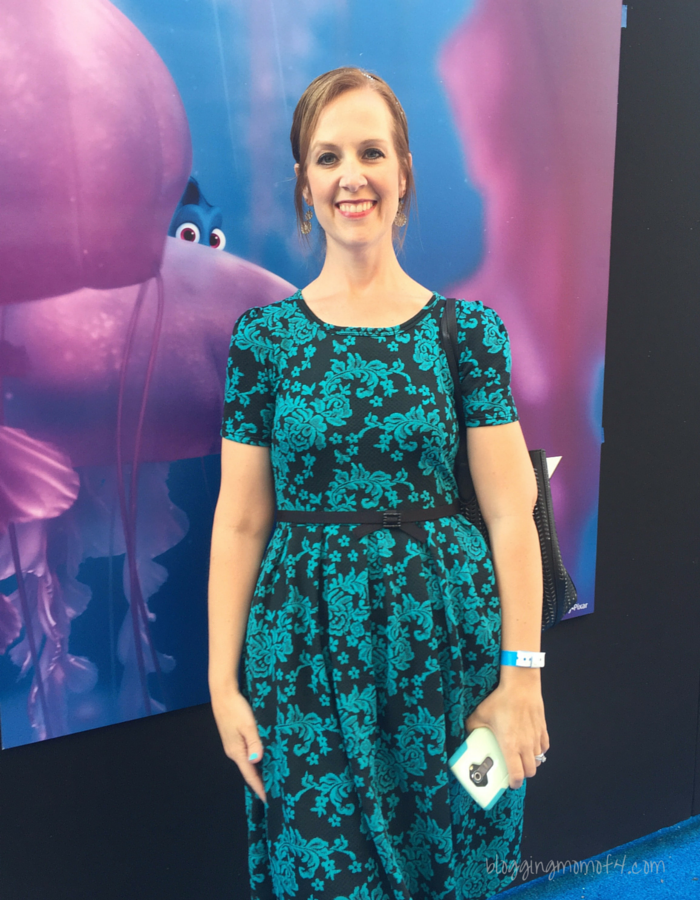 Disney invited me and 24 other bloggers to cover the #FindingDoryEvent. It was incredible. Stay tuned this whole week for exclusive content!
I love getting to experience this with some of my best blogging buddies. Here's Donna Hup and Family, Love and Other Stuff.
First, lets chat about the movie premiere. Anytime they shut down an entire block, you know it's going to be pretty awesome. And when you get to watch a movie at The El Capitan Theatre, even more amazing!
As a guest, you start at one end of the block and make your way down to the theater. The energy is unreal. It's absolutely amazing to be able to be one of the few that get to actually walk that 'red' carpet. Or in Finding Dory's case, blue carpet.
Look! Here I am in ET's live coverage of the event. Walking behind Eugene Levy!
Yet while you're on that blue carpet, you're also very much still a fan. You can't help but get excited to be so near to some of your favorites. Like Ellen? Yep, she was right there. I'm a little bit reserved and more timid when it comes to asking for pictures. I tend to watch from afar.
I saw so many faces. I think I need to invest in a quicker camera because most of my shots were either of the back of their heads or with their eyes closed.
While on the blue carpet, I tried to just take it all it, soak it all up. But all to soon, it's time to head into the theater.
I was so very excited to see Finding Dory. I loved Finding Nemo and after seeing the trailers come out for Finding Dory, I knew I was going to love it. And I did. It definitely did not disappoint. There was even more adventure, more fun and more emotion.
We know from the trailers, that Dory is on the hunt to find her family. But how did she get separated in the first place, where's her mom and dad, can she remember long enough to find them? We find all that out and more! The movie is so heartwarming and funny. Kids of all ages and parents too will love it!
Just a little shout out to the Disney Short Piper that played before Finding Dory… Piper is amazing!! The animation is so incredible that I spent the first few minutes trying to figure out if it was real or animated. It's just that good. And all the feels… it has so many feels.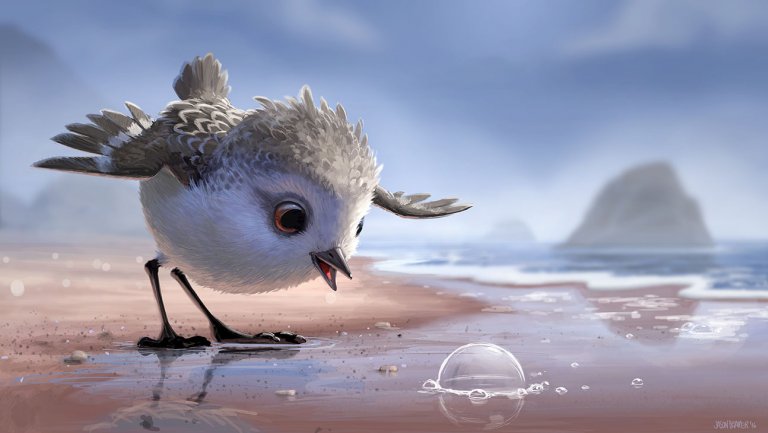 Plan to see this movie as soon as it comes out on June 17th. You are in for such a treat!!
Now after the movie, we're not done yet. There's the after party. Right on the street in front of the theater. SO. MUCH. FUN!! We now have more chances to mingle, craft, play and explore. It was truly a magical night.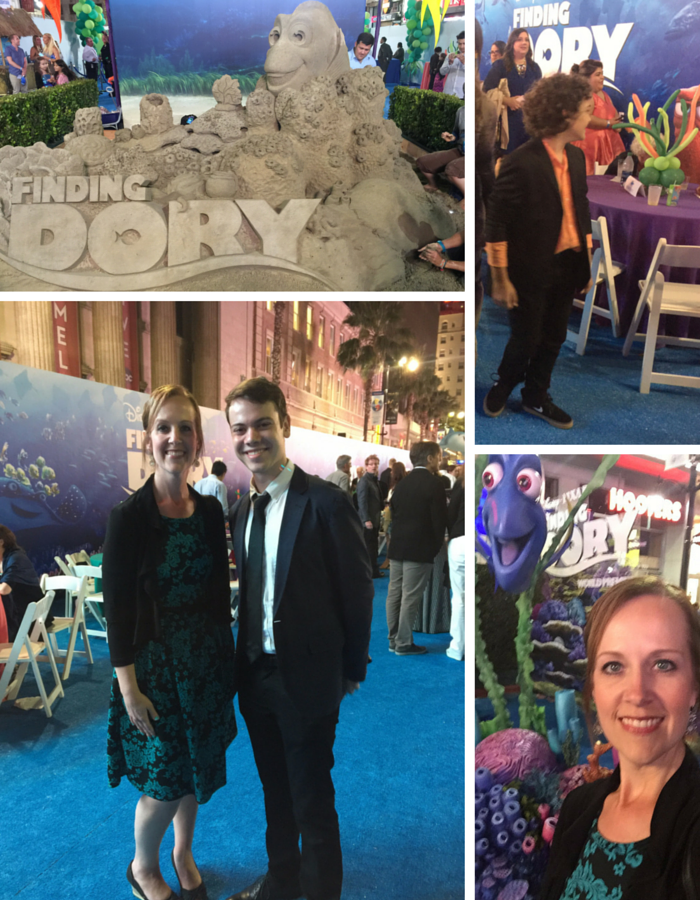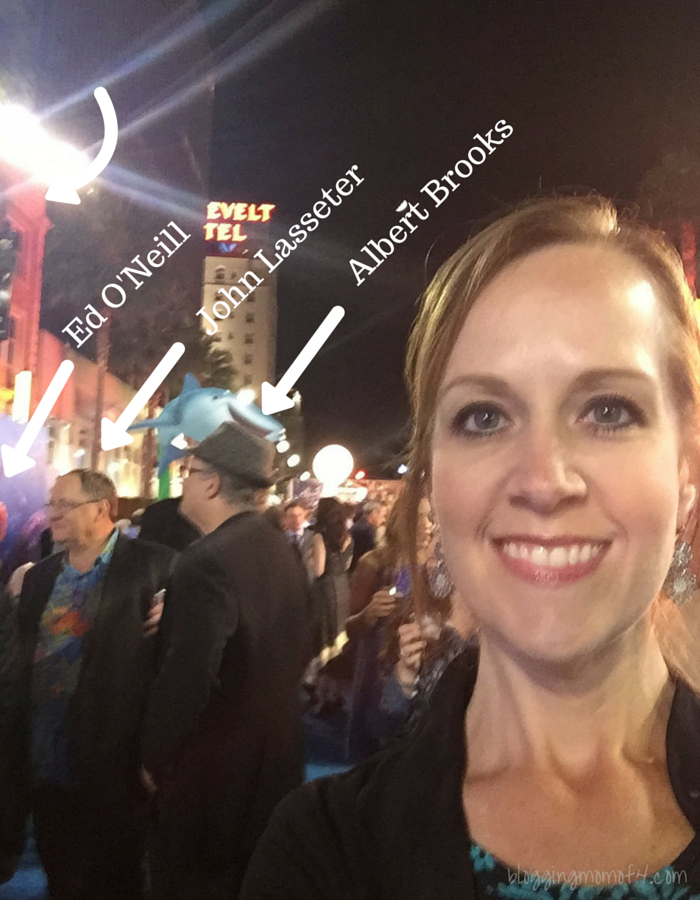 I have one last surprise for you!! Alex Woo created a beautiful necklace that was inspired for Finding Dory. It could be yours!!
Enter to WIN below!
The giveaway is open to residents of the US only, ages 18 and up. It will end on 6/27/16 at 11:59 PM EST. One winner will be randomly selected using the Giveaway Tools random selector and notified via email. Once notified, the winner will have 48 hours to respond or a new winner will be chosen. This giveaway is in no way associated with Facebook, Twitter, Instagram, Pinterest or Google. Void where prohibited.