April flowers bring BABY SHOWERS! Hmm.. I don't think that's how the saying goes but we are heading into baby shower season so it still fits. 😉 Thank you to Teach My for sponsoring this post. If you are interested in becoming a sponsor, please visit our product guide here.
Spring is finally here and babies are a blooming. I love going to baby showers and celebrating new life. Such an amazing blessing.
I remember going to baby showers with my mom when I was younger. I loved playing baby shower games. I still love playing those games but sometimes we need some new game ideas.
Baby Shower Games
Decorate Baby Onesies
I've seen several showers where the guests get to decorate baby onesies. That's a fun one and the new baby receives a ton of new customized onesies.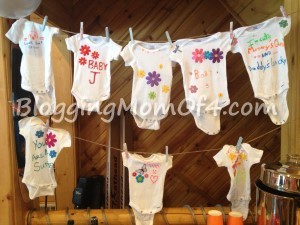 Just make sure to think through the paint or fabric markers that you're going to use so there's space to create and time to dry.
Some of the 'old' baby shower games weren't all that bad. Maybe it's time for them to make a come back. There's two that I can think of that were played at almost every baby shower.
Find the Safety Pins
This one is easy to set up. All you need is a medium size bowl of uncooked rice and some safety pins. Mix the safety pins in the jar, blind fold the guest. Choose a time limit (30-60 seconds) and have them search through the bowl, using one hand only, to see how many safety pins they can find. The one with the most, wins. It's surprisingly hard to find those little pins in the rice.
Scoop Up the Cotton Balls
Here's another easy one to set up but not so easy to play. Grab a big bowl and fill it with cotton balls. Guests will be blindfolded and will go one at a time. With the bowl of cotton balls on their head, an empty bowl on their lap, and using a large serving spoon, guests will scoop up the cotton balls and get them into the empty bowl. Again, 30-60 seconds is usually good. The one with the most in wins.
Tableware As The Ideal Gift Option
If you are willing not to spend a fortune on baby shower gifts, but to give something practical and cute, you should go for baby dinnerware. You can find a wide variety of sets including trays, cups, bowls, and utensils or you can give separate dinnerware as a gift. For instance, baby utensils such as spoons are a nice gift option, because they are extremely cute and are designed for the baby's little hands. Toddler silicone training cups are another great option, as they have two handles to help the baby learn to sip and transition into regular cups.
Perfect Baby Shower Gift

Now whether you're attending a baby shower or throwing one, Teach My Baby is a wonderful gift! The new baby will be able to use this kit they grow. From teaching first numbers and sounds to teaching first words, there is so much to learn in this one Teach My set. Such a fun way to teach babies and let them start exploring their new world.
This is such a high-quality set and includes everything you need to get your baby started learning. Fully interactive and tons of fun. I have always taken the "learning through play" approach with my kids. Even when they are young, think of everything they're learning or can learn just from playing. It's amazing.
Teach My gives us all these great tools in one kit. Take a look as I explore what's inside:
Teach My has several awesome learning kits. Each one made with amazing quality! Whether you're looking for your own kids or are looking for the perfect gift, check out the learning kits from Teach My!
About Teach My
Teach My, makers of award winning learning kits & sets or babies, toddlers, preschoolers and kindergarteners. Screen-free, Teach My kits give parents, grandparents and caregivers all of the tools necessary to teach the basics. From reading, printing, counting, colors, shapes and more, your mini scholars can get a headstart in just 20 minutes a day! Teach My kits are available at Amazon, Walmart.com, Target.com, Toysrus, Kohls.com, BedBath&Beyond.com and more!
Heres some other fun Baby Shower Ideas:
Michelle over at the The Neighborhood Moms made this Baby Shower Cotton Candy Champagne.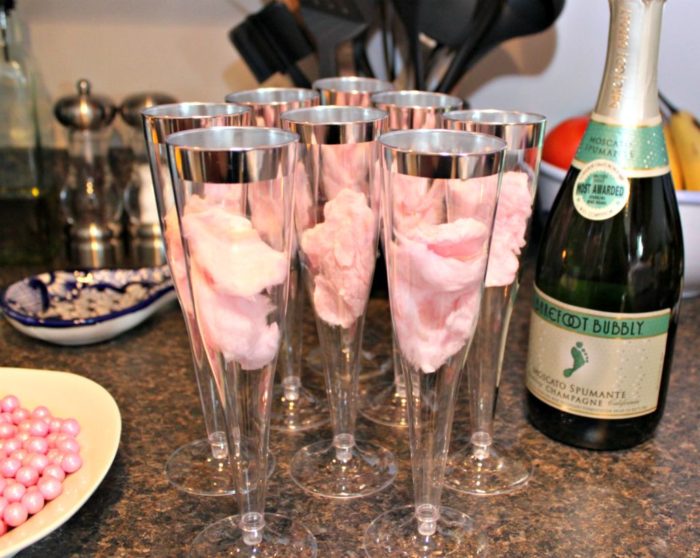 What a cute idea! Head over and find out how to make this easy treat.
While you're there, you can also check out these awesome Baby Shower Diaper Blessings.
Buying diapers to give to the new parents is a blessing itself but what a wonderful idea to write versus on the diapers. I love it!
What are your favorite baby shower games, gift ideas or party ideas?