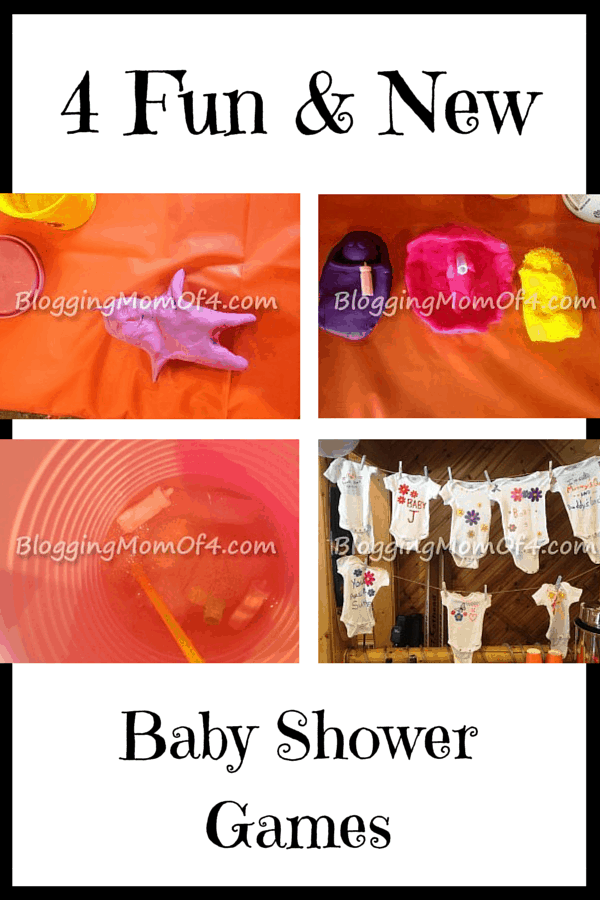 Great Baby Shower Game Ideas
I went to a really fun baby shower today. I hadn't been to a baby shower in awhile so it was fun to see some different baby shower game ideas played. I have a feeling that Pinterest and Social Media in general have really helped advance things like baby showers. No more having to play the same 'ol "boring" shower games any more. 😉
I thought I'd share some of the ideas from the shower. They were definitely cute and things that I had never seen before.
Baby in Ice Cube
(and Baby Bottles)
We didn't realize this was a 'game' until later in the day but there were little baby bottles frozen in the ice cubes for our drinks. I thought it was a cute party idea for the baby shower but there was one ice cube with a baby in it. The person that had the ice cube with the baby in it actually won a prize. The picture above isn't the best because it just looks like floating baby bottles but you get the idea. 😉
Design a Onezie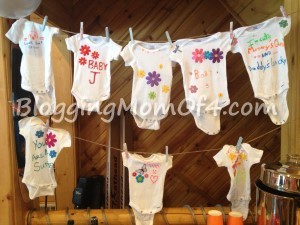 This was another very cute idea. We had fabric markers and iron on flowers, etc that we could use to decorate our onezies. (There was an iron available for the iron on flowers). A new baby can never have enough onezies and having personalized ones made by all of the guests from your baby shower is just priceless. Seeing what everyone came up with was fun. There was a cute clothes line available so we could hang up our creations when we were done and so the puff paint could dry. Just one hint, make sure that the clothes line is very secure. Not long after I took the picture, the clothes line pulled away from the wall and some of the cute designs got messed up when the puff paint smeared. 🙁
PlayDoh Babies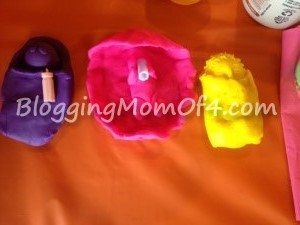 We had a ton of fun with this one. My mom, aunt, cousin, daughter and I had lots of laughs. We were all given a small jar of PlayDoh and were given 10 minutes to make a baby with all of our PlayDoh. The mom to be judged best baby and the winner was given a prize. Some of us had more talent than others. 😉
(This is my cousin's baby wearing a snow suit) 😀
We had a great time at the baby shower and we didn't see one idea that had been used at any other shower before. Hope you get some use out of these fun baby shower game ideas!
 Topic: baby shower game ideas