Disclosure: I received the Zoobie Flicker the Firefly for review purposes only. All opinions are my own.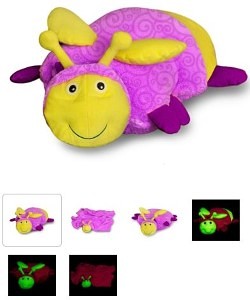 Zoobie Flicker the Firefly
My kids all love stuffed animals and blankets. It must be the coziness they feel when they're snuggling up with them. I guess I did too when I was little. I had a huge stuffed animals collection…and I still love wrapping up in a nice, warm, cozy blanket. There's nothing else like it. So what could be better than combining a stuffed animal and a cozy blanket!! The best of both worlds.
My youngest daughter is probably the biggest stuffed animal/blanket lover so when we had a chance to review Zoobies, I chose her to help with this one. We picked out Zoobies Glow Bugs Flicker the Firefly. I loved the idea of the Glow Bugs. They add one more cool aspect to these fun pets. Not only are they soft and snuggly, they also glow in the dark. Faith loves it!
Check out information on Zoobie Glow Bugs:
Flicker the Firefly™

This funky glow-in-the-dark critter is sure to become your child's favorite bedtime buddy, as not only is Flicker™ a super-cute firefly, but also a comfy pillow and extremely cozy blanket all in one. Perfect for road excursions or just cuddling in bed. Flicker™ also makes for the ideal baby shower gift.

Large, super-soft coral fleece blanke inside: 44″ x 34″

Recommended for ages 3 and up, but safely tested for all ages.
Zoobie is offering Blogging Mom of 4 Readers 20% off any Zoobie product on www.zoobies.com with the coupon code "Parenthood." They are also offering a great giveaway!
One reader will win a Zoobie Blanket Pet of your choice!
Giveaway will close on 5/3 11:59 pm EST. Open to US Residents Only. Enter via the Rafflecopter below. Good Luck!
a Rafflecopter giveaway

Topic: Zoobies Flicker the Firefly