Disclosure: I received a pair of ZIPZ shoes for review purposes only. All opinions are my own.
What are Zipz Shoes?
The next generation of SHOE INFATUATION

ZIPZ Shoes are removable and interchangeable shoes, like nothing you've owned before! Simply match any ZIPZ® COVERS with any same size ZIPZ® SOULS to create one of-a-kind mix and match shoes. Shop our ZIPZ® store by zippin' on over to the Shop ZIPZ® tab. Our shoes are hand-made to ensure comfort, quality, and reliability. Invented in California, Designed in the U.S. Change your shoes. Change yourself. Change your world. ZIPZ®
I LOVE ZIPS! These shoes offer so many different shoe possibilities and you only have to buy the 1 base shoe. All others are just covers that you switch off and on. You can change your ZIPZ shoes like you change your purses. 😉
My oldest daughter is very much into fashion and establishing her own style. These shoes are great for her because she can switch on and off the covers and have 2 (or more) totally different shoes. Yet they don't take up the closet space of 2 shoes.
I'm always surprised at the patterns that my daughter gravitates towards. I really thought she was going to pick the pink sparkly pair but she actually went for the leopard! ZIPZ Shoes have so many styles and different covers to choose from.
Abbie picked out the high top with the leopard print and then ZIPZ also sent her the Dragon Rose covers to try. She loves them!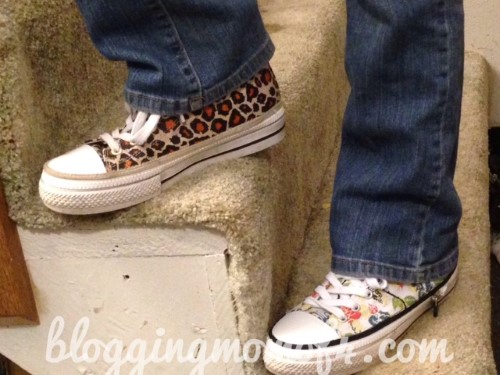 The zippers around the shoe are very durable. I've had my ZIPZ for awhile now and haven't had any problem with the zippers. AND I've gotten a ton of compliments on my shoes. They seem to notice the zipper and that gets them curious as to why my shoes have zippers. 😉
Changing tops is easy. Because the zippers are so durable, sometimes you do have to tug a little but I've never had any problems getting the covers switched out.
ZIPZ shoes are perfect for gift giving too…the Holidays are just around the corner!
You can buy ZIPZ online at places like ShoeBuy. Don't forget to follow ZIPZ on Facebook too. They like to do random giveaways so be sure to stay tuned!
Topic: ZIPZ Shoe review