Disclosure: This is a sponsored post brought to you by Skylanders as part of our 2015 Holiday Gift Guide. As always, all thoughts and opinions are my own!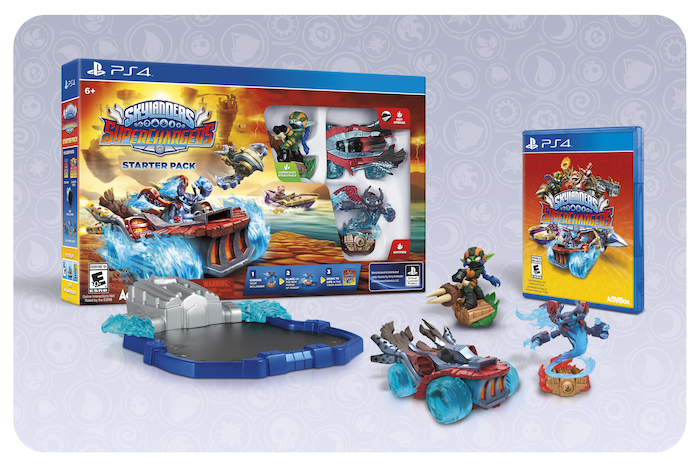 What is one of the hottest toys this holiday season? The brand new Skylanders SuperChargers is! If you have a video game loving kid in your home, I bet you have heard of the coloring characters of Skylands. I know my kids LOVE this game (no really, we have a cabinet filled with them!), and there was plenty of excitement when news of the new installment came out. I love how every time a new Skylanders game comes out, it is so different than the game before it. What makes Skylanders SuperChargers unique? Let's check it out:
Skylanders SuperChargers delivers more ways to play than ever before:
Single-player Adventure Mode
Online and local co-operative Adventure Mode
Local 2-player head-to-head racing in split screen (offline)
Online competitive racing with up to 4 players playable in land, sea, and sky environments
o   Includes time trials and lap races
o   Voice chat can be activated with friends
Optional expansion packs will be available upon launch to unlock extended content and will come with three toys (a SuperCharger, their signature vehicle, a villain trophy)
A dedicated combat racing game, Skylanders SuperChargers Racing, will be made available on Wii and Nintendo 3DS
Nintendo guest stars: Turbo Charge Donkey Kong and Hammer Slam Bowser and their respective vehicles will debut on Nintendo platforms
Additional star power includes voice overs from noted celebrities Josh Duhamel, Brittany Snow, Neal McDonough and more!
How exciting does that sound!? Skylanders SuperChargers would be an awesome holiday gift for any Skylanders lover! Visit the Skylanders Website for more information. Happy Gaming!