Disclosure: I was provided a pair of Molecule Women's Cargo Pants for review purposes only. All opinions are my own. Molecule is part of our 2015 Product Guide. @moleculeclothes #builtforliving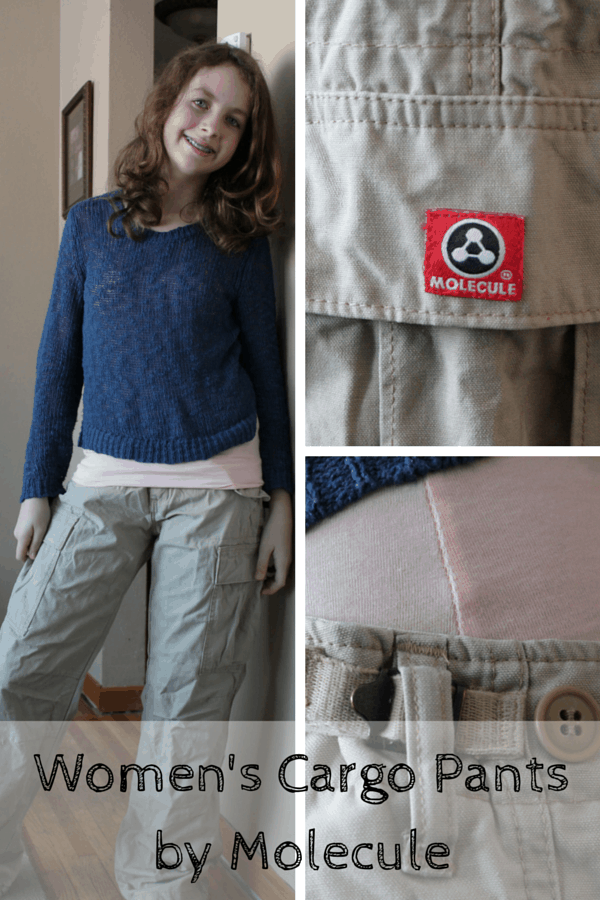 Are you in need of a great pair of Women's Cargo Pants?
I've been able to work with Molecule a couple of times now and their women's cargo pants are awesome. My lovely daughter is helping me out by modeling them. 😉
The pair shown in the above picture is the Molecule Cargo Jungle Jeans. They are available in a variety of different colors. The one Abbie is wearing is the khaki cream.
These pants are perfect for on the go adventurers or just anyone wanting a great, quality made cargo pant. With plenty of features, these will suit many. There are buttons, plenty of pockets and even an adjuster on the waist to make sure you have the perfect fit.
Here's a few more features:
Machine Washable, Tumble dry Friendly
Double stitched seams for strength
Hidden internal pocket for security
Double-pop-close cargo pocket, set off to the side
External buckled width-adjuster for a precise fit
Locker Loops
Leg-bottom tie : Strong shoelace style
Pop-close front pocket flap for security
Strong metal zip fly
Molecule has been making quality 100% cotton cargo pants and shorts since 1999.
If you follow Molecule's size chart, I'd say these run true to size. Abbie has about a 26″ waist so I ordered her the mediums. They are just slightly big on her but with the adjusters on the side, they fit great. They are also a low riding pant.. perfect for Abbie because that's just how she likes them.
Like a different fit? No worries. Molecule has several styles to choose from. They offer cargo pants, shorts, and shirts for both men and women as well as skirts. Something for every adventurer!