We received a copy of VEGAS Movie Studio Platinum video editing software and compensation for review purposes only. All opinions are our own.
We've been attempting to get more into vlogging and posting videos. Side note: If you haven't checked out our Family That Games YouTube channel yet, please do. Feel free to subscribe and follow. 😉
I find that shooting the video is, often times, not as hard as the actual editing piece of it. Finding a great video editing software does make it a lot easier though.
We were able to test out the VEGAS Movie Studio Platinum video editing software. The hubs does most of our editing so I let him have at it and take it for a test run. He found that the video editing software to be easy to use and very user friendly.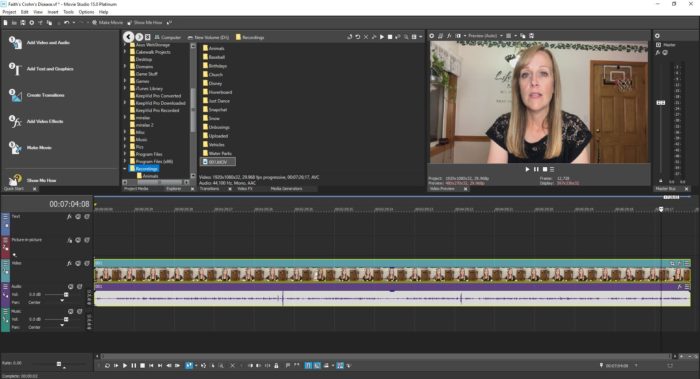 The software ran very smooth on his computer and didn't bog it down at all.
We're not video editing experts but that's also a great plus to the VEGAS Movie Studio Software, there's different levels of software to meet you where you're at. The VEGAS Movie Studio product line has 3 versions:
VEGAS Movie Studio
VEGAS Movie Studio Platinum
VEGAS Movie Studio Suite.
For us beginners, the software offers help and explanation of different features a long the way. For those video editing pros out there, VEGAS Movie Studio Software offers fast, intuitive editing tools, highly customizable user interface, creative video effects, filters, transitions and more.
Designed for fast editing and enhanced creativity, VEGAS Movie Studio Platinum empowers your creative process with versatile editing tools and an incredibly powerful feature set. Work in Standard Definition, High Definition, or step up to 4K and your video effects, composites, and text elements will shine with precision.

Customize, arrange, and save workspace layouts to match the task at hand and improve efficiency. The new Quick Start dashboard makes it easy to get started and work productively.
Right now, you can SAVE UP TO 35% OFF VEGAS Movie Studio Software.
No coupon code needed
Save 20% on VEGAS Movie Studio
30% on VEGAS Movie Studio Platinum
35% on VEGAS Movie Studio Suite
Savings.com is also hosting the #EditWithVEGAS GIVEAWAY! Make sure you enter for a chance to win VEGAS Movie Studio software!
PRIZES: three VEGAS Movie Studio software downloads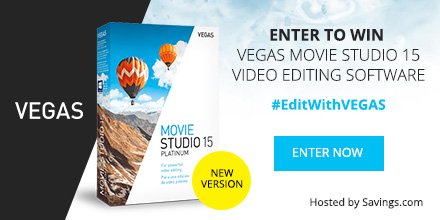 Giveaway starts on Monday, August 13th at 12:00 AM ET and ends on Friday, August 17th at 11:59 PM ET.
Good luck!!
Take a look at the video we edited with VEGAS Movie Studio Platinum video editing software:
Are you looking for a novice or an expert level video editing software? Let me know in the comments below.