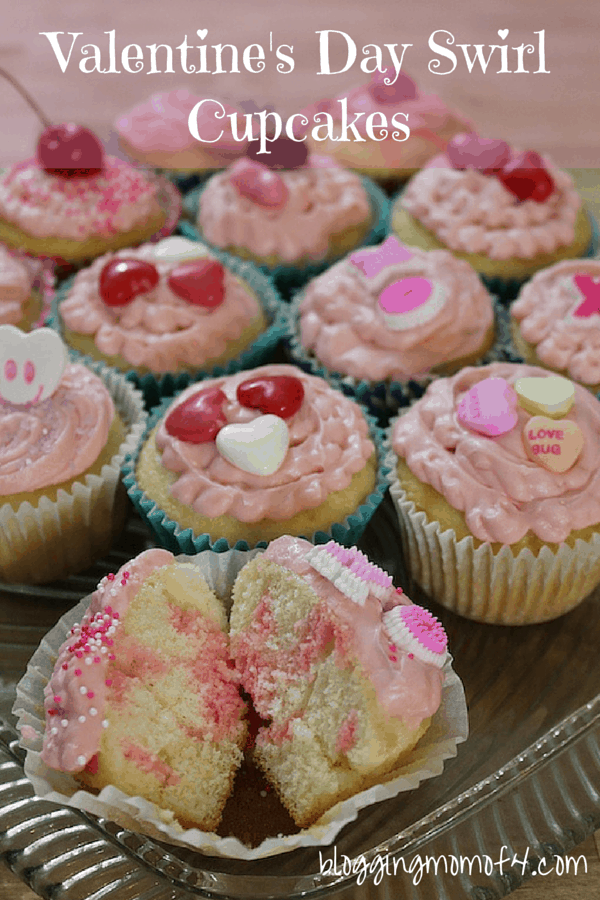 Valentine's Day is just around the corner. We don't have a lot of baked goods in the house, mostly because I just don't have time to bake. But when I do bake, I like to have fun with it. Try something different. Even have the kids help decorate.
These Valentine's Day Swirl Cupcakes are really fairly easy to make and only have a few ingredients. Have your kids each make their very own designs and masterpieces.
You start with a basic white cake mix. You'll fill your muffin tins 1/2-3/4 full with your white batter. With the remaining batter, you add your food coloring. Pink or red for Valentine's Day.
With your colored batter, you're going to swirl it into the white batter. Have fun with the designs.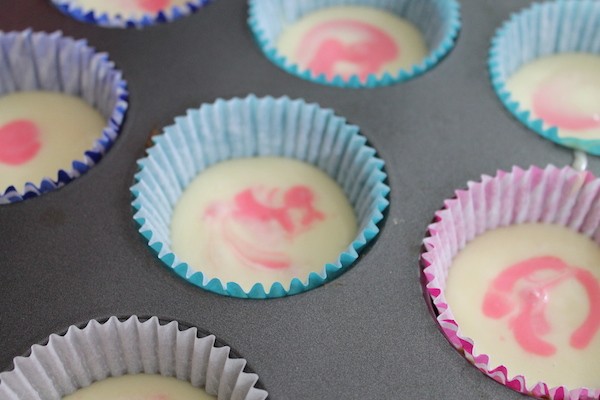 Bake, cool and then finish off with a yummy cream cheese frosting. I also added a "strawberry shortcake" flavoring to the frosting. So good!
Get out your candies, sprinkles, etc and decorate. Maybe even make up a box to give to someone special.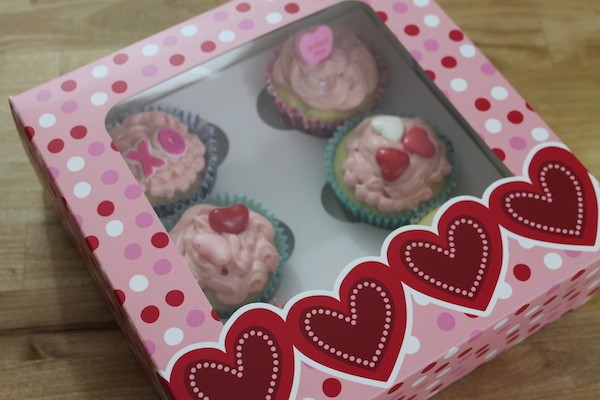 How to make these yummy Valentine's Day Swirl Cupcakes
Ingredients
1 Box White Cake Mix
Red Food Coloring
Candies, Sprinkles, etc.
Directions
Make the cake mix as directed on the box for cupcakes.
Take 1/2-3/4 of the batter and pour into muffin tins.
With the remaining batter, add in red food coloring. Add a little or a lot depending on the color you're going for. Light pink, pink, red.
Add pink batter to a squeeze bottle, squeeze tube or baggie with the tip cut off. Take this pink batter and add to your muffin tins. Create your own designs, swirls, dots, half/half, etc.
Bake as directed on the box.
Once cool, decorate with frosting, candies, sprinkles, whatever you'd like.
Cream Cheese Frosting
Ingredients
4 oz Butter or Margarine Softened
4 oz Cream Cheese Softened
2 Cups Powdered Sugar
1 tsp Vanilla
Directions
With mixer, cream together butter and cream cheese and vanilla. When mixed well, slowly add in powdered sugar. Continue to mix until creamy.
Optional – add in flavoring. Ie: Raspberry or Strawberry.
Enjoy!