Does your son or daughter have a crazy loom or rainbow loom? My daughter got one for her birthday and has been making band bracelets like crazy! She loves it! (Don't have a Rainbow Loom or need more bands? You can find them on Amazon or in a store near you).
So I thought, why not make that our Valentine's Day exchange this year. She can make Valentine's Day Friendship Bracelets for all of her friends!
Valentine's Day Friendship Bracelets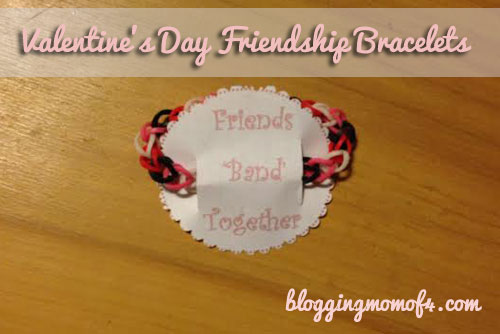 I created a printable PDF that you can grab and print. I'd recommend printing on a thicker card stock paper. That way when you string the bracelets through, you won't rip the paper. If you didn't want to thread them through, you could always just tape them to the back. That would be easy to do and still look nice.
I have a couple of different pattern type scissors that I got out to use with this project. You wouldn't have to but it makes it cute and it's fun for the kids to use.
I think the craft is pretty self explanatory… just have your son or daughter get to work on making band bracelets in a variety of colors, print out the PDF, cut out the individual cards in whatever shape you'd like, and then attach the Valentine's Day Friendship Bracelets.
That's all there is. You and your kids have now taken care of the Valentine's Day exchange with these easy to make Valentine's Day Friendship Bracelets.