This shop has been compensated by Collective Bias, Inc. and its advertiser for Walmart Family Mobile and the ZTE ZMAX. All opinions are mine alone. #MaxYourTax #CollectiveBias #Ad #cbias @FamilyMobile
This time of year I always dread and then LOVE tax time. I really dread the paperwork, the filing, etc. But once it's done, I am thrilled. I love getting back my tax refund.
Are you the same way?
My tax refund is like a savings account that pays out each year around February or March. 😉 We usually save a little out for each of us to get something that we wanted but maybe couldn't afford during the year. Then the rest goes to paying down bills.
How do you spend your tax refund?
My kids are getting old enough where they are needing their own cell phones. We held off for awhile because with them being homeschooled, they're not out of the house during the day. Now that Dylan is working and Abbie is starting to babysit, they each needed their own phones. Especially since we do not have a landline anymore.
We started out by getting them just the basic phone. One that can call and text. Now that they've shown that they can handle their cell phone responsibly, I think it's time to upgrade to unlimited talk, text and data. I'm using some of our tax refund to get that upgrade.
Unlimited Talk, Text and Data
I mean, a girls gotta stay connected with her friends!
And be able to text!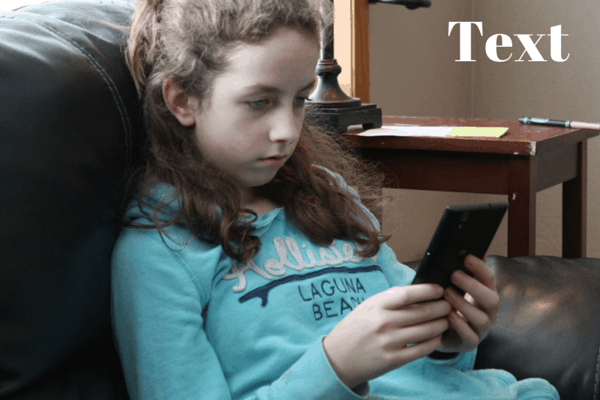 And what is a girl to do without Snapchat?? 😉
Walmart Family Mobile has some of the lowest priced unlimited plans! Walmart Family Mobile service is $29.88/month (for the first line) and you get an Unlimited Talk, Text and Data service plan which includes up to 500MB of 4G LTE data. Yep.. 4G LTE data!!
You can find all of the Walmart Family Mobile phones and information back in the Electronics and Entertainment section.
Not only are their plans affordable but I was able to pick up the ZTE ZMAX for only $179.00 on Rollback. It was originally $199.88. The kids have loved checking out everything you can do with this phone.
Even little sis can have some fun with it.
What are you planning on buying with your tax refund this year? Let me know in the comments.