Disclosure: Disney and ABCTV invited me out to LA for a press junket including Trophy Wife. All opinions are my own.
On my recent trip to LA, we were fortunate enough to get a day and a half dedicated for the ABC TV Event. One of the shows we got to preview was Trophy Wife (@TrophyWifeABC). Not only did we get to see Part 1 and 2 of The Wedding, we also got to sit down and talk with the Executive Producers. The series was co-created and executive produced by Emily Halpern and Sarah Haskins and is loosely based on Sarah Haskin's life.
It was great sitting down with both of them to really see how Trophy Wife was created and how they write the episodes. Here is a snippet from the Q&A:
How did you come up with the idea for Trophy Wife?

Sarah Haskins: We're the creators, so we came up with the idea together. It's very loosely based on my life. I married an older man who'd been married a few times before and has children from those different marriages. Kind of like Malin Akerman's character, without rocking the short shorts.

It's a situation that while unique and highly specific, is also very universal. People have dealt with divorce and co-parenting. It's very common and we thought has a place on TV.

How'd you come up with the specific characters? Who were the influences?

Sarah: We talked about my emotional reactions to meeting my husband's exes. His first wife is super intimidating. She's French and she's a lawyer and she went to Brown and blah blah blah. So she was so intimidating that we took that intimidating factor and made that Diane. I think everyone probably has an experience with an intimidating ex who you don't want to hear about.

And then the Jackie character came out of dealing with the boundaries of a blended family. No one in particular. It's just hard to say where your nuclear family ends and your everybody family begins. And Jackie is someone who is strongly on the everybody is family portion of the spectrum. That's just a fun character to have.

Do the ex wives know it's about them?

Sarah: I wouldn't say it's about them. One of them watches it and one of them doesn't. The intimidating one does watch it.
Previous to this, I had not actually watched Trophy Wife. This series started in the fall season of 2013. After watching it though, I am a fan and am excited to catch up and continue watching.
We also got to meet Malin Akerman. She was one of the Moms that attended the Moms of ABC reception during our ABC TV Event. I'll write more about that soon!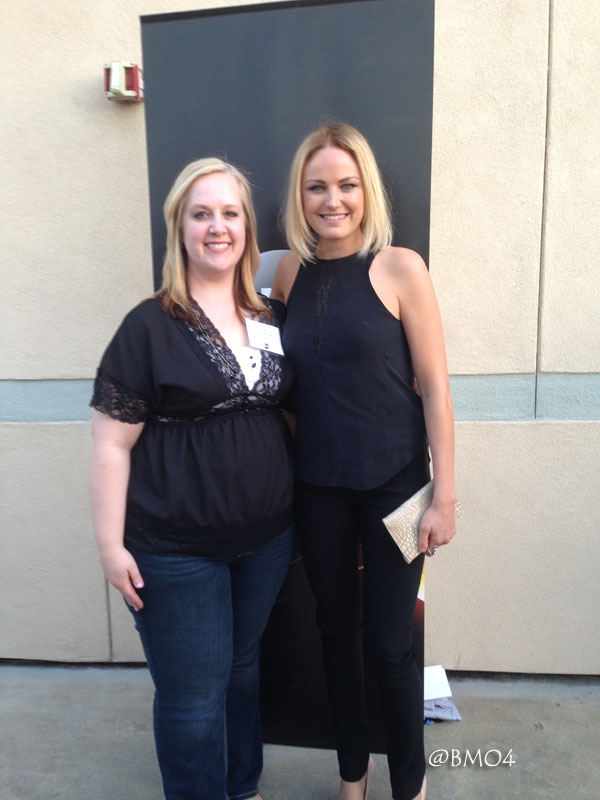 Malin is awesome! She's so down to earth and I really enjoyed talking with her mom to mom. I'm looking forward to watching her in Trophy Wife.
Other cast include Bradley Whitford and Michaela Watkins. It's a great cast!
The Wedding episodes that we watched were fantastic! Make sure to tune in on ABC Tuesdays 9:30/8:30 c.
Topic: Trophy Wife, #ABCTVEvent