Disclosure: I received Thirty One product for review purposes only. All opinions are my own.
Thirty One Utility Tote
Last summer I was at a family get together and saw my new cousin in law carrying this gorgeous bag. It had room for all of her picnic supplies, food to pass, etc. I had never seen anything like it. I knew it was perfect for a busy family like ours!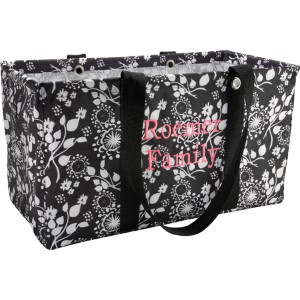 With 4 kids, the Thirty One Utility Tote is perfect. It has so many uses. I can use it for everything and anything. Overnight stays at grandma's, heading off to the pool/beach, sporting events..many, many uses. I also love that you can personalize the bags with beautiful embroidery to customize and make your own. There are so many prints to choose from and then embroidery designs as well. It's great!
Thirty One Utility Tote Details:
This oversized bag holds a LOT! Perfect for sporting equipment, tailgating, camping trips, tools, etc. Easily collapses for storage. Pair it with a Single Organizer, Double Organizer and Top-A-Tote.
I also was able to review one of their thermal totes. Love it! There's just times where we head out for the day and need to keep things cold. I don't always want to bring a huge cooler so this size is perfect. It's great for packing a lunch or drinks and snacks. When you have kids, you always need to have snacks and drinks on hand. I've learned that the hard way. 😉 Having something packed in a thermal tote is great.
I've been working with Tonya, a Thirty One Consultant. You can find her Thirty One page here.
Tonya would also like to GIVE AWAY a large Thirty One Utility Tote to one of our readers!! YAY!! The winning reader will be able to pick out the pattern of choice.
Giveaway will run through 4/6/13 at 11:59 pm EST. Enter via the Rafflecopter below. Good Luck!!
Topic: Thirty One Utility Tote Review and Giveaway