Disclosure: I was provided a pair of Therafit Sienna Shoes for review purposes only. All opinions are my own. 
I love doing product reviews. It allows me to try out new products and/or products I might have otherwise not know about. Then I can pass along my thoughts to my blog readers. I find it so much more reassuring to buy a product that has been recommended by a friend, fellow mom, etc.
I have worked with the Therafit brand for a few reviews now. I love, love, love their shoes. I have chronic back, hip and heel pain so finding shoes that alleviate that pain has not been easy. Therafit to the rescue!
Here's what makes Therafit so awesome:
Therafit has created fashionable, comfortable shoes – perfect for all hours of a woman's day. Co-developed by Dr. Lisa Masterson, of the Emmy award-winning series, 'The Doctors', Therafit believes in empowering women to embrace wellness in all aspects of their lives. We know that combining fashion with comfort gives women a solid foundation, both at work and at play.

Endorsed by the National Posture Institute, our patented technology provides cushioning and support helping to reduce the aches and pains that come from the stress of everyday activities. Therafit Shoe worked very closely with Cornell University Professor Dr. Richard Lennihan, an avid runner and pioneering vascular surgeon, to create the unique patented technology used in every one of our products.  Utilizing the patented Personalized Comfort System (PCS), each shoe lets you adjust the impact protection and cushion level to fit your personal needs. You decide what works best for you.
Therafit Sienna
Therafit has several great styles. I received the Therafit Sienna in pink. With side zipper, they are super easy to get on. Plus, they have the great comfort and support that Therafit shoes are known for.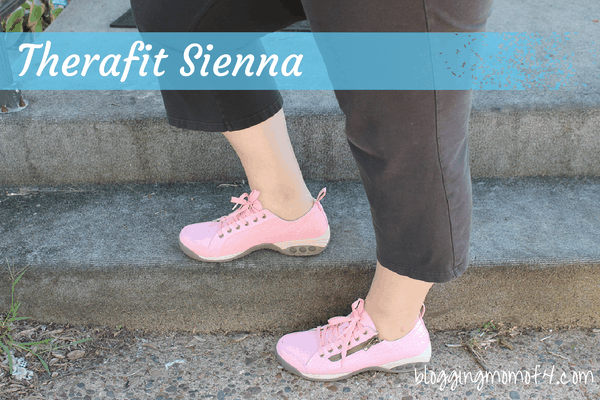 We're headed to Florida next month. We're going to be doing a lot of walking so I'm thankful that I have my new Therafit Sienna shoes. They are super comfortable and yet fashionable too. I'm a pink girl. Gotta have pink shoes! 😉
If you do a lot of walking or could use a better shoe to help alleviate aches and pains, I definitely recommend you check out Therafit. Plus, you can save 10% OFF when you use coupon code dawn14.
Topic: Therafit Sienna Review