Disclosure: I See Me! is participating in the Summer/BTS product guide. I received a copy of The Very Important Preschooler (V.I.P) Storybook for review purposes only. All opinions are my own. #iseemebooks #SummerGuide
Do you have a little one heading off the preschool in the fall? If so, you MUST check out this adorable The Very Important Preschooler (V.I.P) Storybook from I See Me!.
I don't have any little ones anymore but I have several friends with upcoming preschoolers. To celebrate the new school year, I ordered one of these awesome books for an adorable little girl named Addison.
When I first opened the book and started flipping through the pages, I teared up. It's just so sweet. And how very special will this book always be for Addison. Having Personalized Children's books is something they can treasure for years to come.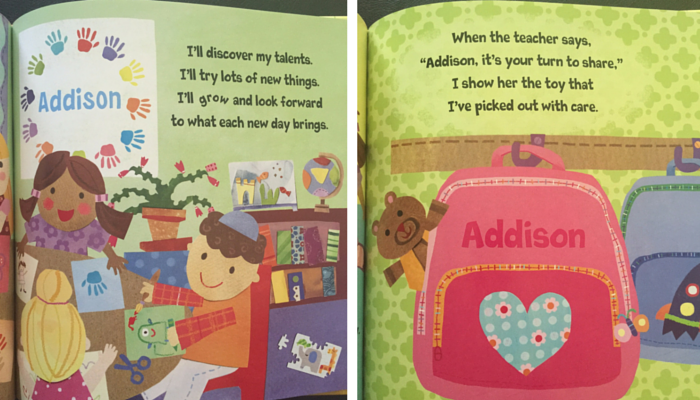 Addison could also take her new book to show and tell with her!
Sometimes these transitions are not easy for little ones to adjust to. I think sitting down and reading all about preschool with mom and dad can definitely help.
Wishing for a great year of preschool for little Addison and more great school years to come!
I See Me! also has other back to school books. They are unique gifts that your kids are sure to love! They have something for everyone and every occasion: Lunchboxes / Puzzles /Coloring Books/ Placemats / Stickers  and Growth Charts!
I See Me! personalized books are award-winning, unique keepsake gifts that children and parents will treasure for a lifetime. Each book is made one at a time, especially for each child and personalized with his or her name.
The mission of I See Me! is to increase self-esteem in children and make children feel special… one book at a time!
You can also find I See Me! on social media:
Facebook, Twitter, Pinterest, Instagram, Google+, Email promos/discounts and updates
On Pinterest? Here's a Pinterest friendly image: