I received The Reading Lesson book, Big Words for Little Kids, and the Verbal Math Set for review purposes only. All opinions are my own.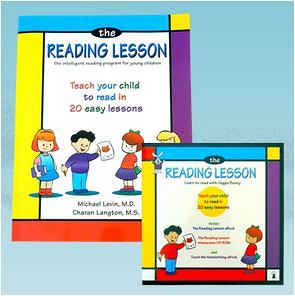 The Reading Lesson
With lots of families in back-to-school mode, what better time to bring you my review of The Reading Lesson!  The Reading Lesson was designed for both home schooling families and classroom instructors.  If you're not a home schooling family, you can still use this wonderful learning tool to teach your children the basic reading skills they will need to start school.    While it is necessary for a parent or teacher to be directly involved in this learning process, as that is key, The Reading Lesson is structured, clear and simple.
There are twenty lessons in this book, so reading each lesson prior to teaching it to your child(ren) is a great idea to understanding how this paired-associative learning technique is the most effective mnemonic tool to enhance your child's memory of the new sounds.  Even though no two people, adults and children alike, will say words and sounds the same, it is important to be consistent with the way you say the sounds and words when teaching. The Reading Lesson teaches how to read, pronounce letters & sounds and blend words.

How fast should you go
The length and the pace of the daily lessons will vary with the child's age and abilities.
We suggest the following schedule:

• For children under five, one page per day
• For children between five and six, two to three pages per day
• For children over six, three or more pages per day

Children have a very short attention span. Try to keep each lesson under fifteen minutes and spend no more than five to seven minutes per page. If your child is young, don't rush. Work at a leisurely and comfortable pace. Remember: you have plenty of time to complete the course and, if necessary, to go back and repeat the course before your child starts reading instruction in school. – excerpt from The Reading Lesson
I love how The Reading Lesson books are designed. It really makes teaching and learning to read very straight forward. I think they are great for homeschoolers but also for any child. A lot of times, you need to have your child at a certain level before even going into school so these are great. Or maybe you have a struggling reader, these books can help.
You can keep up with The Reading Lesson on Facebook and Twitter as well as on the Reading Lesson website.