Disclosure: I was provided with an all expense paid trip to cover specific Disney events. Including this interview with the "kids" of Alexander and the Terrible, Horrible, No Good, Very Bad Day. #VeryBadDayEvent
We're counting down the days until the premiere of Alexander and the Terrible, Horrible, No Good, Very Bad Day. Coming to theaters Oct. 10th!! If you haven't read my interview with Steve Carell and Jennifer Garner, start there first.
Interviewing the cast of this movie was so fun. They are truly a great group of people. You could tell just how much they've all bonded during the filming of this movie.
We sat down with the "kids" of Alexander and the Terrible, Horrible, No Good, Very Bad Day – Ed Oxenbould (Alexander Cooper), Dylan Minnette (Anthony Cooper), Kerris Dorsey (Emily Cooper). This was such a fun interview. They were all hillarious together. Here are some of my favorite moments from the Q&A.
The question was asked about their favorite scene in the movie. They all agreed that the party scene was their favorite to shoot.
Dylan : … 200 people and animals and swimming and music and food and just-

Kerris : It was so cool. We were there for a long time. So it sort of became like a home to us, you know? So, yeah, that was so fun. We actually ate the food at one point.

Dylan : I was stealing– I was stealing candy all the time.

Ed : It was poisoned.

Kerris : We were eating. We were dancing.

Dylan : It was poisoned too.

Ed : It was fake.

Dylan : It was plastic candy.

Kerris : But it wasn't real. But it was so good.

…

Ed : It didn't even feel like we were working.

Kerris : Yeah, we had a party. We were all just dancing, and there's one shot that we laughed over every time because it's like– it's on Jen and Steve. And you can see past us. I don't know what we're doing. We're just like dancing the whole time. It's like so awkward. But I mean hopefully no one notices it.

Dylan : Now they will.

Kerris : Now you will. So–

Dylan : Yeah, and then it goes directly on us.

Kerris : On us. It focuses on us. And we're just like, ok, cool, this is happening.
They were also asked if they had any "Very Bad Day" type experiences like in the movie.
Dylan : Well, Kerris has yet to do her driver's test. So maybe–

Ed : Well, don't jinx it.

Kerris : Well, oh, shut up.

Dylan : No, I actually aced my driver's test luckily. What else happens to me? I've never knocked a trophy case over.

Kerris : I feel like we exorcized it all out of our systems when we filmed it because we just got out– we're like, well, this can never happen to us in real life 'cause we just did it. So that's nice.

Ed : If it does happen we're preparing

Kerris : Yeah, and you're right. We know how to react. And we know how to sort of adapt to it. But, yeah, I mean I have those days where you wake up. And you're sick. And then everything falls down in front of you, and you trip over things. It's– those days happen to me all the time. Yeah.

Dylan : All the time.
Did you know that both Kerris and Dylan are musicians as well as actors? Dylan is in a band – The Narwhals- and Kerris actually co-wrote and performed the song from the movie, "Best Worst Day Ever" with her sister Justine Dorsey.
Kerris : Miguel actually called both of us and said he knows that we're both musicians. I think he probably called you (Dylan) first. He said I would love it if you wanted to write a song for the movie. My sister's a singer/songwriter. She's so talented. I asked her if she wanted to write it with me. Then we had like a short window that we could do it, that we could fit it in. And so we were like fingers crossed. Let's see. We watched the trailer sort of for inspiration. And obviously I knew what happened in the movie. We sort of tried to capture the essence of, you know, like Disney and the worst day sort of turning out to be the best day. It all came together in a way that it's in the end credits. So we were really happy.

Ed : Can I say Dylan's band has a song in the film.

Kerris : They're called the Narwhals and Dylan's band is amazing. In like a montage scene in the movie they played one of his songs. It's called Surf, Surf, Don't Drown.

Dylan : Aw, thanks. Hey, they just said it. They said it all for me.
The kids also wrote a song for Steve and performed it for his last day on set.
Ed : That was the genius minds of Kerris and Justine Dorsey. Because all the way during the set we had this– on the party, we always had the song Beds are Burning by Midnight Oil. Is that it? I should know. I'm an Aussie. Um– [LAUGHTER]
So that was always in our heads. So the song was to the tune of that. But it was all about working with him and all about his character. And it was really cool. We all sang it. And, yeah, he did get really emotional. It was really nice.

Dylan : He got emotional.

Kerris : Yeah, it was one of the most special moments ever

Ed : I have to say, yeah, it was really sad, though. You know, because it was his last day. It was near the end.

Kerris : Yeah, it was very emotional. The whole crew was there on the set. We got to sing it together. We had the lyrics and everything. They had a little speaker that they let us use to play the song. And it was– it was such a like special moment.

Ed : That was a really special moment.

Dylan: It was amazing.
These are some talented kids! It was great to get to meet them.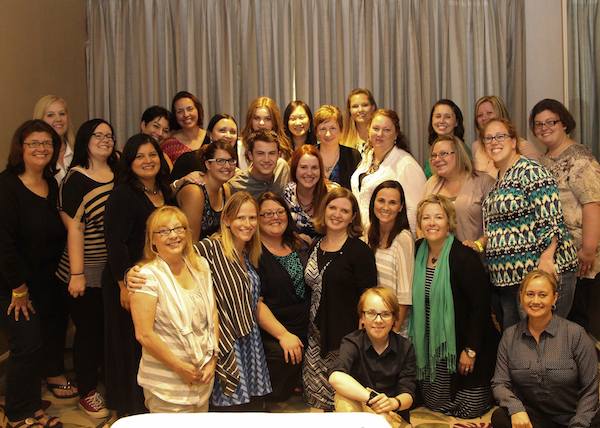 Stay tuned for more insider looks into Alexander and the Terrible, Horrible, No Good, Very Bad Day. Don't forget…coming to theaters Oct. 10th!