Production Begins on Dreamworks' WikiLeaks Project "THE FIFTH ESTATE"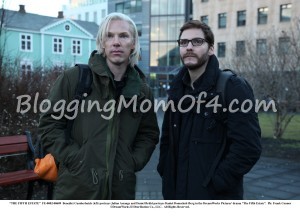 Do you remember when the Wiki leaks hit the news? Wow what a crazy time! The technology of our day and age sure does change how news gets reported and how information gets out there.
Just got news that Production is begun on the WikiLeaks Project along with a Title for the movie, "The Fifth Estate." I haven't heard a lot about the movie so far but what an amazing cast it has. Take a look below and see the list of talented actors. Several actors from some of my favorite shows. I'm looking forward to hearing more about how this movie turns out.
Stay Tuned!
Drama Will Open in Theaters November 15, 2013
Principal photography has begun on the WikiLeaks drama "The Fifth Estate," it was announced today by DreamWorks Studios.  The film about the controversial website stars Benedict Cumberbatch as Julian Assange and Daniel Brühl as Daniel Domscheit-Berg, as well as Laura Linney, Anthony Mackie, David Thewlis, Peter Capaldi, Dan Stevens, Alicia Vikander and Carice van Houten.

"The Fifth Estate" will open in U.S. theaters on November 15, 2013 and be distributed domestically by Disney's Touchstone label.  Distribution internationally will be split among Disney, DreamWorks partner Reliance, and deals made through the studio's partnership with Mister Smith Entertainment.

Following Daniel Domscheit-Berg (Brühl), an early supporter and eventual colleague of Julian Assange (Cumberbatch), "The Fifth Estate" traces the heady, early days of WikiLeaks, culminating in the release of a series of controversial and history changing information leaks.  The website's overnight success brought instant fame to its principal architects and transformed the flow of information to news media and the world at large.

Joining DreamWorks as a co-financier on "The Fifth Estate" is Participant Media.  This will be the fifth collaboration between the two companies who previously partnered on Steven Spielberg's "Lincoln," the 2011 Academy Award-winning smash "The Help," "The Kite Runner" and "The Soloist."  With a focus on real issues that shape our lives, Participant creates social action and advocacy programs to transform the impact of the media experience into individual and community action.  Some of their other films include "An Inconvenient Truth," "Good Night, and Good Luck," "Food, Inc.," "Charlie Wilson's War," "Waiting for ''Superman,'" "The Best Exotic Marigold Hotel" and the current Academy Award nominee for Best Foreign Language Film, "No."