Y'all.. I just discovered the BEST way to eat up our Thanksgiving leftovers. Not kidding you. I think I might actually like Thanksgiving Egg Rolls more than the "normal" Thanksgiving meal. It's crazy good!
I've never made my own egg rolls before so I was a little intimidated. But I quickly discovered that making egg rolls and thus Thanksgiving Egg Rolls is really easy.
Thanksgiving Egg Rolls
Finding the egg roll wrappers took me awhile to find but I'll save you some time. I found them in the produce cooler section at Walmart. Everything else was just in my leftover containers from Thanksgiving dinner. (The cranberries are missing from the picture. I remembered to grab them, however, before I started making the egg rolls. Just don't forget the cranberries because I think it really makes these delicious).
Assemble
Before you start assembling your egg rolls, pour 1″ of vegetable oil in a good pan and heat to 350. I used the Copper Chef Fry Pan. I suggest using a food thermometer to try to keep it as close to 350 as you can. Too hot and you'll burn your egg rolls, too cool and they'll take a lot longer to be done. Right at 350, they were a beautiful light brown.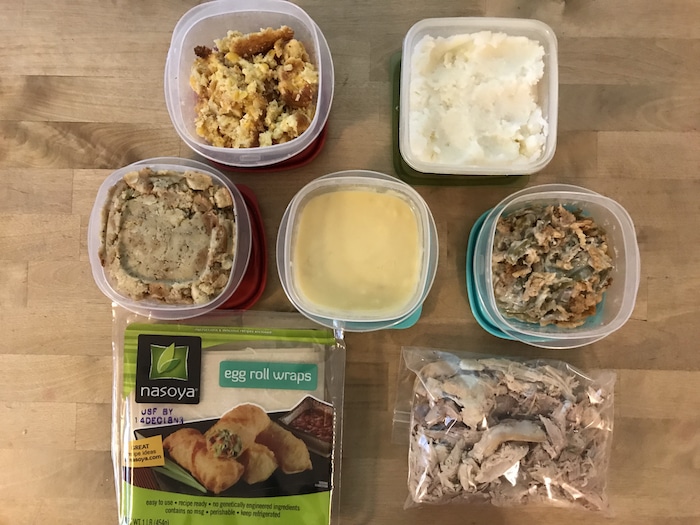 Depending on the kind of egg roll wraps you get, just take a look at the directions to see what is recommended. We just laid out each wrapper in a diamond on our cutting board. Then layered the cranberries, turkey, green bean casserole, corn casserole, potatoes, and stuffing. Save out the gravy.
Once you have all leftovers in the egg roll wrapper, you'll begin rolling the bottom up. Then both sides in and continue to roll the rest of the way. You can dip your finger in water and wet each corner, or all the way around, to help it seal.
Lay with the flap down until ready to fry.
Fry
Once you have all egg rolls assembled, carefully, place each egg roll in the oil and fry 1-2 minutes on each side.
Remove and lay on a paper towel to absorb the excess oil and to cool. It's tempting to want to try them right away but let them cool for a bit or you may just burn off a few taste buds.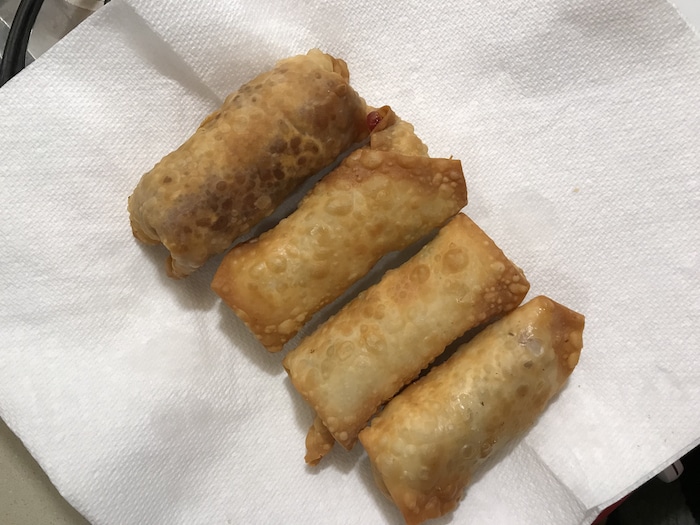 Enjoy
In the meantime, re-heat some of that leftover turkey gravy. Once your Thanksgiving Egg Rolls are cooled slightly, dip in the gravy and enjoy. Oooh so good!!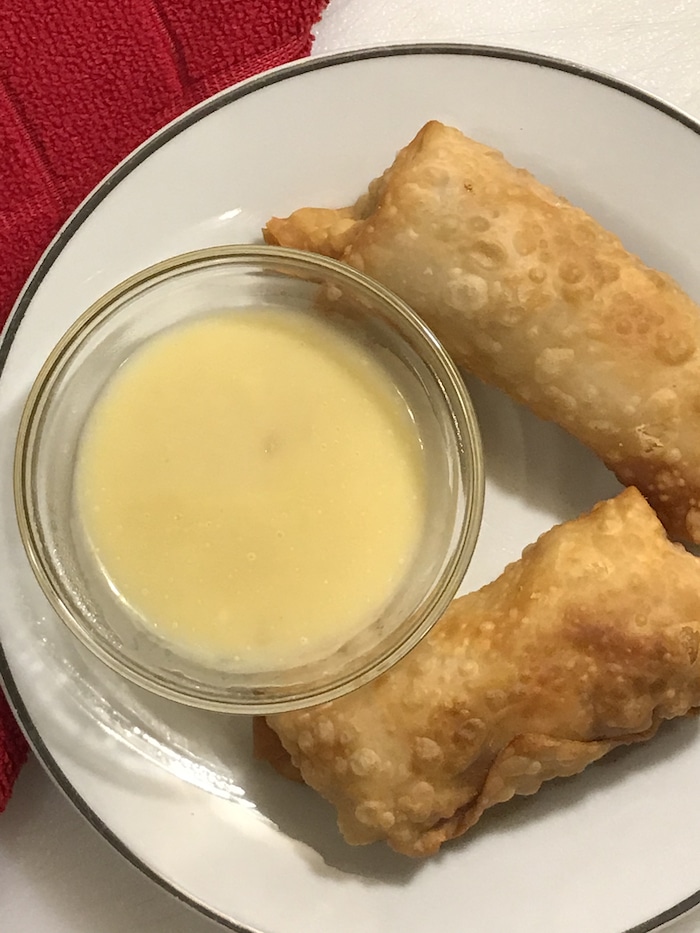 We loved these so much and had such a fun time making them that we decided to use the rest of the egg roll wrappers to make desert. Take a look at the Cream Cheese Egg Roll recipe too.
Let me know in the comments below if you try these Thanksgiving Egg Rolls and what you think.