Disclosure: We received Teenage Mutant Ninja Turtles Paper Craft for review purposes only. Regardless all opinions are our own.
Do you have any Teenage Mutant Ninja Turtle fans in your house? With the TMNT movie that came out this year, I bet that there will be some TMNT showing up on Holiday Wish Lists!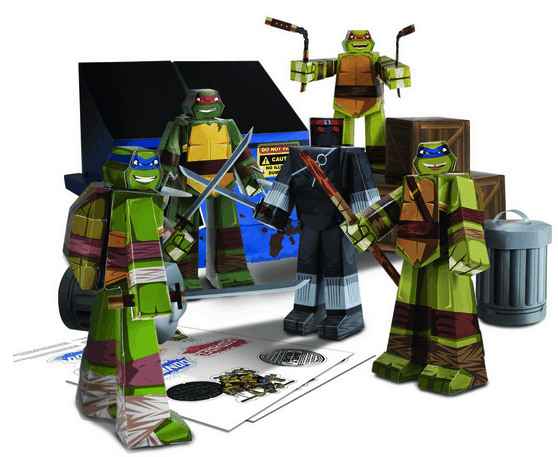 We received a fun Teenage Mutant Ninja Turtles paper craft to try out. My kids are used to getting review product so they love when the UPS man comes. 😉 This was no exception. They ripped open the box, took out the TMNT paper crafts and started crafting.
This is such a fun way to construct characters, accessories and entire environments out of paper. So they not only have fun toys but also use some crafting skills putting them together. It's fun to turn a flat piece of paper into a fun character that they then can play with. Plus you can create a whole scene from TMNT.
In this line, there are 3 paper craft packs:
Team Ninjas – over 30 pieces
ShellRaiser – over 48 pieces
Turtles Lair – over 90 pieces
These fun crafts are made by Jazwares, LLC.
Jazwares is a toy entertainment company filled with artists and product developers that work on brands you know and love. With a focus on creativity, innovation and quality, Jazwares delivers a diverse line of toys and consumer electronics, featuring some of the best entertainment properties in the world. Their portfolio includes: Minecraft, Adventure Time, Peppa Pig, Chuck & Friends, Plants vs. Zombies, and more.
Check out these fun paper crafts for someone on your gift list this Holiday!