Still looking for a tween or teen gift? Caleb was super excited to get the Razor RipStik Electric. Check it out:
Caleb and Faith both have the regular RipStik. They love using them. The RipStik Eelctric is even more fun. Caleb has been loving riding it around the neighborhood. He found it easiest to ride on smooth surfaces such as the tennis court by our house. But he also has been riding it up and down the sidewalks.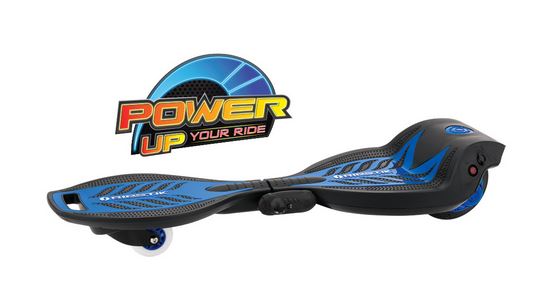 Tween or Teen Gift – RipStik Electric
It comes ready to ride – straight out of the box! No assembly required and it comes with a battery charger. One less thing I have to buy separately! Perfect for my kids and anyone age 9 or older. Easy to carry, too, at only 15.3 pounds. It would make a great gift under the Christmas tree this year.
Features
New Power Core™ Technology, In-wheel Hub Motor, maintenance free (no alignment, no chain, no chain tensioner), patents pending
Speeds up to 10 mph
Up to 40 minutes of continuous use
100 watt, kick start, hub driven motor
Inclined caster with urethane front wheel
Airless polymer rear tire with hub motor
Fiber-reinforced polymer construction
Molded traction deck with in-mold carry handle
22V lithium ion rechargeable battery pack, UL 2271 compliant
Includes wireless (2.4 GHz) digital hand controller (replaceable)

About Razor
Founded in 2000, Razor quickly became an icon of American culture with the introduction of the now legendary A model kick scooter. The must-have item of the year, the A model continues to be an essential ride for anyone on the go.
Today, Razor offers a full line of award-winning products that inspire and excite riders around the globe. Influenced by our Southern California home, and rooted in popular action sports – from motocross and BMX, to snowboarding, skateboarding and surfing – Razor's products embody the spirit of freedom and fun.