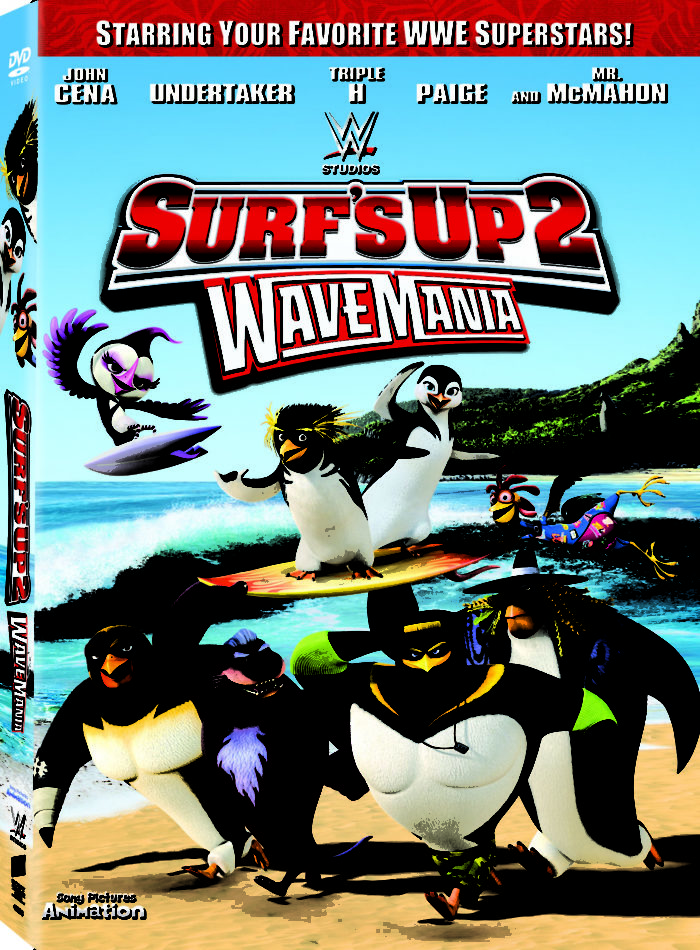 We still have a ton of winter left! It seems like it's never ending. That just means more snuggling on the couch, under blankets and more movie nights!
Were your kids fans of Surf's Up? Surf's Up 2: Wavemania is now out on DVD and Digital! Pick it up for your next movie night.
SURF'S UP 2: WAVEMANIA is now available on DVD
WWE Superstars John Cena ® , Undertaker ® , Triple H ® , Paige™ and Mr. McMahon, ® along with actors Jon Heder, Diedrich Bader, and Jeremy Shada, lend their voice talents to Sony Pictures Animation and WWE Studios' family-friendly adventure SURF'S UP 2: WAVEMANIA, the sequel to the Academy Award ® nominated Surf's Up (2007, Best Animated Feature). Debuting on DVD and Digital on January 17 from Sony Pictures Home Entertainment, SURF'S UP 2: WAVEMANIA follows surfer penguin Cody Maverick as his childhood dream comes true when The Hang 5, a world famous surf crew known for their extreme stunts and personalities, visits his island. Cody joins the crew on a journey to a mysterious spot to surf the biggest waves in the world and they challenge him on the skills it takes to become a member of The Hang 5 – power, speed, endurance and teamwork.

SURF'S UP 2: WAVEMANIA comes loaded with totally rad bonus material, leading with hilarious bloopers and a special featurette showcasing WWE Superstars John Cena and Triple H, and WWE Announcer Michael Cole, recording their voices for the film in "Behind the Mic: Hanging with SPHE – SURF'S UP 2: WAVEMANIA the Dream Team." In the animated featurette "Chicken Joe's Extreme Slaughter Island Tour," Chicken Joe has fans relive some of his favorite booby-trapped, tight roped, lava filled Slaughter Island hot spots. You'll "lava!" this place once you're done with the tour! The release also comes with character drawing lessons from Director Henry Yu, along with a piece that dives into the making of this film's unique score in "Inside the Music with Composer Toby Chu."

Cody Maverick, hungry for a new challenge, convinces an infamous big wave riding crew known as The Hang 5, voiced by WWE Superstars John Cena ® , Undertaker ® , Triple H ® , Paige ™ and Mr. McMahon ® to let him join them on their journey to a mysterious surf spot known as The Trenches, where legend has it, they'll find the biggest waves in the world. Cody soon discovers that the life he left behind might be more heroic than what any death-defying wave has to offer.

Directed by Henry Yu, SURF'S UP 2: WAVEMANIA is based on a screenplay by Abdul Williams.
DVD and Digital Bonus Materials Include:
Bloopers!
"Behind the Mic: Hanging with the Dream Team"
"Chicken Joe's Extreme Slaughter Island Tour"
"How to Draw Your Favorite Characters with Henry Yu"
"Inside the Music with Composer Toby Chu"
Website: http://www.sonypicturesanimation.com/
Facebook: https://www.facebook.com/SONYPicturesAnimation
Twitter: http://twitter.com/sonyanimation
Tumblr: http://sonyanimation.tumblr.com/
YouTube: http://www.youtube.com/user/SonyAnimation