I was provided with a Nutri Ninja Auto IQ for review purposes only. All opinions are my own. With the help of my new Ninja, I made this Strawberry Cheesecake Smoothie.
I love smoothies! I usually have one everyday for breakfast. They are easy to make, great nutrition, fast and convenient. I usually find a few recipes and stick to those same ones. Every once in awhile though, I'll find a new recipe. Like this Strawberry Cheesecake Smoothie recipe. I may not have this one daily but it's so yummy and it actually feels like a special treat. Like you're cheating! 😉
I'm pretty particular about my smoothies. I don't like ice chunks and I like everything blended well and smooth. That requires a really good blender. I LOVE my new Nutri Ninja Auto IQ. I love that it takes all the guess work out of my smoothies. I also love that I can make one smoothie or several servings. This is such a versatile machine.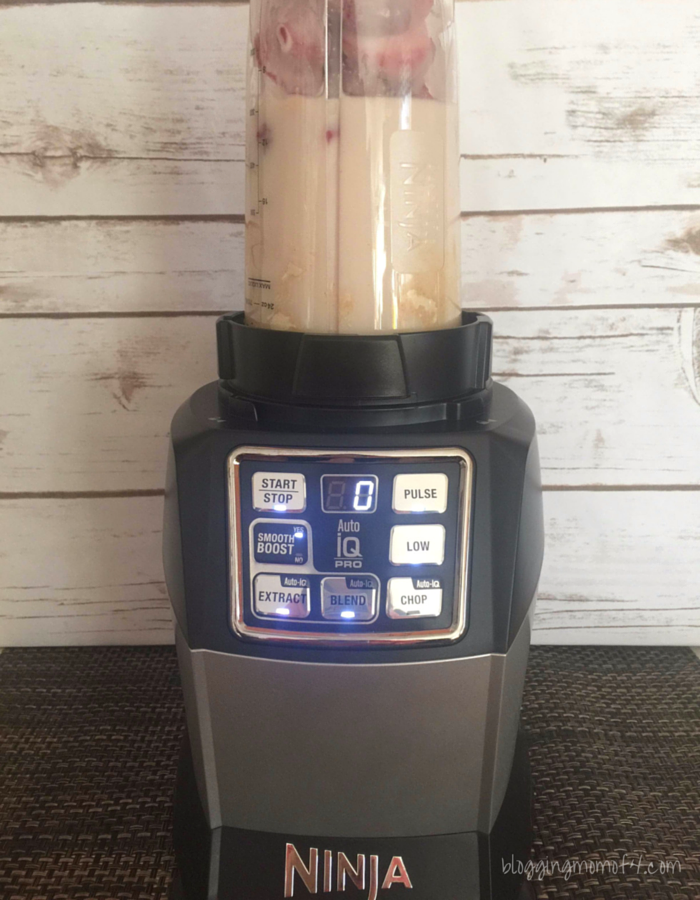 I haven't even begun to uncover everything this little machine can do. It not only makes awesome smoothies but easily handles nutrient extraction with fruits and veggies, chops through ice and frozen fruit with ease and is also a food processor! Having all of the above with one machine saves a ton of room in my kitchen.
With the push of one button, the Ninja takes over and delivers the perfect smoothie every time. Take a look:
Now that I shared the awesome kitchen gadget that I use to make my smoothies, here's the yummy strawberry cheesecake smoothie recipe.
Strawberry Cheesecake Smoothie recipe
1/2 Cup frozen strawberries
1 Cup Almond or Cashew milk
2 scoops Evolv vanilla shake mix (or similar meal replacement shake)
2 Tablespoons cream cheese
Add all ingredients, blend and enjoy!