Spring is on its way! Many of us are transitioning our decor from the cool tones of winter to the warm and bright colors that spring brings. One all-time decor favorite for any season is a wreath. It is a great way to incorporate elements of the season into your decor and use it indoors and out – it's completely up to you. Keep reading for some great DIY spring wreath ideas you can try.
Traditional Green Spring Wreath
If you are new to wreath-making, it may be a good idea to start with some simpler projects that require fewer steps but ultimately capture that great spring feel. Start by purchasing or reusing some of the holiday wreaths and garland that you may already have. With garland, you can simply wrap it around a metal or foam wreath form. But if you already have a wreath, you get to skip all the hard work and go straight to the decorating. Get creative and pick out some fun decorations from your local craft store to fit the season. Try using things like small butterflies or flowers to glue or pin around the entire wreath for a quick and easy spring-themed design.
Embroidery Loop Wreath
Another unique wreath idea to try is one using an embroidery loop. You can create a minimalist-styled wreath by hot-gluing some simple pastel-colored flowers to one section of the loop. Some also customize it by adding their own wood lettering across the loop, too. Or, if you want to incorporate your own embroidery into your wreath design, embroider the bottom half of the loop's fabric and then cut away the top half. Then, glue your own flowers or accents to the back of the embroidered fabric and when hanging, it will look as if the flowers and accents are coming out of the embroidered "pocket" you created.
Rope-Wrapped Wreath
Not every great wreath must include the typical green base that many use. Instead, you can create your own wreath base by wrapping jute rope around a foam wreath form. You can use a standard wrap-around technique or try making a woven wreath with a metal wreath form. Whichever you choose, keep a hot glue gun handy to help hold the rope tightly together. After creating the base, add different brightly-colored spring elements like bows, butterflies, or gingham ribbon.
Non-Traditional Wreath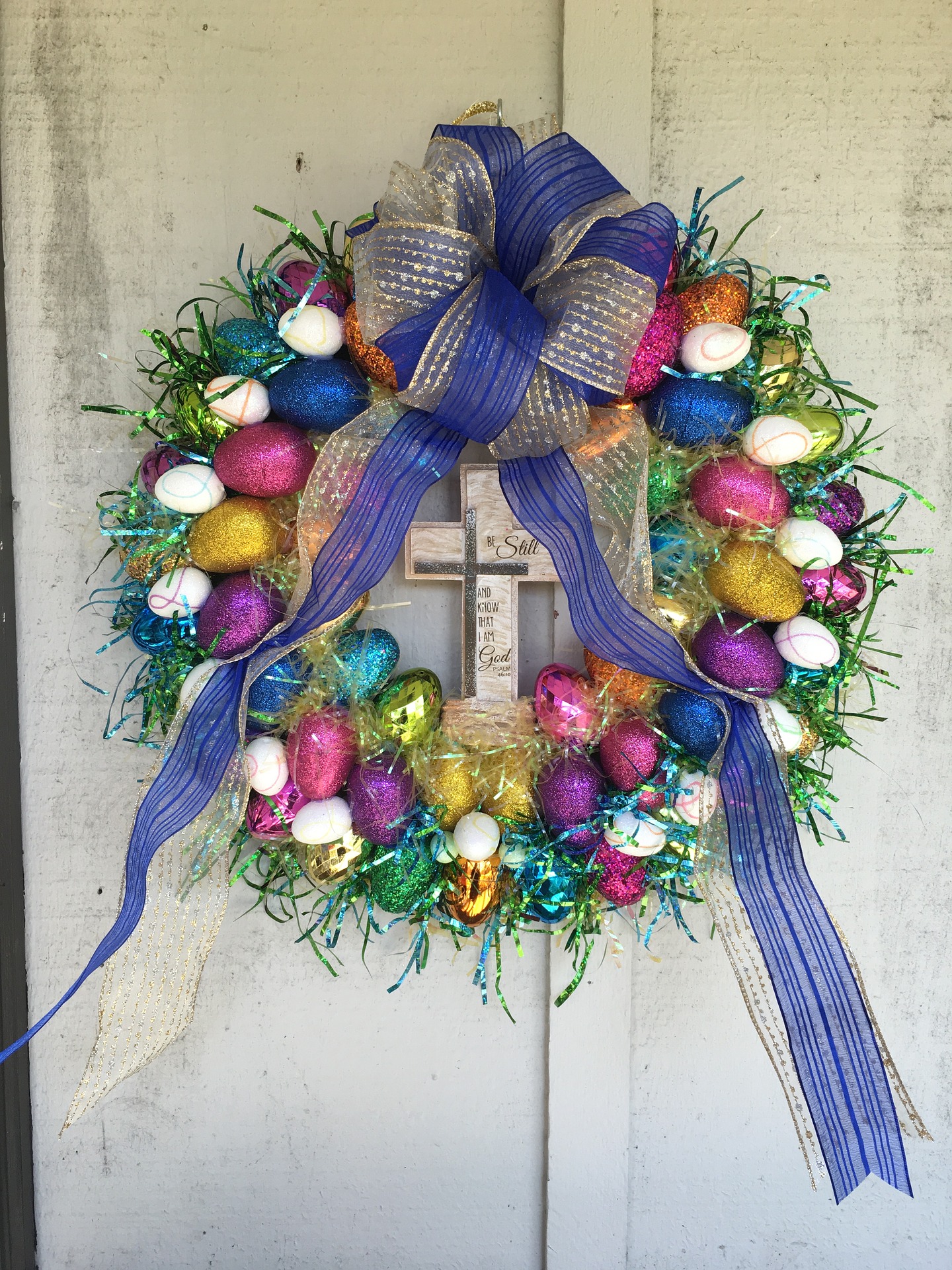 Although these DIY Wreaths are great ones to try, don't limit yourself to the expected circular wreath that you see on everyone's front door. Get creative with the shape of your wreath and make it your own. If you have a religious background or celebrate Easter, you can make a cross-shaped "wreath", too! After nailing together two small pieces of wood, you can customize your "wreath" and decorate it however you'd like. Try placing some flowers vertically down the cross and some smaller ones across horizontally. Then, take some rope or string to tie around the center of the cross for the flowers' security. Hide the rope by adding a large bow to the center of the cross and there you have it! You can add small touches like branches and leaves to give the "wreath" a more rustic feel. But, play around with different wreath types like hearts, stars and even elaborate shapes like a bunny.
These are only a few of the many spring wreaths that are out there for you to try. Get creative with your designs and think outside the box! Comment below your favorite wreath and how you would implement it in your own home!