Do you still play board games as a family? Or how about when you're getting together with friends or at family gatherings? I love getting together with friends and playing some board games. It's great to sit back and be able to laugh and have fun together. What are some of your favorite games?
My kids are getting older so it's great to be able to play some 'older' games with them. Don't get me wrong…love candy land but I think you know what I mean. 😉
I was able to try out Spontuneous and we loved it!! At least one person in our family is always singing or humming a tune. I didn't say that we always sing in tune, just that we're always singing. HA! You know how that goes…something gets said or something comes up that makes you start singing. That's Spontuneous!
Game Details:
SPONTUNEOUS® (pronounced – spon-TUNE-ee-us)
Have you ever heard a word that "triggered" you to sing a song? If so, then YOU are Spontuneous! One player says a word and the race is on for the others to sing a song containing that word. Don't worry though, talent is NOT required!

It's really this simple: One player (Tunesmith) says a word and the others race against each other and the clock to try and blurt out a 5-word portion of lyrics from any song containing the given Trigger-Word! The player who begins singing first, gets to roll the dice and advance around the board! If nobody can sing a song, the Tunesmith must be able to back it up with a song of their own, or else they roll both dice and move backwards. As players advance around the board, certain spaces will require them to draw a Spontuneous Card and attempt the crazy challenge! Whoever reaches finish first and completes the final challenge, wins the game!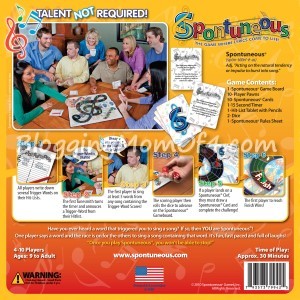 The creator of Spontuneous is great. In fact, he loves to play Spontuneous online with his fans. Give it a try by tweeting and posting on his Facebook wall. Tweet (or post) any word & see what lyrics he tweets back! @Spontuneous
Check out Spontuneous on the Today Show:
Visit NBCNews.com for breaking news, world news, and news about the economy
You can Find Spontuneous:
Video: www.youtube.com/spontuneous
Facebook: www.facebook.com/spontuneous
Twitter: www.twitter.com/spontuneous or @Spontuneous
Website: www.spontuneous.com or www.spontune.com
You can Also buy Spontuneous on Amazon
.
One lucky reader will also WIN a copy of Spontuneous!
Giveaway is open to US readers ages 18+. Giveaway will close on 3/29 at 11:59 pm EST. Enter via the Rafflecopter below. Good luck!!
Disclosure: I was provided the above for review purposes only. All opinions are my own.
Topic: Spontuneous