How many of us start to scramble a bit when back to school hits? I know I do. Our summer is a bit more laid back and relaxed than during the school year.
I don't know about you but I turn to my slow cooker to help out as often as I can. In fact, sometimes I think I need to get a 2nd slow cooker so that I don't have to wait for the one to be cleaned before starting another meal.
Anything that makes my life a bit easier is awesome!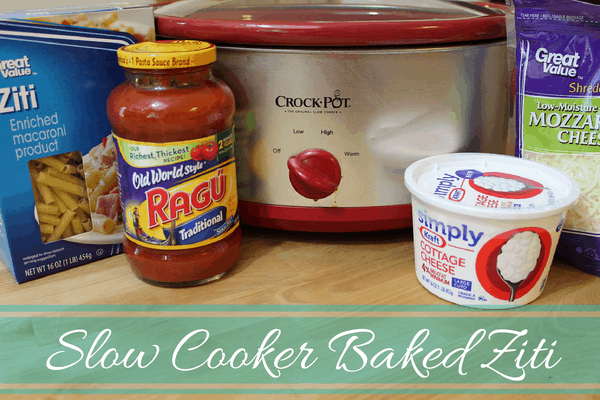 This recipe is part of my Slow Cooker Comfort Foods Freezer Meals. It has been one of the most popular posts/recipes on my Pinterest account. Specifically this Slow Cooker Baked Ziti recipe. (Make sure to check out the post to see directions to make this a freezer meal).
And on a side note, are you following me on Pinterest? I'd love to connect with you. If you'd like me to follow you back, leave a comment below with your Pinterest url and I'll find you.
I can understand why this Slow Cooker Baked Ziti recipe is so popular. All you need to do is combine all ingredients in the slow cooker and you have dinner ready in a couple hours. Easy! Who would have thought that you can make pasta in the slow cooker? You sure can.
Here's how:
Slow Cooker Baked Ziti
Ingredients
1 – 26 oz pasta sauce
1 1/2 C water
15 oz ricotta or cottage cheese
1/4 C Parmesan cheese
8 oz package grated mozzarella cheese
8 oz (2 Cups) ziti pasta (uncooked)
1 T Italian seasoning
Directions
Spray slow cooker with non-stick spray. Add all ingredients (1/2 of mozzarella cheese) to the slow cooker. Mix. Top with Mozarella cheese.
Cook on high 1 – 1 1/2 hours until pasta is tender.
You will have a delicious pasta meal that took barely any preparation.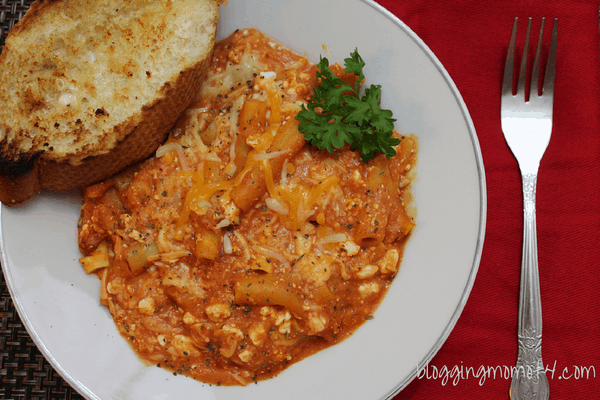 Serve with garlic toast or french bread and a side salad and dinner is done! Enjoy!
Here's a great image for Pinterest. Happy pinning!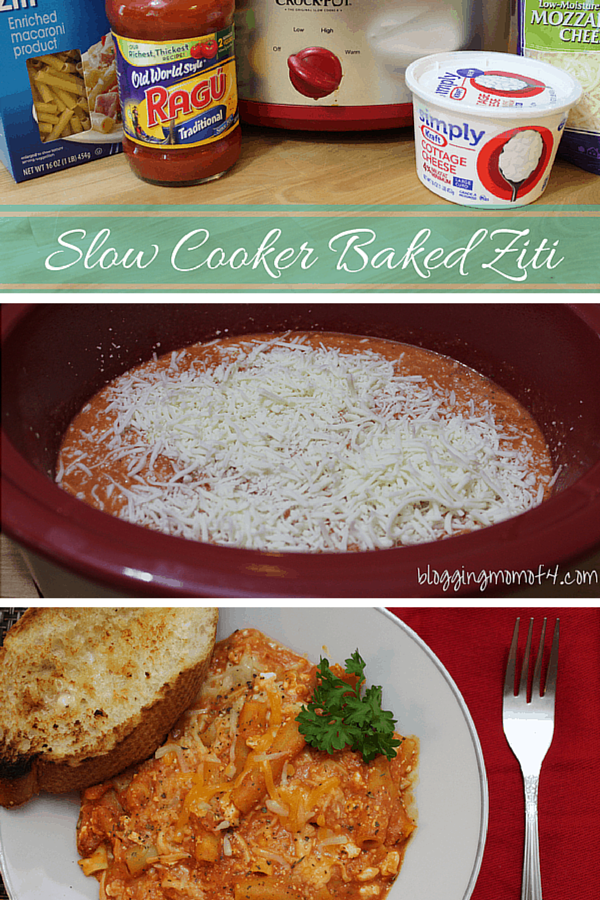 Topic: Slow Cooker Baked Ziti