The reviewer has been compensated in the form of a Best Buy Gift Card and/or received the product/service at a reduced price or for free.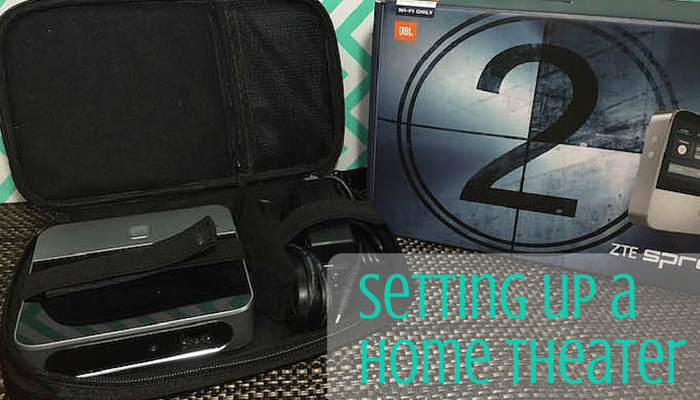 We LOVE our tech. We love trying out the newest, latest and greatest! We also love watching movies together. Which as a family of six, living in a smallish type house, is not the easiest. We had the opportunity to try out the ZTE SPRO 2 Wireless Smart DLP Projector and decided it was the perfect time to set up a new Home Theater!
We have lived in this house for almost 7 years. In the early years, the kids were little and we could all squish on a couch together. Now with 2 teens and 2 pre-teens, who are not all that little anymore, it's a bit harder to all fit in our living room. Usually, someone has to grab a folding chair. Not all that comfortable.
We have more room in our basement so with some new furniture and the ZTE SPRO 2 Projector, it was easy for us to create a home theater area.
The only problem is trying to get a good picture! HA 😀
Setting Up A Home Theater
With a new U shaped couch that comfortably seats us all and our new projector set up, we have been loving watching movies in our new home theater. We decided to introduce the kids to a few classics. First up was Galaxy Quest.
We are using our wall as our screen. The picture is HUGE and very clear! There is not a bad seat in the house! We all love watching movies together on our big screen. The kids have also been having a ton of fun playing their console games on the projector. It's pretty awesome!
The ZTE SPRO 2 is portable so you can easily take it with you. Going camping? Take your projector with you. Having an outdoor party? Take your projector outside. It is super easy to move around.
The ZTE was also very easy to set up. We have it attached to a small tripod that we purchased separately. But you can set it up anywhere. Through USB or HDMI connections, micro SD cards, Wi-Fi, Bluetooth or Google Play apps, users can access and project virtually any content, anywhere.
Looking for specifics?
Here are some product features:

Projects up to 120 inches with 720p HD resolution
200 lumens brightness with auto focus and auto keystone correction
6300 mAh internal battery powers 2.5 hours of projection time or up to 16 hours of connectivity
Connections for HDMI/USB ports, 64GB Micro SD car, Bluetooth and includes 16GB of internal storage
Android 4.4.4 OS with access to the Google Play Store
A compact frame with premium casings measure 5.3" x 5.2" x 1.2" and weighs 19.4 oz.
We are seriously in love with this little portable projector. I can't wait to pack it up and take it with us on trips or just outside for our version of a drive in movie! How would you use the ZTE? Comment below.