Have you been tuning into black-ish? If not, you really need to check it out. Black-ish airs Wednesdays 9:30/8:30 on ABC. Here's a sneak peek of tonight's episode:
POPS AND RUBY TRY TO SHOW THE KIDS THE TRUE MEANING OF CHRISTMAS BY PARING DOWN GIFTS AND SPENDING MORE TIME TOGETHER, AND DAPHNE LIDO INVITES HERSELF OVER TO CELEBRATE WITH THE JOHNSONS, ON ABC'S "black-ish"

"Stuff" – Dre thinks Christmas has become commercialized and is all about "stuff," and no one loves "stuff" more than his kids. Pops and Ruby think they have forgotten the true meaning of Christmas and come up with a new plan to pare down gifts and spend more time together. The kids don't handle the news well and hope that if they put on their best behavior Dre and Bow will cave in. Meanwhile, Daphne Lido (played by Wanda Sykes), who is single for her first holiday alone, invites herself to the Johnson family home to celebrate with them, on "black-ish," WEDNESDAY, DECEMBER 9 (9:31-10:00 p.m., ET) on the ABC Television Network.

"black-ish" stars Anthony Anderson as Andre "Dre" Johnson, Tracee Ellis Ross as Rainbow Johnson, Yara Shahidi as Zoey Johnson, Marcus Scribner as Andre Johnson, Jr., Miles Brown as Jack Johnson, Marsai Martin as Diane Johnson and Laurence Fishburne as Pops. Guest starring is Jenifer Lewis as Ruby, Wanda Sykes as Daphne Lido, Peter Mackenzie as Mr. Stevens, Catherine Reitman as Lucy and Issac Ryan Brown as Young Dre.

"Stuff" was written by Corey Nickerson and directed by Ken Whittingham.

"black-ish" was created by Kenya Barris and is executive-produced by Barris, Anthony Anderson, Laurence Fishburne, Helen Sugland and E. Brian Dobbins. The series is produced by ABC Studios.
This episode sounds like something that a lot of families might be facing! Sounds like an awesome episode to watch. Make sure you set your DVRs!
Now before you tune in tonight, I have more set visit pictures to show you. In my interview post last week with Tracee Ellis Ross, I shared a few. Here's a few more so you can really get an idea what the set looks like!
Last week, I commented on how big the house was. Just love it! All 25 of us bloggers were able to fit in the kitchen for this group shot.
Tracee led us through the house as we chatted. She shared some of her script hiding places.
I always love how real they make the set look. From the knick knacks, to the family pictures.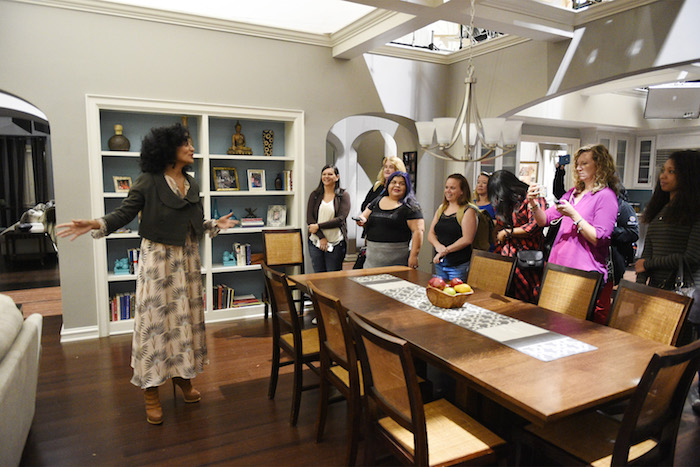 Now on the show, the house actually has an upstairs and that's where the bedrooms are. However, the set does not have an upstairs. We just had a quick walk across the set to see the bedrooms.
And again, one of my favorite parts of the set visit was Tracee explaining the signs that were on the beds to discourage crew from sitting/using. 😉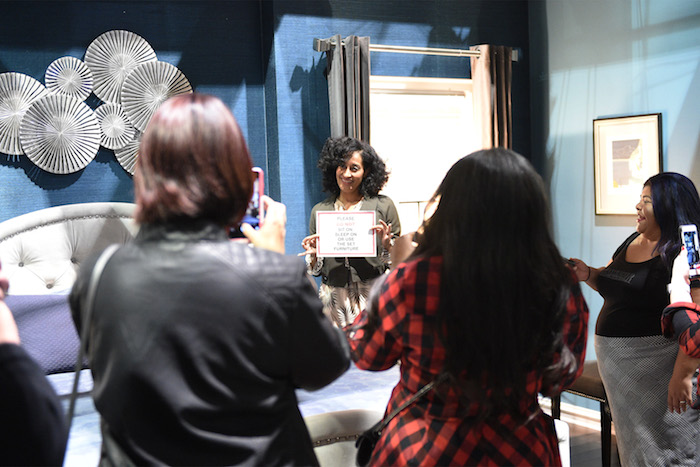 I sure could use a closet and a bathroom like these. How about you?
I love how Tracee pointed out that there was way more clothing for Anthony's character than her character. And look at those shoes!!
It's awesome to get a behind the scenes look at the set. It truly makes the show that much more realistic. It's all of the little things that add up to make the show such a great success!