Thank you to Canvas Factory for being a sponsor of our 2016 Holiday Gift Guide and helping us out with Senior Pictures. Click here for more information on our gift guide.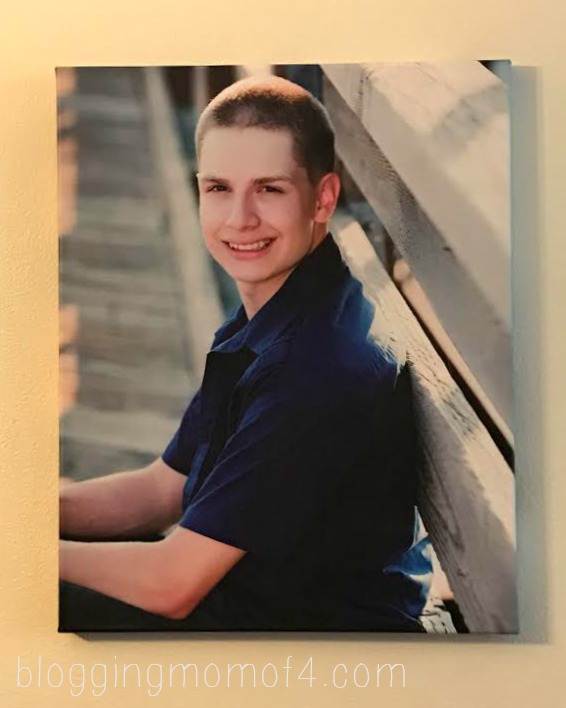 Senior Pictures
My oldest is now a SENIOR in high school. I can not believe that he's in his last year of high school already. Where has the time gone?
With Dylan being our oldest, he's always been our trial and error kid. Everything that we go through with him is our first experience… thus the trial and error. We figure it out as we go. Same thing with his senior year. It's a bit overwhelming to think that he'll be off to college next year. Yikes!
With the senior year comes so many things that you need to do. One of those things that I thought I could easily check off my Senior Year to-do list was getting his senior pictures done. Wow, what a crazy feeling it was watching the photo session. It's like the last 17 years just flew by.
Dylan is a no fuss, no muss kind of kid. He wasn't very picky about his clothing or location for his senior pictures. He was very easy going about it all. I love having outdoor pictures done. We have a gorgeous location in our downtown area that offers an awesome background for pictures. It's right along the river and the scenery is just breathtaking. All of Dylan's pictures turned out great!
The one above was our favorite. This is the one that I chose to get on a canvas print.
Canvas Prints
I love having our family pictures on the walls of our home and I love hanging artwork on the walls. With Canvas Factory I can turn our family pictures into canvas prints and create a work of art.
We all want to capture the perfect moments, and even some not so perfect moments so that we can have those pictures when the children have grown up and moved away. I especially love creating the canvas prints of special occasions, like my son's Senior pictures. Using the Canvas Factory website I was able to create this piece easily for our family room. In just a few minutes I uploaded my picture and chose the size and it was done. So quick and now I have this artwork for the house, as well as a wonderful memory.
I love how you're able to choose how the edges look. I chose to have the picture wrap around but you can choose to have the edges a solid color to match the picture if you'd prefer.
They just turn out so awesome!!
This is also an awesome time to print a few extras and give as gifts for the holiday. My extended family will love these! Check out Canvas Facotory for Senior Pictures or any family photos that you'd like to gift this holiday.

About Canvas Factory
Canvas Factory provides high quality canvas prints at an affordable price. We believe in providing the best canvas printing services to ensure that your photos are preserved on canvas exactly as you want them, easily and conveniently.