Thank you to Canvas Factory for helping us out with Senior Pictures and sponsoring this post and giveaway.
Thinking back to Dylan's senior year of highschool… seems like forever ago. He's now turning 20 in just under 2 weeks. That's just so crazy. We've moved on from planning for his senior year and are now planning on him moving out. It's hard to believe!
I'm so glad that we were able to get his senior picture on a canvas from Canvas Factory. Such a great way to hold on to those memories a bit longer.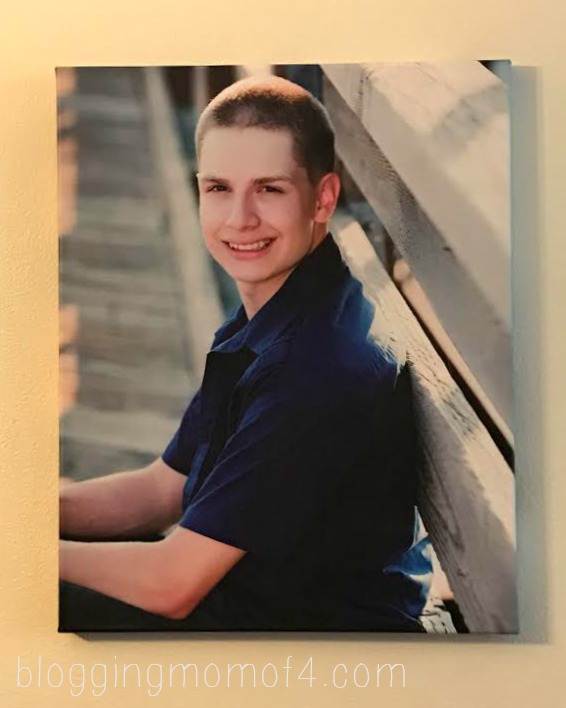 And soon, Abbie's senior picture will be joining Dylan's. I'm planning on getting her picture in a canvas as well. I just love the way they look.
Planning for Abbie's senior year has been a bit different than Dylan's. He didn't have a real clear idea of what he wanted to do after highschool. Where as Abbie is all about researching colleges, taking ACTs, thinking of senior prom, saving for college expenses, and planning for senior pictures. I'd love to to slow down a bit but that's just not how it works. So on to a senior checklist.
Senior Pictures
With the senior year comes so many things that you need to do. One of those things that I thought I could easily check off my Senior Year to-do list was getting senior pictures done.
I still remember what it felt like watching Dylan's senior pictures. What a crazy feeling. It was like the last 17 years just flew by.
Abbie is already looking at clothing options and locations. I'm on the fence as to whether I'm excited for it or dreading it. Only because this is my baby girl. She is already so grown up and having senior pictures taken is going to feel like another chapter is closing. But again, thankfully we'll have these pictures to remember this time and cherish it.
Canvas Prints
I love having our family pictures on the walls of our home and I love hanging artwork on the walls. With Canvas Factory I can turn our family pictures into canvas prints and create a work of art.
We all want to capture the perfect moments, and even some not so perfect moments so that we can have those pictures when the children have grown up and moved away. I especially love creating the canvas prints of special occasions, like Senior pictures. Using the Canvas Factory website I was able to create this piece easily for our family room. In just a few minutes I uploaded my picture and chose the size and it was done. So quick and now I have this artwork for the house, as well as a wonderful memory.
I love how you're able to choose how the edges look. I chose to have the picture wrap around but you can choose to have the edges a solid color to match the picture if you'd prefer.
They just turn out so awesome!!
Now for the GIVEAWAY!! One lucky reader will win a canvas print from Canvas Factory.
Giveaway will run through May 31st. Winner will be announced on the giveaway widget within 48 hours after giveaway closes and will be notified via email. Winner will need to respond by replying to the notification email within 48 hours to claim. A code will be provided for a free canvas.
Enter below for your chance to WIN!! Good luck!