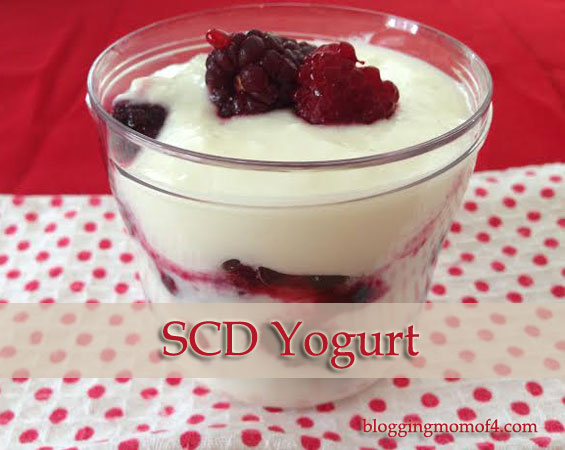 When doing research on SCD (specific carbohydrate diet) and looking for great recipes, I noticed that a lot of recipes called for SCD yogurt. I figured that if I was going to be making a lot of homemade yogurt, a yogurt maker would definitely come in handy.
I found a greek yogurt maker at our local Sam's Club. There are also plenty of yogurt makers online and you do not need to get a greek yogurt maker. Any yogurt maker should work fine or you can do a google search to find other ways of making it, for example, in a Crock-Pot.
I followed the instructions that came with mine and I would think that you could use the recipe and instructions with most any yogurt maker but make sure to look at the instructions that come with yours.
I have made a couple of batches before getting it right. It's not really hard to make but if you use the method where you need to heat the milk, it can be tedious and tricky. On my latest attempt, I chose to add powdered milk to the regular milk vs. trying to heat it, cool it, etc. That seemed to be the trick for me and was very easy.
If you're looking to make homemade yogurt for IBD reasons, make sure you use a starter yogurt that does not include extra additives other than yogurt cultures. I found the FAGE yogurt that works well. While dairy is on the no eat list for Paleo, homemade yogurt with these great yogurt cultures, can usually be tolerated better in the digestive system. So that's why I'm including it in our diet.
At some point, I'm going to try working more with Almond milk or Coconut milk so that I can make a homemade yogurt that is dairy free as well. This works great in the mean time.
SCD Yogurt Recipe
SCD Yogurt Recipe
Ingredients
5

C

milk

whole, 2%, 1% or skim

1/2

C

plain yogurt

no added preservatives, etc. or 1 packet starter culture

7

T

powdered milk
Instructions
Note: The original instructions call for heating your milk in a double broiler. I found that method tedious so I went with option 2 - which is adding powdered milk to your regular milk vs. heating.

Take your starter yogurt from the refrigerator to get closer to room temperature.

Measure out your 5 C of milk and add 7 T of powdered milk.

Add starter yogurt.

Wisk together and mix well.

Pour mixture into yogurt maker containers and let develop for 12-24 hours.

I used skim milk and it took 12 hours to thicken up. The longer you let it develop, the more tart it will be so this will take some experimenting to get it how you like it.

Once thickened, store in the refrigerator.

Use fresh fruit or honey, homemade jam, etc and eat as is or use in recipes.

Save out a 1/2 C to use for your next batch.
Topic: SCD Yogurt