Are you traveling for the holidays? Save on travel and take a roadtrip! Thanks to KIA for sponsoring this post. #DiscoverKia #KiaSedona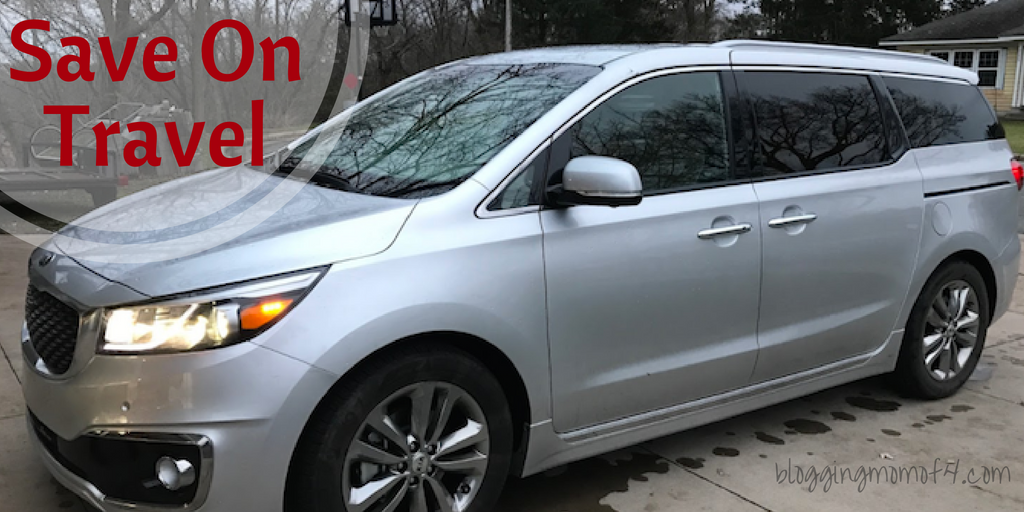 When we were planning for our recent vacation, we kept a close eye on airfare, hoping to catch a deal on flights. With six people in our family, travel can get pretty pricey. Instead of prices going down, as we had hoped, they continued to rise until we knew there was no way we could afford to fly.
The only other choice was to drive. Could we possibly roadtrip all the way from Wisconsin to Texas? With the right vehicle, you bet! And honestly, if you're looking to save on travel, this is the way to do it!
Save on Travel – Roadtrip!
Kia helped us out by providing an amazing 2016 Sedona for us to drive and review. Having driven a Sedona during our last trip to Florida, the entire family was very excited about the prospect of even more time with what has become our favorite vehicle we've ever traveled in.
The Kia Sedona solved a number of problems we anticipated for our cross-country drive:
Even though we had four kids in the same vehicle for 10 hours a day, there was next to no fighting thanks to the seating capacity. The Sedona seats up to eight, so each person had their own personal space they could enjoy without anyone else intruding. Because God forbid family members accidentally touch while in the car.
There was ample space for our massive amount of luggage. We were driving across the country, followed by a seven day cruise; we needed to pack quite a bit of stuff.
We're a family of seriously plugged-in nerds. We wouldn't survive a day without electronics. Fortunately, the Sedona had charge ports in the front, middle, and back for our phones, tablets, and handheld video game systems. Along with the aforementioned leg space, those charge ports contributed a lot to keeping the peace between the kids. There's even a spot for a regular plug.
The built-in GPS not only guided us as we drove from Wisconsin to Texas, it also suggested alternative routes whenever it detected traffic slowdowns ahead. Combined with the Sedona's Advanced Smart Cruise Control feature that automatically adjusted itself based on what the vehicles ahead of us were doing, helped the adults keep their sanity during some of the crazy traffic we encountered.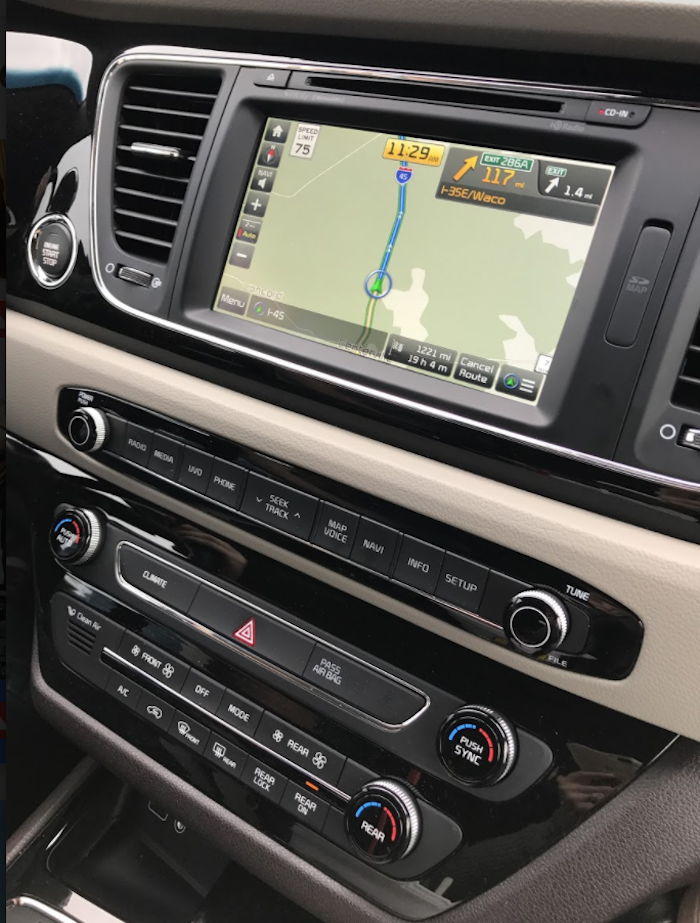 We were pleasantly surprised to find that the Sedona got a steady 25 miles per gallon during our trip. Considering how seldom we had to stop for fuel, the Sedona ended up being a much more cost effective travel solution over flying.
And of course, I'd be remiss if I didn't mention our kids' favorite feature: the front and middle row seat warmers, or as they call them, butt warmers. Apparently, our children like their backsides toasty, and the Sedona delivered.
We also really enjoyed seeing the country. Granted, we didn't stop often to take pictures but we have several more states to cross off on our list. An experience that you just don't get if you fly.
Once in Texas, it's a must to stop at Buckee's.
There were so many great features to love.
Everything is available at your fingertips.
And when we got back to Wisconsin, back to the freezing cold temps, I made use of the heated steering wheel! And those butt warmers that the kids are so fond of. 😉
With a larger vehicle, the camera system is amazing! I loved the back up camera and blind spot warnings. Those are awesome.
And let me tell you, one of the best features is the smart cruise control. No more having to break when someone comes into your lane. With smart cruise control, the van recognizes when another vehicle pulls in front of you and automatically slows down. When the traffic clears in front of you, the van returns to the set cruise speed. It is Ah-mazing!
When you are driving long hours and many miles, the smart cruise control as well as forward collision warning system, lane departure warning system and autonomous emergency braking is so helpful. It really sets your mind at ease with that additional safety!
We had zero issues in the 2500 mile round trip. We were comfortable, safe and saved on the trip with the KIA Sedona. So don't be afraid of roadtripping to save on travel. You may actually enjoy the drive!