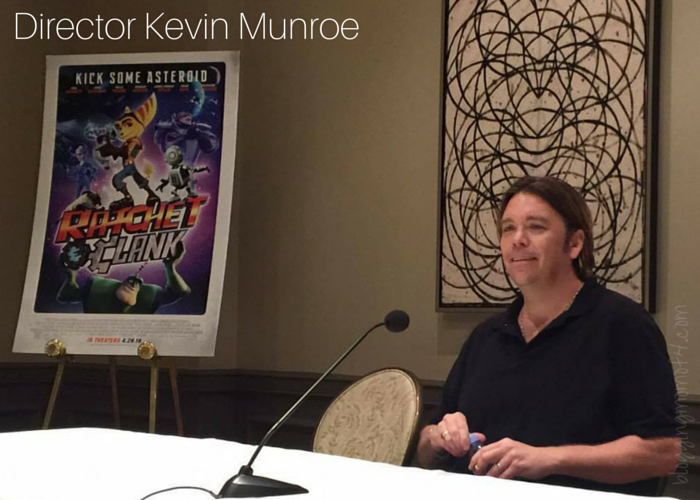 Ratchet and Clank comes out this FRIDAY, April 29!! Tim and I were invited out to cover the Ratchet and Clank event. We got to pre-screen the movie and then have a quick chat with the cast. One of my favorite times of any press trip is the cast interviews.
Here we are on our way. I call this "Bloggers On A Bus." 😉
Bloggers on a bus! Heading to #ratchetandclank press event! pic.twitter.com/iNQttoXjG7

— Dawn Wells (@bloggingmomof4) April 9, 2016
First up is Ratchet and Clank Director Kevin Munroe. You may recognize some of his other work: TMNT (2007) and Dylan Dog: Dead of Night (2010). Kevin is such an awesome guy. So friendly and easy to talk with.
Here are a few of my favorite moments from chatting with Ratchet and Clank Director Kevin Munroe.
I was live tweeting during the event. This is one of my favorite quotes from Kevin:
Take aways. Not just following your dreams but finding your dreams. ~ @kevmunroe #RatchetAndClank

— Dawn Wells (@bloggingmomof4) April 9, 2016
The question was asked, what he wants the viewers to take away from Ratchet and Clank.
I think that there's the message of just that it's not just following your dreams, but it's finding your dream. And I think a lot of time, life will make you think that you're supposed to be dreaming about something else. And really, if you just listen to yourself, and know the things that make you happy, and know what you can do to make the world a better place – like, that's what your dream should be. And I think that's totally what Ratchet learns in it.

Not the big things – just the right things.
I was certainly able to tell that Kevin is truly passionate about his work. It made me really sit up and listen.
Next favorite? That would have to be when Kevin is talking about none other than George Lucas.
George Lucas is one of the chief reasons I do what I do. ~ @kevmunroe #RatchetAndClank

— Dawn Wells (@bloggingmomof4) April 9, 2016
The question was asked about working with George Lucas and how that influenced his creativity.
A huge influence – you kidding me? Like – well, it's funny because he, he's one of the chief reasons I do what I do. I mean, it was 1977 when that first movie came out, and I was in a Red Theater, with the curtains opening, and I actually had like a box of the red and white striped popcorn. It was such a clear moment; and at that moment, getting the toys, and coming back and re-creating that… And I remember sitting down with my dad, it was the day after Christmas, and I'd gotten like a Vader and a Storm Trooper. And I was trying to re-create the thing that I had seen in the movie. And I said, "Tear this ship apart until you find those plans." And my dad said, "But if we tear the ship apart, we're gonna die in space." And I was like, "Ahhhh." And so I think that was the moment when I became a director.

It was incredible. It was film school, all over again. I admire that guy so much. And it's one of those things where you just – like, everybody has their opinions of what they think about him. But to be able to go and work with him, week in and week out – in editorial, specifically – 'cause like if he has one sandbox that he plays in, it's to take a movie and to move things around, and figure out what it is. And so I just learned so much. It was more film school than I think I'd ever done before in my life. And it was like four years of incredible work. It was great.
Rounding out my favorite moments from interviewing Ratchet and Clank Director Kevin Munroe, is him talking about how he casts his voice actors.
Always about the character when finding the right voice actors vs casting the name. @kevmunroe #RatchetAndClank

— Dawn Wells (@bloggingmomof4) April 9, 2016
You know, it's funny – especially with animation, I don't like to fall prey to the whole – 'we need to get a name actor in there'. To me, it's always just about the character. And so sometimes it's worked out really well. Whenever we did the Ninja Turtle movie, in 2007, it's specifically with that, and also because James was my Leonardo in that, and James is Ratchet here, which is a crazy coincidence. But it was always about the character. It was never about like, 'Can we get Brad Pitt to come do the voice of Leonardo' or something – because it was always about, that character's in there, so you need to have somebody who reflects that character. And so it was very simple when it came to the characters that were already in the franchise, like Ratchet, Clank, Qwark, and Dr. Nefarious. And so when it came to these new characters, what was great is that we just sort of created a character type. And the entire casting process, even though everybody likes to get really good names on the poster, and we have fantastic names on this poster – at the same time, it was always about – do they service the character – because I just would not want to hear Sly doing the voice of a meek little child or something, you know, as an example. So what was great is everybody came along, and they just – they took the character from there, and owned it, and sort of gave it their own twist, and developed it. And so it was great. So in short, it was always about the character to me, and sort of finding the character, and never casting the name. But we lucked out, and we got both.
Those were just a few of my favorite moments but there were plenty of greats! Make sure to check out Review Dad's post for more insight on Ratchet and Clank Director Kevin Munroe!